GPA Champs: 16U ECI Prospects
In this article:
The North Dakota boys and 2 Minnesotans took care of business in St. Cloud! You never know how an AAU team will play after an extended break in their schedule. That is exactly what ECI had, the 16U Prospect players were…
The North Dakota boys and 2 Minnesotans took care of business in St. Cloud! You never know how an AAU team will play after an extended break in their schedule. That is exactly what ECI had, the 16U Prospect players were busy in the month of June with their high school teams. ECI had not played a tournament since May 21-22. 
How did ECI play at the Great Plains Alliance (GPA) in St. Cloud? ECI knocked it out of the park! Congrats to the Prospects and coach Cummings on picking up 5 wins against quality competition. Not to mention the Championship and all the bragging rights!
GPA
ECI was super impressive after their month-long hiatus. They gelled together quickly and there was no rust that needed to be knocked off! They played team basketball, this was the best they moved and shared the ball as a team. The ball did not get sticky. This was the best half-court defense that they have played all season. The Prospects played tough in the halfcourt and they got stops when they needed them. Next up is Atlanta for ECI, this was a great way to gain momentum before they head south.
Look below, this quad beat some really good teams!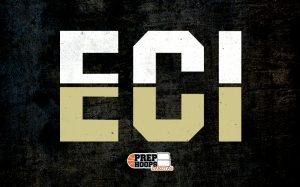 GPA Game Results (5-0)
ECI Prospects 72 Northstar Titans Wynia 57
ECI Prospects 75 Sacred Hoops 54
ECI Prospects 71 Comets Elite 15's 69
ECI Prospects 79 SD Attack 73
ECI Prospects 74 Schoolers Vincent 54
Player Info
Logan Conklin
Logan Conklin 6'5" | SF Minot | 2024 State ND (2024) |6'4 F| Minot
He turned some heads with multiple rim-rocking dunks. On one of the SLAMS, it seemed like the Minot kid might rip the rim out of the backboard! Logan took several charges throughout the weekend. Those types of plays are momentum-changing, especially in AAU. Logan also stuck out while cleaning up the glass. He rebounded well on both ends. Conklin scored several times on O-rebound putbacks. He is a gifted athlete. When attacking the basket, Conklin has a long, low, and quick first step. Logan keeps getting better with every event. 
Lucas Kupfer
Lucas Kupfer 6'5" | SF Bismarck Legacy | 2024 State ND (2024) |6-5 F| Bismarck Legacy
This Saber was the MVP in the Championship game. He was killing it from the high post vs. the zone defense. Lucas was catching, ripping, and making plays. In the Ship, Kupfer didn't come out in the first half and he only sat a couple of minutes in the second half. He was playing so well, ECI had to leave the lanky lefty in the game. He is a sneaky athlete and Kupfer is deceivingly quick. Lucas can get to the rim with ease and he shot it well from 3pt land. On defense, Kupfer was very tough with his length. He is able to give the ballhandler a bit of room, move his feet, and still pester the ball with his long arms. Everyone seems to have a tough time finishing over Lucas. Like many of his teammates, Kupfer was productive with O-board putbacks. He had a monster putback score that helped close out the win vs. the Comets. 
Dylan Zimmerman Dylan Zimmerman 6'5" | SF Moorhead | 2024 State MN (2024) |6-5 SG| Moorhead
The Spud Sniper was back for his first game of the AAU season. Dylan was dealing with an injury but he is back and producing at a high level. Zimmerman played with ECI last summer, so it did not take him long to get back into the groove of things with his comrades. Zim is long, wiry, lanky, and athletic. He had multiple transition WHAMS and a sweet alley-oop slam via a set play. Dylan just needs to see one shot go in, after that, look out! He gets hot in a heartbeat. Zimmerman made multiple 3's every game and in the Championship game, he played the role of a zone buster. Dylan is great at executing sets and knocking down timely shots. It was great for ECI to add another shooter.
Carter Zeller
Carter Zeller 6'6" | PF Fargo North | 2024 State ND (2024) |6'6 PF| Fargo North
He was a difference-maker with his "never back down" attitude. He went right at opposing BIGs and he pushed them off the block. Zeller was great at hedging hard and jumping the handoff on the perimeter. He moves his feet very well in BS situations. The powerful Spartan scored many points on O-board putbacks and he knocked down a few fluid 3-pointers. When he has the ball on the block, Zeller is phenomenal with his patience. He uses multiple head fakes, shot fakes, and pivots to get the defender out of position. When Carter sees an inch of daylight, he goes up strong for a physical finish. He is also an exceptional screener with perfect feet and spot-on timing. Zeller is one of the best in ND at rolling to the basket, sealing, and catching. His hands are beyond impressive. It was another great event for Carter. 
Jacob Brandt
Jacob Brandt 6'10" | PF Hillsboro/Central Valley | 2024 State ND (2024) |6-8 PF| Hillsboro/Central Valley
This was his best tournament of the AAU season so far. Jacob's agility seems to be much improved. He was great at moving his feet on defense. He kept ball handlers in front and out of the lane. ECI switches everything and Brandt was awesome at this in St. Cloud. On offense, Brandt was great in the pick-n-pop game with multiple made 3's. His hook-shot and "dream shake" were impressive. Brandt showed crafty footwork and he did great work flashing against the zone. The big Burro cashed in from deep, he hit 3 or 4 of them against SD Attack in the semifinals. It was two great days of basketball from Brandt. 
Jeremiah Sem
Jeremiah Sem 6'3" | SG Fargo North | 2024 State #212 Nation ND (2024) |6-2 SG| Fargo North
He played his best in the biggest games. Overall, Jeremiah shot the ball well. Against SD Attack he knocked down four 3-pointers in the first half. Sem played hard and he defended well. He tipped passes and created TO's with his length and athleticism. He really stuck out with his passing. Jeremiah was excellent at moving the rock and making the extra pass. He fed the post and he found shooters. Jeremiah is becoming a complete player.
Matthew Sem Matthew Sem 6'1" | SG Fargo North | 2025 State ND (2025) |6'1 SG| Fargo North
He was huge in the win against SD Attack. Sem made all sorts of positive things happen in transition. He also had a wildly impressive dunk. As usual, Matthew connected on multiple 3-pointers over the course of the GPA. When he gets to the rim, Sem is a crafty shotmaker. In ball-screen action, Sem made the defense pay 3-points at a time with his jumper. Over the course of the spring/summer, Matthew has improved his perimeter shooting.
Lewis Jones Lewis Jones 5'9" | PG Goodridge/Grygla-Gatzke | 2024 State MN (2024) |5-8 PG| Grygla-Goodridge
He is no longer the "Midrange Mullet"! Lewis played great for ECI down the stretch in games. He has an impressive hoops IQ and he knows when to slow things down when ECI had the lead. Lewis is a floor general that knows hows how to put games on ice. He showed off a nice jumper from the 3-point line while knocking down shots. He made beautiful floaters over BIG's and even a 7'1″ player. Jones's touch on his floater is marvelous. He was also clutch from the FT-line late in games.   
  Drew Hofstad Drew Hofstad 6'1" | SG Devils Lake | 2024 State ND (2024) |6-1 G| Devils Lake
He once again showed that he is a physical guard and tough defender. Drew is a 3&D guy. Most of the time Hofstad ended up on the opposing team's PG. Drew slides his feet like a machine and he hounds opposing guards. When playing off the ball, Hofstad is a ball hawk. He gets tips, steals, and TO's. Drew also made plays late in games to help finish off teams.