Which prospects helped their cause the most after the 2022 Prep Hoops Battle at the Lakes? Pierce Arenz Pierce Arenz 5'8" | PG Kiel | 2024 State WI – 2024 – PG – Wisconsin Blizzard Would like to see Arenz…
Which prospects helped their cause the most after the 2022 Prep Hoops Battle at the Lakes?
Pierce Arenz
Pierce Arenz 5'8" | PG Kiel | 2024 State WI – 2024 – PG – Wisconsin Blizzard
Would like to see Arenz against more top-level competition, but I think he'd hold up well. Arenz pushes the tempo and makes a lot of plays in the open floor. The Kiel standout created a ton of havoc over the weekend, flying around defensively and generating turnovers.  Like the finishing ability at the rim too. You don't see many 5-foot-9 guards able to take bumps or finish acrobatically against defenders like Arenz. If all else fails, Arenz is an excellent shooter that can knock it down on and off the ball.
Jax Effertz Jax Effertz 6'5" | SF Cumberland | 2023 State WI – 2023 – SF – Chippewa Valley Select
Like the makeup of this prospect and think he could be a steal for a small school. Out in Cumberland, Effertz  posted 18 points, eight rebounds, and three assists per game as a junior. He's a 6-foot-5 wing who can handle the rock and score with a deadly pull-up game. Effertz is so smooth and deliberate, he can create looks even when defenders are hounding him. Think there's some sniping potential from 3-point range as well. Effertz can run off screens a bit and knock down perimeter shots if a defender doesn't get a hand up. A prospect that ties an offense together, Effertz can serve as an extra ball handler and does a great job of making timely cuts to help his teammates out as well.
Mikail Harmison
Mikail Harmison 6'4" | SF Appleton West | 2023 State WI – 2023 – SF –  Team 1848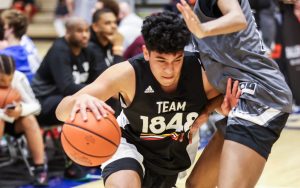 Certainly don't think he's arrived, but Harmison is someone that has a chance to get a lot better at the next level. Physically, Harmison really looks the part. He was always a strong kid, came up a bruiser and now he's gotten taller and has a college-ready body. If his skills catch up to his strength, Harmison could be a huge matchup problem, given that he'd be able to beat defenders with finesse and force. He can stretch the floor a bit, shows flashes of being able to attack off the bounce, and can already score on the block. High motor prospect here too that attacks the offensive glass and sets a tone defensively. 
Tanner Jones
Tanner Jones 6'0" | PG Bangor | 2023 State WI – 2023 – PG – Coulee Country
First caught Jones at the state tournament. He's proven to be a nice prospect. A strong and skilled guard, Jones has a terrific pull-up game and utilizes change of pace/direction very well to keep defenders off balance. The lefty has a quick first step and scores efficiently when he gets to his strong hand. Good vision, feel for the game as well. Jones gets into the paint and sees things happening before they actually open up.
Jonathan O'neill
Jonathan O'neill 6'9" | PF Kaukauna | 2024 State WI – 2024 – PF – Wisconsin Blizzard
O'Neill has been growing on me this spring. Like that O'Neill understands where he's at and how he needs to be successful right now.  His Blizzard team already has plenty of offensive firepower. You talk about being a star in your role, that's what O'Neill  does. He just wins on the glass, owns the offensive glass, and generated a ton of  second chance opportunities.  O'Neill was able to score on post touches a bit when his number was called. A long, bouncy, and tenacious athlete, O'Neill is still scratching the surface of his potential, but certainly seems far from satisfied with the way he gets after it on the floor.
Carter Privatt – 2024 – PG – Chapman Basketball Academy Gold Elite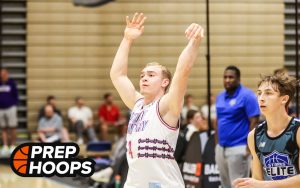 Privatt comes off the bench and does some nice things for CBA.  He's an engine type prospect. Might not take a ton of  shots, but he's probing with the basketball, pushing the pace, and looking to make things happen. Thought he did a great job of beating his man off the dribble, getting into high percentage areas, and either slicing up the defense to the rim or kicking out to open shooters.
Nic Smith
Nic Smith 6'0" | SG Whitnall | 2023 State WI – 2023 – PG –  Wisconsin Playground Club PH
Will probably fly under the radar at a loaded Whitnall program, but Smith can help the Falcons next season. The 5-foot-11 junior is an all-around guard with plenty of skill on the ball.  In Sunday's loss to the Minnesota Lightning, Smith put up 11 points, five steals, four rebounds, and three assists. His shot wasn't falling at a high rate, but loved that it didn't take away from the other parts of his game. Smith also provides on-floor leadership and he's the voice his teammates listen to.
Reid Tengblad
Reid Tengblad 6'6" | PF Holmen | 2023 State WI – 2024  – PF – Wisconsin Playmakers Weix
Tengblad had a solid effort against Grassroots Sizzle. The 6-foot-6 forward has a good blend of strength, athleticism, and mobility. He'll handle the ball a bit on the perimeter and has some combo forward potential. Tengblad was pretty active on the offensive glass and was able to get off the ground quickly too to retrieve his own misses. He sets a lot of screens in the Playmakers' offense and looks to flare out for triples. If it's not there, Tengblad does a great job of moving the ball around the horn and keeping the defense moving. Last season, Tengblad averaged around nine points and six rebounds per game for Holmen.