Dan Cross put on a great event in Orlando. He scored some of the top teams in Florida and some former state champions from Georgia. We saw prospects that can play at many levels and are receiving interests and offers…
Dan Cross put on a great event in Orlando. He scored some of the top teams in Florida and some former state champions from Georgia. We saw prospects that can play at many levels and are receiving interests and offers accordingly. Click here for Pt. 2.
Lake Nona 
2023 Grant Chamberlain
Grant Chamberlain 6'6" | PF Lake Nona | 2023 State FL is a terrific rebounder for a 6'5 forward. His boards are textbook as he high points the ball and chins it with his elbows out. He's a smart passer that keeps the ball moving and finds guys on the break. 
Thomasville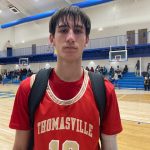 Georgia's own Harris Jackson
Harris Jackson 6'6" | SF Thomasville | 2023 NLG impressed with his shooting and athletic pop. Jackson threw down a monster dunk on the break while picking the defense apart with his pull-up. At 6'5 he has the bounce and noted history of shooting well beyond the line. He's building a strong resume that will attract college coaches this season.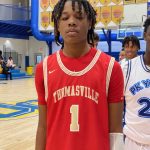 2023 Anthony AJ Dent
AJ Dent 6'6" | SF Thomasville | 2023 State GA Jr. left Orlando with two double-doubles. He's a spring loaded athlete that rebounds well above his 6'5 listing. He didn't need plays called for him as he ate from cleaning the boards. Defensively, his length and timing made him a solid shot blocker this weekend.
Dijmon Wheeler is a stellar three sport athlete that gives it his all. He finished above the rim in transition and has real end-to-end speed. He scored in double figures in both games while being a pit bull on the court.
Calvary Christian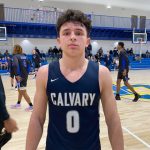 2024 Daniel MacGregor
Daniel MacGregor 5'11" | PG Clearwater Calvary Christian | 2024 State FL is a pure playmaker for Calvary Christian. He's a quick muscular guard that got into the paint whenever he wanted. Many of the drives resulted in kick-outs to shooters, but when he drove to score, he powered through contact en route to 24 points. MacGregor always seems to be in attack mode, putting defenders on their heels, allowing him to get downhill. The pace he plays at is beyond the high school level he's currently on.
Trevor Parks
Trevor Parks 6'4" | CG Clearwater Calvary Christian | 2022 State FL is currently committed to play for the Coast Guard Academy. At 6'3 he possesses a high IQ and consistent stroke from deep. He knocked down three threes through just as many quarters.
Peachtree Ridge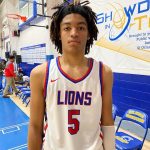 David Freeman needs attention immediately. He left the weekend with 11 made threes, all from college range. The junior offers more than a standstill shooting as he showed an ability to hit pull-up jumpers and floaters in the halfcourt. 
Malcolm Noel showed real takeover ability in game 2. He scored 16 of his 21 points in the fourth quarter and overtime to bring the Lions closer to a win in Orlando. He's a quick guard that can get in the lane and pull up in open spaces. He's currently being recruited by D2 and D3 schools.
Tri Cities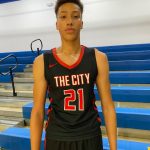 2022 Ryan Mathieu is going to surprise people with his length. At 6'9 he has to be holding a 7 foot plus wingspan. He uses it well when blocking shots and rebounding. As the primary defender on 5 star center Ernest Udeh
Ernest Udeh 6'10" | C Dr. Phillips | 2022 State #48 Nation FL Jr. he changed his shots and defended the rim against other D1 players. Fort Valley State is currently showing interest, but more school should come around to a big man who runs the floor and has the physical tools Mathieu has. 
At 6'9 William Norwood is an athletic floor runner. Tri Cities runs him and Mathieu in a lengthy frontcourt that always has a defensive anchor on the floor.
Kennesaw State signee Simeon Cottle Simeon Cottle 6'1" | PG Tri-Cities | 2022 State GA was terrific against Dr. Phillips. He went on a shot making exhibition, hitting four threes on his way to 23 points. He's a high level shot maker that can dial it in from all over the court. When his feet are set, expect the ball to find the hole. He also has some nice moves off the dribble where he creates space for easier shots.
2023 Kory Mincey is going to take over Cottle's role just fine. He performed well both days, averaging 18 points a game, including 23 against Dr. Phillips. He's as much of a shot maker as his counterpart, but does more of his damage in the midrange and at the rim. Mincey is a gamer that can get his bucket within the offense and when it breaks down.
West Oaks
Maurice Odum
Maurice Odum 6'1" | PG West Oaks | 2022 State FL is a real shooter, ladies and gentlemen. He 20 and 18 respectively in less than 15 minutes this weekend all while shooting a crazy efficiency from the field. His handle and pace leave defenses guessing while opening up space for his shooting. He's a talent worth taking a flyer on now or dealing with in March.
Speights Academy
Keyshawn Hall made his debut with Speights Academy on Saturday and did not disappoint. At 6'7 he has a shifty handle that allows him to get downhill. When the defender is put on his heels, Hall's size advantage comes into play where he can bump his defender on this way to layups through contact. When he's not looking to score, he can still shift defenders and find teammates on the move.
2022 Andre Wright Jr. destroys guards at the point of attack. As soon as they cross halfcourt, he's in their jersey, pestering their handle and forcing them to switch hands. Once that happens, he pounces on the off-hand to force turnovers. He clocked three steals and countless deflections. As a halfcourt point guard, he can find guys all over the court.
South Alabama has a star coming in Jamar Franklin
Jamar Franklin 6'1" | CG Speights Academy | 2022 State #246 Nation FL . He scored 20 points by hitting 4 threes and making tough layups after beating hard closeouts. His layup package around the rim is special.
David Dixon is a powerful 6'8 forward. He stepped out to hit a three and blocked several shots at the rim. He plays hard.
DME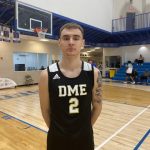 I don't know what the record for threes made in a single game at the Dan Cross: Florida Get Down is, but Milan Skoric
Milan Skoric 6'2" | SG DME Academy | 2022 State FL was going for it. The Embry-Riddle commit hit 5 of 7 all off the catch. He runs off screens well and will be a terror for his college team that puts up 28 threes a game.
Niccolo Moretti
Niccolo Moretti 6'2" | SG DME | 2022 State FL is a next level passer. He can find guys in every situation. He advances the ball with a flick of the wrist and gets it there in a hurry. Whether you're in a slower halfcourt tempo or pushing it in transition, you can trust Moretti to hit guys right where they need it.
Victor Panov Victor Panov 6'7" | PF DME | 2022 State FL is a next level player for sure. He already sports a roster spot on the Russian national team and showed why on Saturday. He scored 21 points with monster dunks, finesse moves in the post, and a shot from deep. The 2022 prospect is an athletic 6'8 forward with a bright future in this game.