It is football season, but basketball never stops! In this article, we are looking at new faces in varsity ball that will be difference makers. We have young and we have old, we have ND and SD. Read on for…
It is football season, but basketball never stops! In this article, we are looking at new faces in varsity ball that will be difference makers. We have young and we have old, we have ND and SD. Read on for the player's information…
ND and SD FRESH FACES (TAKE 2)
(Players listed alphabetically)
This huge frontcourt player will make an immediate impact on his varsity team. Sioux Valley will be one of the best teams in A this year. They will need Alec and his size for a long post-season run. Look for the big-young player to help protect the rim, rebound, and provide inside scoring. 
Expect this BIG man to be a difference-maker in Madison. After a successful season with SD Attack, I see him playing a major role in school ball. Brooks plays extremely hard on every possession. He can make plays inside and out. Ben is not just a scorer, he can also set teammates up. He is flexible and athletic, Ben can play many positions from post to wing. Keep tabs on Brooks this season, he is an intriguing player. 
He played varsity minutes last season as an 8th grader. This year you should expect a boost in minutes and Boston's production should shoot way up. He has good size and a nice understanding of the game. Expect him to take on a big role in the coming season. Katzer is a young star that is about to blossom. 
A monster in the paint who has the potential to dominate on the block Brady will change the game when he gets clock this season. He has sweet post moves with nice feet. There are few players with his size in ND. Opposing players will be afraid to attack the rack when Norenberg is in the way. This Trouper has the potential to be a big diamond in the rough for Garrison. 
Look for him to be an X-factor and game-changer for 4 Winds. Dalen is a long wing that can D-up and rebound. He can slash and penetrate for baskets efficiently. In the open court, Leftbear is deadly when playing fast. Dalen will be an important piece of the puzzle for the high acclaimed Four Winds-Minnewaukan team.
A very quick and athletic guard. He will be a huge piece for the Firebirds this season. Hofstad was impressive with ECI this AAU season. He is very active on defense and unselfish on offense. Drew shot the ball very well this summer from beyond the arc. I am expecting Hofstad to put up big numbers in the EDC this year.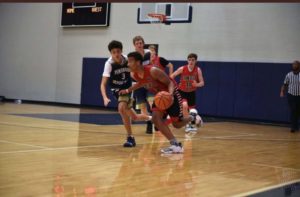 He had a phenomenal summer with ND Phenom. Jaxon is one of the most underrated players in the state of ND. He will be a huge boost for Legacy. Kellogg is a selfless player that cares about winning and making his teammates better. Jaxon is a "must watch" player this season in the WDA. 
The Huskies lost a good amount of talent and you should look for Jayden to step right in and contribute early on. Long can hit from long range and he can slash to the cup for buckets. Expect this athlete to make plays early and often for Wahpeton. King may be young, but he will need to supply a scoring punch for the Huskies.  
His squad lost a big amount of minutes to graduation. Look for Uhlier to step right up and produce. He is big and skilled for his young age. Jordan has a bright future and you will want to watch him play this season. Expect a breakout year from Uhlier. 

He saw varsity minutes late last season. This year you should see the D-1 prospect early and often in varsity. He added strength over the summer months which should help in a big way. JT also polished his game and added moves to his tool belt. There is no doubt in my mind that Rock will be a difference-maker on varsity.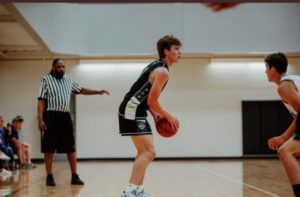 A sniper from 3-point range and Sheyenne lost a ton to graduation. Larson will step in ready to let it fly from deep. Kaleb was one of the best shooters for ECI all summer, I expect much of the same in EDC play. He can do more than just shoot, Larson can attack the basket and finish. Kaleb will be a great shooter and player for the Mustangs this season.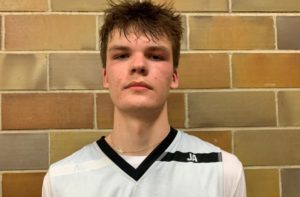 Davies is deep with talent and they have high expectations. If the Eagles plan on going very far they will need the 6'7″ Froslie. Max is a top-notch athlete that can spread the floor and hit the 3-ball. He moves very well and he is light on his feet. He will provide size and rim protection for the Eagles. Expect a monster season from Froslie. 
He should be a big-time contributor for Winner this season. Shawn can be a force down low with his height, size, strength, and athleticism.  When he gets on the block he is tough to move. Many times it will take a double-team to stop this big man. Shawn also has great hustle and running ability. He gets up and down the court in a hurry. 
The Miners lost some quality players to graduation and will need Trace to contribute right away. Beauchamp is a lefty comb-guard that penetrates well and he has great body control to finish at the iron. Trace can spot up and hit the triples. Beauchamp will allow the Miners to move Trey Brandt
Trey Brandt 6'1" | PG Beulah | 2022 State ND off the ball, which will help him conserve energy. Trace will be an impact player, how much? Only time will tell, tune in and watch the Miners to find out.