When I began this four part magnus opus I was hoping to conclude right before the season began. With the season now slated to begin Monday. Let's wrap this up.  As the recent delay shows it is readily apparent that…
When I began this four part magnus opus I was hoping to conclude right before the season began. With the season now slated to begin Monday. Let's wrap this up. 
As the recent delay shows it is readily apparent that much of the 2020-21recruiting process is going to be done via Zoom meetings and Hudl highlights. Consequently, I thought it would appropriate to do a more comprehensive list of Northern Michigan recruits to hopefully aid this process. 
It is a vast region geographically so it's a challenge. I have included the UP and the Lakeshore/Interstate 10 corridor. That's a lot land and a lot of players. I've decided to do four equal installments of 11 to get to the Fab 44. Other editorial notes. Due to the recruiting focus I've decided to exclude some good players who are going to focus on other sports at the next level. Examples would be players like Traverse City Central's Joshua Burnham and Carson Briggs (Western Michigan FB)  Players will also go in reverse order, but the tiers are more important for college fit. 
11. Carter Hudson Carter Hudson 6'7" | PF Escanaba | 2021 State MI 6-7 2021 Escanaba A solid long term post prospect. This young man made the most of a truncated grassroots season by running with the Wisconsin based MAC Attack AAU program. Participated in some high profile out of state events. I saw him play well against a loaded field in a late summer event in Indianapolis. A post all the way with a strong well put together frame. Has the ability to stretch his shot out on the perimeter. Averaged 14.6 points per game to go along 8.2 rebounds. 
10. Jack Stefanski Jack Stefanski 6'6" | SF Frankfort | 2021 State MI 6-6 2021 Frankfort Highly skilled and versatile four year player. Has the size and toughness to play down low at any level. While also showing the perimeter ability to operate in the backcourt. Battle tested after playing with the Bank Hoops AAU program for multiple years. Also has played in numerous high profile regular season games with the traditionally strong Frankfort program. Led the Panthers to a Class D State final as a sophomore besting Tri-Unity standout   Brady Titus
Brady Titus 5'10" | PG Tri-Unity Christian | 2022 State MI along the way. Next level bloodlines as his older brother plays football at Grand Valley. Averaged 19 points per game to along with 11.3 rebounds. 
9. Luke Hazelton Luke Hazelton 6'7" | PF Glen Lake | 2023 State MI 6-7 2023 Glen Lake A lot of upside in this young post prospect. Younger brother of current Ferris St player Reece Hazelton Reece Hazelton 6'7" | SF Glen Lake | 2020 State MI . Much different at this point in his development and that is not necessarily a bad thing. Straight up post right now. While not the most agile player, has well skilled and coordinated footwork on the block. Also has a soft left handed touch around the basket. Wide frame and his not afraid of contact. Should be the focal point of the Lakers attack. Could possibly (who knows with scheduling) have a chance to make some early season noise with big game against Cadillac and number 4 on this  list. 
8. Jayden Alfred Jayden Alfred 6'3" | SF Mancelona | 2021 State MI 6-4 2021 Mancelona Quite possibly the best overall athlete on this list. Long arms, extremely broad shoulders, and the ability to play well above the rim. All around game has been steadily catching up to his athleticism in the past few years. Like Stefanski had a good summer playing with Bank Hoops. Met Kobe Bufkin
Kobe Bufkin 6'4" | SG Grand Rapids Christian | 2021 State #71 Nation MI at the rim and came out on top at a early summer event at Trine University. Not many players in the country can claim that feat. Posted an impressive double double last year with 21.9 points per game to go along with 10.9 boards. 
7. Kameron Karp Kameron Karp 6'0" | PG Marquette | 2021 State MI 6-0 2021 Marquette As stated in the intro I tried to limit the list to basketball recruits. However this young man slips  through the cracks a little as I believe he is good enough to play both sports at the next level. Signed with hometown school Northern Michigan in football as a receiver. Not the biggest point guard prospect. But as the gridiron exploits show has plenty of quickness and strength to make up for it. Controls tempo efficiently and operates well in the pick and roll. Caught my eye with a good performance in a loss to a very good Traverse City Central team last December. Equally adept as a scorer and a distributor. Averaged 17.4 points to along with 4 assists.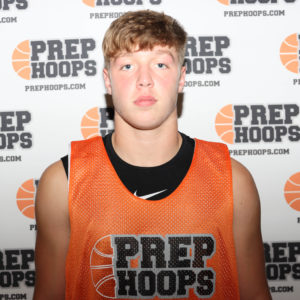 6. Drew Hess
Drew Hess 6'2" | PG Oscoda | 2021 State MI 6-2 2021 Oscoda Prolific scorer and shooter in a new location for his senior campaign. Hess traded a historic small school program in Mio for another on the come up with Oscoda. With Mio the shooting statistics are eye opening. For his career has shot 46% from 3 and 55% inside the arc. Already has 1,468 points on a average of 21.6 points per game. So you get it, he can fill it up. Should take on a slightly different role with the Owls who have lost one regular season game in two years. If not for a Northwood baseball commitment they would also feature another player in forward Owen Franklin on this list. Hess showed off an improved overall floor game and few extra inches of height with the aforementioned Bank Hoops AAU program this summer. Coming off an excellent football season that ended in the quarterfinal round, I'm excited to see what the change in scenery holds. 
5. Evan Solomon Evan Solomon 6'3" | PG Charlevoix | 2022 State MI 6-3 2022 Charlevoix Has led a mini resurgence for a traditional Northern Michigan power. Solomon has intriguing  size for a backcourt prospect and might not be done growing. Followed up an excellent sophomore campaign with an active grassroots season. Solid and heady ball handler who has the ability to play both the 1 and 2 positions. Utilizes size by playing straight up and elevates above defenders on a traditional jump shot. Has long arms and is active on the defensive end.  Not an overwhelming athlete but did have an excellent season on the gridiron so there might be a little more there than what I have seen up to this point. Averaged 18.2 points per game and shot 42% from the beyond the arc. 
4. Cole Jenema
Cole Jenema 6'9" | SF Cadillac | 2022 State MI 6-8 2022 Cadillac Potential and length are the words for the day with this prospect. Very skinny but also is extremely light on his feet. Defense is well ahead of the offense at this point. The Vikings utilized him well at the top of a 1-3-1 zone. This allowed Jenema to show off his impressive combination of foot speed and dexterity. Already a big time shot blocker. Developing at a rapid pace. Has come along way since I first saw him in a JV game as a freshman. Offensively is a decent ball handler with an improving outside shot. Assertiveness at this end is the next step in his development. Improvement in this area could rocket him up recruiting boards. The physical skills are simply that good. Coming off a good summer playing with the Grand Rapids Storm.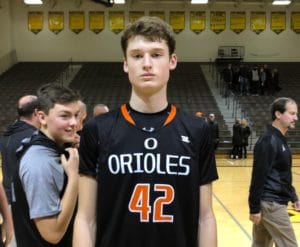 3. Peyton LaCombe
Peyton LaCombe 6'8" | PF Ludington | 2022 State MI 6-8 2022 Ludington    Another excellent long defender whose offensive game is developing. Runs the court like a gazelle. Like Jenema plays in a excellent defensive system that highlights his strengths. A little off the radar for some as he plays with the out of state Illinois Wolves in the summer. In a brief appearance with the Grand Rapids Storm showed off an improving outside shot. Handles the ball well but is not a wing at this point in his development. Well schooled in the post with good footwork. Strong finisher who keeps the ball high. Earned valuable experience as reserve on a state semi final team as a freshman. Averaged 16 points per game for the Orioles in the past season. 
2. Wyatt Nausadis
Wyatt Nausadis 6'4" | PG Traverse City St. Francis | 2023 State MI 6-2 2023 Traverse City St Francis While the statistics don't jump off the page had arguably one of the better freshman seasons in memory for a northern player. I first saw him over the holidays in tough loss to a good Spring Lake team. I was impressed with his composure and aggressiveness in what was one of his first high school contests. Kept it up the rest of the season for the Gladiators. Tall for a young guard and also very bouncy. Plays the point by default but is probably more of a two long term. However if he is done growing already has skill set to be a intriguing point guard at the next level. Explosive in the open court and can finish above the rim. Clever ball handler and passer with nice elevation on his jump shot. Had a strong summer playing with both Northern Exposure and the Grand Rapids Storm. Might be a little rusty to start the regular school season. Will have a LeBron level layoff (3 weeks) due to an extended football season that ended in the state finals. Playing up and contributing on a St Francis football squad should tell you a lot about his D1 level athleticism. Averaged 11.5 points per game and shot 34% from three. I expect those numbers to go up considerably in the coming year. 
1. Foster Wonders Foster Wonders 6'5" | SF Iron Mountain | 2021 State MI 6-5 2021 Iron Mountain Were you expecting anyone else? What more can I add for one of the best to ever do it from this region. A generational UP talent. Simply put not much weakness to his game. Showed that off with a REACH squad against some of the best players in the nation this summer. Ran with the national Wisconsin EYBL program Phenom University the previous summer. So you can't say he has been ducking competition up in the UP. Should have a state championship on his mantle, and that's all I will say about that. A pure three level scorer. I do worry slightly about fit at the next level. Doesn't have true top shelf athleticism. However I believe he has the versatility and court sense to compensate. I also think Southern Illinois is a good fit. Averaged an impressive 27.4 points per game and 7.8 rebounds last season. I'll end with a story I've been dying to tell. Wonders older brother Carson played at Northern Michigan. When he was starting to make a name for himself I called a coach to get a scouting report. The coach ended by saying "but you really need to watch out for his little brother." I was intrigued and asked what grade he was in assuming he was a year or two behind. The coach responded "fifth grade". When coaches are talking you up in fifth grade you know you are a special talent.