Session 2 of the Prep Hoops Top250 Expo came to a close on Sunday. Here's a look at the top under the radar prospects who emerged in Appleton… Michael Asman Michael Asman 6'6" | PF Kimberly | 2023 State WI…
Session 2 of the Prep Hoops Top250 Expo came to a close on Sunday. Here's a look at the top under the radar prospects who emerged in Appleton…
Michael Asman
Michael Asman 6'6" | PF Kimberly | 2023 State WI – SF – Kimberly
Asman is rapidly improving and continues to expand his perimeter skillset. The 6-foot-5 forward is shooting it well from beyond the arc and can do some intriguing things off the dribble for his size. Like his older brother, Asman has a chance to develop late. He's a raw, lanky  prospect that will continue to get stronger and more fluid with his movement later down the road. 
Sam Coulthard
Sam Coulthard 6'2" | SG Neenah | 2023 State WI – SG –  Neenah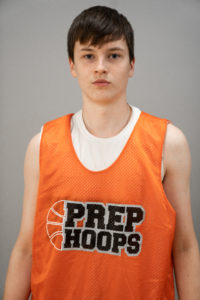 Coulthard shot the ball really well throughout the day.  He came off screens with intent to score.  When he gave the ball up,  he immediately made hard cuts and looked to get it back for an open shot. In transition, Coulthard was able to go against unfavorable numbers  — getting to the rim against multiple defenders or pulling up off the dribble from distance.
Brenden Cahill –  G – La Crosse Central
Cahill played on one of the more talented teams, but was still able to stand out. The sophomore guard displayed some toughness, able to shake off contact  and get to the rim. The lefty is quite smooth off the dribble and can hit consistently in the mid-range. When shot blockers come his way, Cahill did a great job of either jumping into them and taking away their length or adjusting his release/touch. Cahill should be a nice reserve guard for what's expected to be another strong Red Raider squad in 2020-21.
Darius Chestnut – SG – Sun Prairie
Chestnut is a strong, athletic wing with a nice physical makeup. He's listed at 6-foot, but plays much bigger than his size. Chestnut had some tough, athletic finishes at the rim. If given room, he can also space the floor and knock down his open shots from the perimeter.
Hogan Demovsky – G – De Pere
Smaller, but wiry guard. Not the most physically imposing prospect, but Demovsky can definitely play. His playmaking ability on the ball certainly impressed.  Demovsky is a crafty player who utilizes head fakes and no-look decision to get defenders off their feet or out of position.  Off the ball, Demovsky  hit the soft spots on the corners and wings and showed a smooth, effortless release. 
Daylen Dotson – W – Sun Prairie
Dotson is showing noticeable improvement. He's been more decisive offensively and shot it well in spurts. Dotson was able to get into the paint, spin off defenders, and shoot off-balance. 
Dylan Emer – SG – Catholic Memorial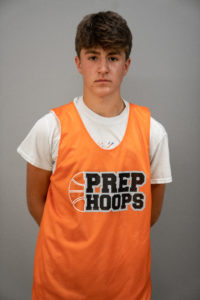 Pretty aggressive throughout the day, Emer put himself on our radar heading into the 2020-21 season.  Will be interesting to see how Catholic Memorial mixes Emer in with all their young talent, but the 5-foot-11 guard can definitely play. Emer has the handles to score in isolation and he made it known he's willing to take a shot at the rim from defenders. 
Bennett Fried
Bennett Fried 6'7" | SF La Crosse Central | 2023 State WI – SF – La Crosse Central
A prospect that has a chance to be pretty special in this class, Fried has an intriguing blend of size, skill, and athleticism. A 6-foot-5 wing with feet that make you think he could end up around 6-7/6-8, Fried showed some big flashes on Sunday.  Fried can handle the ball like a guard, shoot from the outside, and play in transition.  He's got some serious positional versatility on both ends of the floor. Fried is a big mismatch problem with his ability to pull people away from the rim or take smaller defenders into the post.  Still a long way to go for his development, but in a year or two we could be talking about Fried as a Division 1 prospect if he puts the work in.
Will Gardner – SG – Franklin
Gardner was one of the biggest surprises of the day and a name we hadn't heard yet. The unranked guard showed plenty of swagger and confidence against some of the best talent in the state. Liked his decision making in the paint. When defenders converged, Gardner could find the open man. If they allowed him into the teeth of the defense uncontested, he made them pay. Gardner has a little bit of that "it" factor to him. Didn't matter who was covering him…he delivered.
Jackson Green
Jackson Green 5'11" | CG Madison Memorial | 2023 WI – G – Catholic Memorial
We knew Green as an uptempo, slashing guard. He definitely has gained more confidence in his outside shot since the summer and was really looking to let it fly on Sunday.  It appeared Green really wanted to emphasize his improvement and was hunting triples and showing off extended range as well.  Given his speed on the ball, if Green can mix in a reliable outside shot, he'll be tough to defend. 
Mikail Harmison – SF –  Appleton West
Big body and versatile wing/forward type prospect. Harmison is intriguing with his ability to handle and pass the ball for his size. He can play a little point forward and bring the ball up the floor. Harmison is a good passer from the top of the key and can find cutters in tight spaces. His layup package is also pretty interesting for a kid his size. Nimble on his feet and soft with his touch, Harmison can get right down main street and finish in a variety of ways.
E.J. Holt – W – Appleton West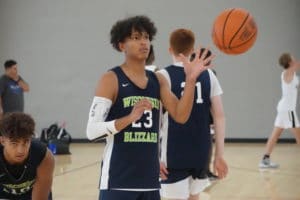 Kid has a motor on him and he'll be one of those guys FVA opponents hate to play against. A terrific defender, Holt has the athleticism, length, and toughness to make things difficult on just about anybody. He's also one of the better shot blocking wings in his class, able to chase people down from behind or come over from the weak side. Offensively, Holt is a good-looking slasher. He can get from the perimeter to the bucket without over-dribbling. Holt will also finish well at top end speed, not giving the help defenders a chance. 
Max Lucey – SF – Cuba City
After a couple of viewings now, Lucey will definitely move into the next rankings update. A skilled and versatile wing, Lucey can contribute in a variety of ways. He's an athletic 6-foot-4 sophomore that shoots it well from the outside, can make dynamic plays in transition on both ends, and isn't afraid of doing the dirty work. Defensively versatile, Lucey can guard numerous spots on the floor and allow his team to mix and match their lineups. 
Jackson Papendorf –  SG – Fox Valley Lutheran
A smooth operator, Papendorf has a nose for scoring the basketball. He showcased a very quick release off the dribble and the lefty can just fill it up from mid-range. He's not overly fast or athletic, but plays angles against defenders very well and knows how to turn them in order to get a clear look at the rim.  Papendorf  has somewhat of an old school game. He's not trying speed through or rush his way into the paint, but instead operates under control, utilizes change of direction,  and has various shot types to score the rock. 
Alex Sippy – SG – Westosha Central
Good mixture of effort, energy, and skill from this guard prospect. Tough to really pinpoint what Sippy is because he doesn't limit himself to  a given role. When he's rolling offensively, he can be a feature player. He can attack the bucket and score in traffic. If his outside shot is falling, he'll continue to stay hot from distance and act as a sniper. Sippy also locks in on defense, creates turnovers, and just provides a spark on that end. A kid that just plays quick, smart, and does everything with a purpose. 
Matthew Thistle
Matthew Thistle 5'11" | PG Kettle Moraine Lutheran | 2023 State WI   – G – Brookfield East
Liked Thistle on film over the summer. Like him even more now.  Maybe won't wow anybody in one particular area, but this is a solid guard prospect who can play with just about anybody. You don't need to run offense for Thistle to be successful…he'll find ways to make an impact. A two-way player that can hit his open shots, facilitate, and wants to defend, Thistle is a perfect fit for the Spartans and how they win.