The annual @PrepHoopsTN Fall Combine featured aspiring college prospects. For the rest of the autumn we will be featuring the campers with evaluations and measurements from the day, October 16th, 2022.
Cortez Graham
Cortez Graham 6'4" | PG Hillsboro | 2025 State TN | SG | Hillsboro | 2025
How did he measure against the competition?
PrepHoopsTN Combine MVP
PrepHoopsTN Combine All-Star
Class of 2025
6'4″ SG
Hand Span — 9.0″
Hand Length — 8.5″
Standing Reach — 98″ or 8'2″
Shoe Size — 14
3/4 Court Sprint (65′ not 75′ NBA distance) — 3.52, 3.02
Lane Agility — 12.40, 12.80
Camp Ranking — #1
State Ranking — #15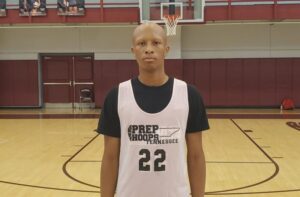 NBA Stylistic Comparison: 2022 Timberwolves Anthony Edwards
Cortez tucks his elbow in very well. The follow-through includes a nice wrist snap too. He handles like a dream.
Just one or two players played above the rim more consistently than Graham.  
For Cortez there will be speed bumps like any other developing player, and yet he already developed tangible skills across the board.  A priority athletically will be to improve his sprint speed.  Unlike most younger players, Graham is faster than his peers with the basketball and more middle of the pack without.  Typically, players lag drastically with the basketball under control.  Graham plays with explosion surely, but his lateral burst can become better (3.52, 3.02).
Considering his height, the future is excellent, likely as a taller point guard.  Either position in the backcourt will comfortably suit Cortez.
Garrett Giles
Garrett Giles 6'5" | SF Greenback | 2025 State TN |  6'5″ SF/SG | Greenback | 2025
How did he measure against the competition?
Class of 2025
Hand Span — 7.9″
Hand Length — 9.0″
Shoe Size — 14.5
Standing Reach — 99″ or 8'3″
3/4 Court Sprint (65′ not 75′ NBA distance) — 3.65, 3.04
Lane Agility — 13.70, 13.20
Camp Ranking — #25
State Ranking — Top 75
NBA Stylistic Comparison: 2021 Cavaliers Lauri Markkanen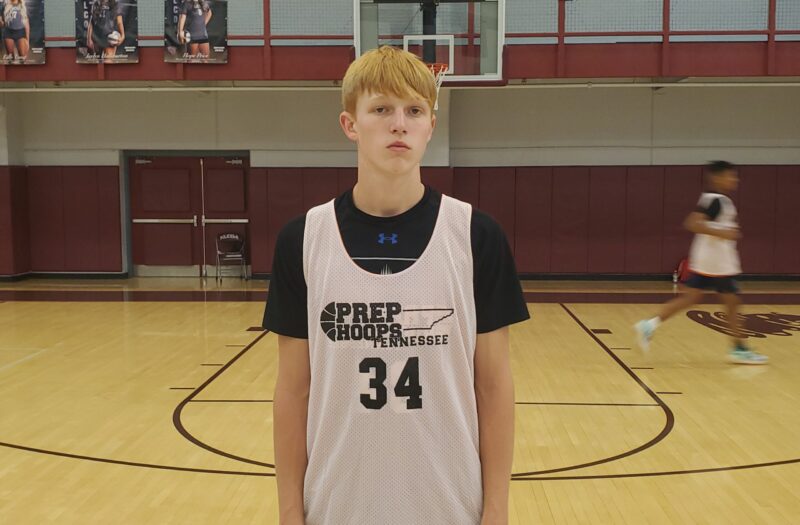 Garrett played his Summer 2022 with Tennessee Impact AAU.
GG's shot form takes a little too long to materialize. The form itself is not poor, but the transition from hip to release is too slow. Obviously, the slower shot release allows defenders to block or alter easier.
Giles looks relatively light on his feet at an enticing height. His physical strength must improve, as he grows into his body. Ideally, Giles will adopt a little more bulldog, more grit in traffic. Playing with a ferocity will help him blossom beyond his foundation.
Giles looks to be a forward for the next few years.  Again, his shot form is technically sound, just not rapid enough.  The event included a nice mix of shorter and taller players, and Giles typically performed more effectively against the forwards. 
Follow @AndrewForce8 and @PrepHoopsTN for the latest.