Jarred Hall Jarred Hall 6'8" | SF Lebanon | 2023 State #65 Nation TN , the #1 player in Tennessee, hosted a Commitment Ceremony Monday, during which he verbally committed to Tulsa University. Janerus Snipe Janerus Snipe 6'7" | PF…
Jarred Hall
Jarred Hall 6'8" | SF Lebanon | 2023 State #65 Nation TN , the #1 player in Tennessee, hosted a Commitment Ceremony Monday, during which he verbally committed to Tulsa University.
Janerus Snipe
Janerus Snipe 6'7" | PF Haywood (basketball) | 2023 State TN and Tylon Chatman
Tylon Chatman 6'0" | PG Haywood | 2023 State TN both added Columbia State Sunday. Snipe is currently ranked #30 in the state, while Tylon is #21. For Snipe this is his first offer. He looked like a junior college talent, perhaps peaking at D2 thanks to his power, strength, rebounding, toughness, etc. Chatman will teeter on the fringe of D1 and D2 with his recruitment. The worry with him may be height and strength, though the skill, speed, and ability to create is fantastic.
Cortez Graham
Cortez Graham 6'4" | PG Hillsboro | 2025 State TN (Hillsboro), coming off of the heels of winning the PrepHoopsTN Fall Combine MVP, will take an unofficial visit to Tennessee at the end of the week. Tennessee State University offered Cortez mid-October.
Tacarey Monday Tacarey Monday 6'0" | PG Clarksville Nortwest | 2024 State TN (Clarksville Northwest) took an unofficial visit to Austin Peay recently. Morehead State will be in to see him, according to Monday's High School Coach Thomas Stanley.
Tyler Moseley
Tyler Moseley 6'1" | CG Bartlett | 2025 State TN , one of the best sophomore guards in the state, will take an unofficial visit to UAPB (University of Arkansas-Pine Bluff) November 9th. He put up around 12, 4, 4 last season, as a starting freshman. Moseley camped with Arkansas Tech, Central Missouri, and Marian University (IN). UCM is involved too, after appreciating his camp performance.
Three Hendersonville High School starters were evaluated by a Centre College coach in early October. Hudson Gill
Hudson Gill 6'6" | SF Hendersonville | 2024 State TN (2024), TJ Kolbe, and Ty Lannom
Ty Lannom 6'0" | PG Hendersonville | 2023 State TN enjored the evaluation. Currently, Centre College is home to Tennessee-raised basketball players: Noah Ring (Gallatin), Noah Magee (Franklin), Colby Raymer (Kingston), Bryson Merrill (Greenbrier). Programs like Lees-McRae, Tusculum, Lipscomb, and Cumberland are tracking the progress of Hudson Gill
Hudson Gill 6'6" | SF Hendersonville | 2024 State TN .
Tennessee State University Head Coach Brian "Penny" Collins evaluated Jayden Jones
Jayden Jones 6'4" | SF Goodpasture | 2025 State TN and King Keary
King Keary 6'2" | PG Goodpasture | 2025 State TN in October.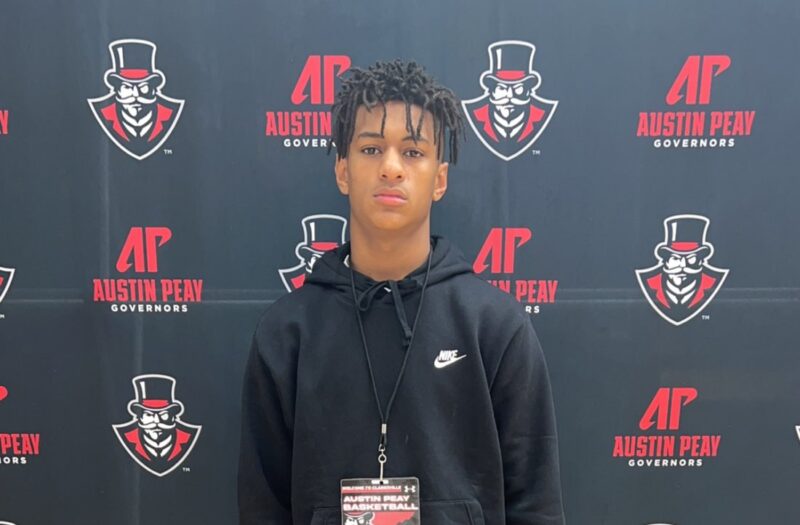 Austin Peay invited Trey Pearson
Trey Pearson 6'2" | PG Pope Prep | 2026 State TN (2026) to visit campus mid-October. For him to already be identified as a prospect before he plays a single varsity basketball game is a tremendous honor.
Tuesday, November 1st, Collin France Collin France 6'4" | SF USN | 2023 State TN (USN) verbally committed to Vassar College.
"This has been the dream ever since I started playing basketball, and now it's a dream come true. I am thankful for the man above for never ceasing to be there for me in the most challenging times, I am thankful for my family and closest friends for the support they've given me throughout the years, and all the amazing coaches that have helped me get to where I am today. With that being said I am extremely excited to announce my commitment to the admissions process at Vassar College to continue pursuing my academic and athletic career for the next four years. Go Brewers!!!" – Collin France Collin France 6'4" | SF USN | 2023 State TN