A short jaunt up the coast via Amtrak and a 20-minute Uber drive got me to Seal Beach's AIM Sports Complex, site of the Prep Hoops Hustle Region Finals.  More than 80 teams converged on the complex over the weekend…
A short jaunt up the coast via Amtrak and a 20-minute Uber drive got me to Seal Beach's AIM Sports Complex, site of the Prep Hoops Hustle Region Finals. 
More than 80 teams converged on the complex over the weekend to battle for regional supremacy in the 15u, 16u and 17u Divisions. 
When I arrived, bracket play was well underway with some early blowouts that gave way to some extremely competitive contests later in the day.
Here were my major observations from Saturday's round of games.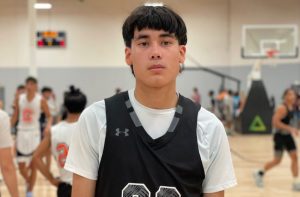 A New Mexico Sleeper Emerges 
My first game of the day was between  New Mexico D1 17s and Coastal Elite 17u Premier and fellow scout Gregg Rosenberg was raving about a player on the New Mexico squad. "He's legit," were Gregg's words. 
A few plays into my watch and it was clear that player was 6-5 rising senior guard . 
The 6-foot-5 combo guard from Carlsbad, NM, has some physical tools that you can't teach – great length, some explosiveness that he displayed in transition with some big tomahawk dunks and a missed windmill in transition that would've brought the house down. A crafty ball handler who has uncanny court vision, Perez is also a very sound perimeter shooter capable of taking – and making – high-degree-of-difficulty shots.
The drawbacks: his frame, at 6-5 he's possibly 160 and willowy. He's gotta get bigger to be able to absorb contact from the type of defender's he'll face in college. And at times, especially when the ball isn't in his hands, he has a tendency to float and not be assertive. All that said, if I'm one of the New Mexico D2 schools, I am putting him on a short recruiting list. 
BDH's diminutive back court
The next time I saw New Mexico D1 17s, they were on the losing end of a bracket-play tilt against a Washington-based Big Drip Hoops team. BDH had several prospects worthy of mention, including 6-11 Graham Eikenberry, but I wanted to focus on the undersized – yet productive and dynamic – backcourt of Jalon Blackwell
Jalon Blackwell 5'7" | PG Kentridge | 2023 State WA and Dae'Sean Johnson-Holiman
Dae'Sean Johnson-Holiman 5'10" | PG Federal Way | 2023 State WA .
Both 2023s, Blackwell is the bigger and more explosive of the two at 5-10 and built like a running back, while Johnson-Holiman has a slight frame at 5-9 but is equally quick and more adept from the perimeter. Blackwell's ability to get into the paint (he had a split of a double team against a pick-and-roll hedge that was off the charts) and facilitate and finish through contact make him the type of guard that could play his way into D2 and higher looks despite his height.
Johnson-Holiman gets it done with more craft and speed, but he's still a very good combo guard prospect too. NAIA level schools would be wise to recruit. 
A Frenchman fires a salvo
One of the developing stories in the 16u Division was the play of Rancho Elite, which willed its way to a 61-60 overtime win over Coastal Elite to advance to Sunday's title game against the winner of Team Revenge and top-seeded D1 Arizona. The Inland Empire-based group only had 6 players all weekend due to COVID-19 restrictions, but their six were very talented. In the semifinals matchup against Coastal, they held the lead for most of the second half before Coastal Elite powered ahead in the game's final seconds. 
Then, Rancho Elite got a dagger triple from 6-4 rising junior guard Ilyes Lear (featured image) to send the game to overtime. Lear would strike again in OT and hit the go-ahead three to give them the win. 
It wasn't a surprise, as Lear caught fire in the second half and his 6 threes in the second half alone. 
Lear, who grew up in France, is the son of SoCal Standout Geoff Lear, who played at Pepperdine and overseas. While he played junior varsity and Inland power Etiwanda, expect Lear to make a move this year onto the varsity level, where his size, length and spectacular shooting ability will be molded under head coach David Kleckner. He'll need to continue to improve his handle against pressure but the physical tools are there.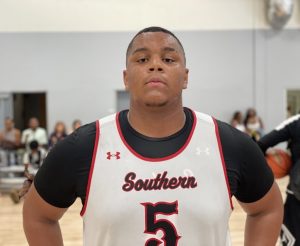 A D1 football player shines for D1 Southern California
When you see Christian Wilson line up against you on the basketball court, opponents immediately ask "does this kid play football."
It's easy to see why: The 6-5, 300-lb Wilson looks like offensive or defensive tackle. 
And he is. A very good one, to be precise. The nose guard/ defensive tackle recently picked up his first D1 offer from MWC power Fresno State. 
But make no mistake about it: Wilson can hoop. 
With nimble feet, underrated ball skills and a dead-eye shot from the stop of the key and wing, Wilson makes life miserable for opposing centers. In screen and roll scenarios he can score either on the roll or pop, and will knock down shots well beyond the college three if given space. He attacks closeouts well for a player his size and uses his girth to absorb contact and finish at the rim. And, in an offensive system that requires a lot of body movement and screening, Wilson sets some devastating picks. 
Wilson is very self-aware and understands his future will be on the gridiron, but he's fun to watch on the court, and is a catalyst for D1 Southern California, which emerged as one of the favorites to potential upset top seeded Roots Elite headed into Sunday.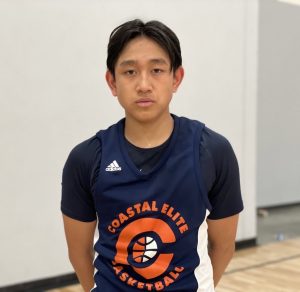 San Diego's best shooter?
The state's southernmost region has been a hotbed for elite shooters over the years, with guys like Johnny Dee, Boogie Ellis, James Rahon and others making their marks at the collegiate – and professional levels – with their floor spacing capabilities. 
5-9 rising junior guard (San Marcos/ Coastal Elite), might not be a D1 level prospect, but in terms of shooting, you can count the number of shooters at his level in the gym on your hand. He's that good. 
Coastal Elite 16u, which is comprised mostly of San Marcos and Mission Hills players, runs a lot of sets to showcase Tuason's long-distance shooting, and he obliges, sprinting to his spots on the floor, running his man off of screens and creating enough space to get off his shot from just about anywhere on the floor. They use him in elevator screen action, stagger screen sets and simple dribble hand offs, and more often than not, Tuason makes them pay. 
While he's more than a shooter (Tuason is a solid game manager and can attack a closeout and finish with his dominant hand), his shooting ability is what will get him recruited at the next level. 
There's a fire brewing in the IE
The Inland area's newest program, IE Fire Elite, has had a buzz growing about it's 15u team, and I finally got a chance to take in a game late Saturday afternoon.
Needless to say, I walked away impressed. 
The squad, coached by Linfield Christian of Temecula head coach Waheed Mitchell, doesn't boast a player taller than 6-2 (that's reserve guard Cashis Blue), and the starting lineup has one player over 6-foot (that's 6-1 2025 guard Xavier Cox).
It doesn't matter. They play a swarming frenetic style of defense and a fast-yet-disciplined brand of offense that is predicated on pinpoint passing, sharp cutting and long range shooting. It's bombs away for this crew. 
Spearheading the squad is 5-11 2025 G Julius Brower, a heady and cerebral guard who makes up for his slight frame by having solid quickness, an advanced midrange game and excellent court vision. His fellow back court mate, 5-7 Quincy Johnson, is a blur and a very good finisher in traffic who's ability to get into the paint sets up the team's knockdown shooters, Cox, 6-1 sophomore Andrew Clyburn (doesn't miss when his feet are set) and 6-0 rising sophomore Elyas Elegado (the team's only non-Inland player), who is equal parts shooter and crafty scorer off the bounce. 
And for good measure, they bring 5-7 Tyrese Garnett off the bench, equal parts pit bull on defense and knockdown lefty shooter and physical finisher on offense. 
The alchemy works for the squad, as they've only lost one game all spring and summer, and pounded the Colorado Titans in this game.