Plymouth, MN – I was at Wayzata High School for all 3 days of the Hard Work Region Finals. The talent certainly showed up and showed out in Minnesota! In this article, we are going to take a look at…
Plymouth, MN – I was at Wayzata High School for all 3 days of the Hard Work Region Finals. The talent certainly showed up and showed out in Minnesota! In this article, we are going to take a look at some of the top guards from the 17U division. Look below for impressive backcourt players from the Hard Work Region Finals.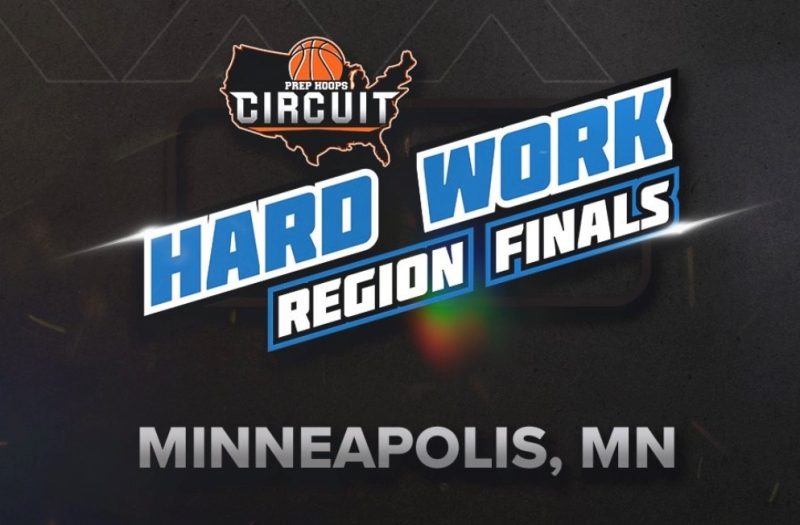 GREAT GUARDS
Matt Eng
Matt Eng 6'2" | PG Sioux Falls O'Gorman | 2023 State SD |6'2 G| Pentagon Schoolers 17U Walker
He shot it super hot in spurts. Eng was raining buckets in a timely manner when the Schoolers needed to stay within striking distance of their opponent. Eng also helped build big leads in the first two games of the tournament. In the big huge over Coulee Country, it looked like Matt had ice in his veins when he hit a super tough step-back 3-pointer with a hand in his face. He also scored a tough bucket at the rim in that same game during crunch time. Eng is deadly off the catch and dribble. He has been attacking off the bounce more often and this makes Eng a tougher matchup as the defense has to guard him more honestly. He is also a top-notch ballhandler and a clever defender.
Sean Murphy |6'1 PG| Iowa Barnstormers 2023 Black
Sean was able to get to his spots and make the right read when he got there this past weekend. His explosive scoring ability really showed throughout the tournament. Murphy was was one of the most skilled guards that I came across at the PH Finals. His wide range of moves was on full display. To say his bag of tricks is deep would be an understatement. Whenever Sean had the ball in his hands he was looking to make something happen. He scored at the rim, from mid-range, and beyond the arc. Murphy took what the defense gave him and he made plays happen. He was not just a scorer, Sean dropped dimes and created for others. Murphy is a hustler and a hard worker. I am excited to watch him again in Chicago this coming weekend.
Kodi Miller |6'1 PG| Coulee Country 2023
He stuck out as a tough point guard and a skilled playmaker. Kodi played a huge role in the win over the Wisconsin Crusaders. He executes with swagger and confidence. Miller does not back down from bigger players and he is always in attack mode. His jumper is pure and soft. Kodi's pull-up game is dangerous and productive. His shooting range stretches out way beyond the high school arc. I watched him drill shots out to NBA range. Miller is a pesky defender that will get in your face and his hands are always near the basketball. He is a real deal PG and one of the best at the Hard Work Region Finals.
Zach Lutmer |6'1 G| Arena Basketball Club 2023 Maher
He stood out on Friday night as a strong athlete. Lutmer is committed to Iowa for football. In the first game of the tournament, Zach had a monster posterizing dunk. Besides being a next-level athlete, Lutmer brings a lot of poise to his squad. With his strength, it is extremely hard to get him out of his rhythm. Lutmer did a fantastic job in the ball screen game and he scored at all 3 levels including that absolute hammer he had Friday night. Zach was also a standout in transition. He had many nice finishes and when the defense collapsed he made the correct read. Although Zach is slated to be an Iowa Hawkeye there are many basketball coaches inquiring about him. This kid is a special athlete!
Carter Kuehl |5'10 G| Arena Basketball Club 2023 Berridge
He scored the ball at a consistent and quality clip this weekend. The biggest thing was how he always hit the timely shots when his team needed them. Kuehl drilled 2 threes against Nothtstar Titans in the last minute to cut it to a 1 point game and give the team a chance for the upset. His pace of play and change of speed has improved this summer. Arena is never out of the game with Carter on the court. I love his hustle, demeanor, and non-stop motor. Kuehl is a smooth finisher at the rim and his jumper is butter! Kuehl will have a monster senior season back in Iowa during the high school season.
Tate Petersen |6'0 PG| Iowa Mavs 2023 Purple
He was the best guard that I watched on early Sunday morning. His effort, compassion, energy, grit, and sacrifice were awe-inspiring. Tate took one charge and attempted to take two others, talk about a tough kid! Petersen is the glue that keeps the Mavs team together. When he is on the floor, he makes the coaches feel more comfortable and they know that Tate is going to be able to control any situation that may arise. He is a great leader, teammate, and all-around basketball player. On Friday night, Tate did not have a splashy scoring game but he did everything else. He finished with 9 points, 8 rebounds, 7 assists, and the Mavs upset the Barnstormers. Petersen is a competitor and he is in great shape endurance-wise as he plays heavy minutes in every game. This Mav is a gamer, and he will help a college team greatly at the next level, he just needs a chance. Petersen is quite arguably one of the best guards in the state of Iowa, without a doubt!
Elliot Whitney |6'0 G| Pentagon Schoolers 2023 Walker
Much like his Schooler teammate on this list, Whitney shot is well from beyond the arc. Elliot proved that he is a gamer that can knock down big shots in big moments. In the first game of the tournament, Whitney lit the nets on fire from the 3-pt arc, and later on, he cashed in big shots when points were needed. Elliot showed his impressive ball skills with fancy and accurate passes. He threw two beautiful behind-the-back passes that were useful and effective. He did not throw them to showboat, he threw them because that was the pass available at the moment. Whitney also attacked the paint and scored around the basket. He is turning into a complete player and a scary scorer.
Dylan Bainbridge |5'10 PG| West Central Wildcats 2023
I really like this kid's game, he gets better and better every time that I watch him play. Dylan got in the paint all weekend off the dribble. He either drew 2 defenders and set up his teammates for easy shot attempts or he took it all the way to the rim and finished well with either hand. Dylan also guarded the other team's best perimeter player every game. Bainbridge does such a good job of anticipating and moving his feet on defense. He had another stellar weekend as the floor general and leader for the Wildcats. Dylan is tough, skilled, selfless, and a true PG. Wheaton is looking like the team to beat in section 6A with Dylan and Clint Determan leading the charge. Look out for Wheaton-Herman-Norcross and Dylan Bainbridge, they are going to make a ton of noise this winter!
Anish Ramlall |6'3 PG| WOTN 2023 Bertsch
The STAR PG led his team to the Final Four and easily played like one of the best players in all of the Hard Work Region Finals. Anish also picked up another offer this weekend from St. Cloud State. Stat-wise, Ramlall put up some impressive numbers with 19 ppg, 6 apg, and 6 rpg in the 5 games over the weekend. In the two biggest games (Final Four & Elite 8), Anish dropped 24 and 20 points. He is not just a scorer, Ramlall is a team player. He was able to use his vision and athleticism to get other guys involved. At the same time, Anish attacked gaps and got to the rim often. His left-handed finishing was impressive. He looks to be an ambidextrous finisher. Anish also shot the lights out from beyond the arc with 42 3FG% and hit 17 triples in the 5 games. STUD? Absolutely!
Tyler Boegeman |6'1 PG| MN Crossfire 2023 Barger
This player is a very fine point guard. Tyler first stuck out to me when he was attacking the basket and throwing perfect bounce passes to cutting teammates. The passes were soft, accurate, and he led his teammates to the exact spot that they needed to be. He also threw some nice passes in transition to get Crossfire out on the break. Boegeman reminded me of a pass-first player but he can also shoot & score the ball. His shooting range extends to college depth. Tyler showcased a sweet pull-up jumper from the top of the key. He took care of the ball and controlled the pace of the game. Boegeman played great defensively and had a ton of tips and steals. He strikes me as a complete player that can get the job done on both ends of the floor.
Payton Lambrecht |6'0 G| ABC Young Lion's 2023 White
I like the demeanor and flow that he plays with. It did not matter the score of the game, Payton always seemed to be in control of the situation. He is a smart guard that plays with a clever sense of knowing when to speed up and when to slow down. He was attacking and taking high percentage shots when I was in attendance. His pull-up jumper was smooth as silk on Saturday night. Lambrecht also scored with a sweet floater and with a flip-shot around the cup. Do not forget about his deep shooting, Payton can get it done from beyond the arc as well. This lefty is a scorer with a high IQ and a nice overall game.
Raoul Vaidya |6'0 PG| Northstar Titans Stone
He has improved throughout the Prep Hoops Circuit and that was on full display at the Hard Work Region Finals. Raoul was a great floor general this past weekend. He has been working on controlling the offense when things get stagnant. Vaidya was really good at this, he has turned into the straw that stirs the drink for the Titans. He points people in the right direction and controls the tempo. Vaidya constantly created for others and found the Northstar bigs very often in the pick and roll. He averaged 11 ppg, 3 apg, 2 rpg, shot 42% from 3, and was 100% from the charity stripe. Vaidya is a stock riser and I can not wait to see him play on Friday at The Last Dance in Chicago.
Emmett Lawton |6'2 G| Team 1848 2023
He helped his squad win the Hard Work Region Finals! Lawton and Team 1848 were impressive all weekend and they took down many talented teams. He stuck out as a confident team player that made plays with swag. Emmett put up 23 points and hit four triples in the game I watched. Lawton also made plays for others, moved the ball, and played very hard. Whenever the opposing team made a play, Emmett was quick to answer. He is a 3-level scorer with elite talent. Lawton was hands down one of the best shooters that I watched this past weekend. I hope I get a chance to watch Lawton and Team 1848 this coming weekend, they are hot right now!