In this article, we are taking a close look at ECI's top 17U team. They are a talented group with size, athleticism, shooters, and playmakers. ECI 17U Prospects came from all across the state of ND from Class A &…
In this article, we are taking a close look at ECI's top 17U team. They are a talented group with size, athleticism, shooters, and playmakers. ECI 17U Prospects came from all across the state of ND from Class A & B. They also had players from SD and MT on the team. These ballers are going to make a ton of noise in their senior seasons. Read below for comments on tournaments, players, and a few questions with coach Moorman.
Keep track of these guys, they are primed for a big high school season!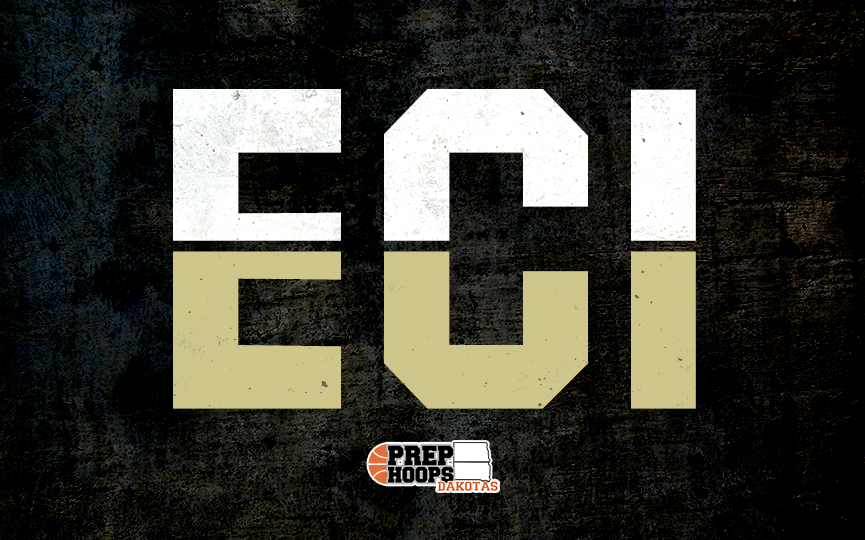 Tournament Review with coach Lucas Moorman
St. Cloud April – "We were just learning to play team ball and getting to know each other. We ended the weekend 2-2 with many things to work on."
Omaha Live Period – "We went 2-2 in this tournament coming away with a couple of solid wins and a couple of tough battles that we just couldn't come away with at the end."
SPTS #1 – "We went 1-3 that weekend but took losses of 3 points to eventual League winners MN Fury, loss of 1 to League Runner Up MN Heat, and two other losses by single digits. The highlight was Zach Kraft
Zach Kraft 6'2" | PG Grand Forks Red River | 2023 State ND hitting nine 3's against Pentagon Schoolers for 31 points."
SPTS #2 – "We went 2-2 with a couple of nice wins over MN Comets Elite and MN Rise and taking a couple of close losses again. Hitting a game-winning three in OT against MN Rise was a fun moment!"
Border Battle – "We were undefeated in our local tournament, beating some solid teams and were really starting to click as a team."
St. Cloud GPA – "We went 2-2 while beating Comets Gagner and Northstar Titans Terhaar but lost to MN Comets Elite and WI Blizzard."
Kansas City Hardwood Classic – "We went 4-1, we beat some really talented teams and played some really good team ball. We beat Buddy Buckets OKC, Oklahoma Wolfpack, EYCE Elite Black, and 810 Varsity- Crimson and took a 2-point loss to Team Factory.  The highlight of the weekend was Michael Murphy hitting a game-winning 3 at the buzzer to beat Buddy Buckets OKC."
SPTS Finals – "We ended 9th in the Sanford League coming up 1 win short of placing in the 5th-8th place spot. We played really well down in the Sioux Falls Finals but went on a few spurts here and there where we just couldn't score a bucket. Our point differential showed this by having an average loss of fewer than 5 points in the league. We played some of our best basketball the last weekend and that's what I take pride in for our teams. If we are continually getting better throughout the year, that is the most important thing. I am very proud of the way my team battled and how they showed up for every game!"
Roster
Comments from coach Moorman
Raymond Brown
Raymond Brown 5'11" | PG Fargo Davies | 2023 State ND |5'11 G| Fargo Davies – "Ray was extremely solid on both ends of the floor this year. He was able to get us a bucket when we needed one, and he was a tough defender who could get us a stop. Ray was a phenomenal rebounder for his size, usually leading our team in boards. Ray was able to score at all three levels. I thought Ray really improved his three-point shot over the course of the summer."
Zach Kraft
Zach Kraft 6'2" | PG Grand Forks Red River | 2023 State ND |6'2 PG| Grand Forks Red River– "Zach was very impressive this year on the offensive side of the floor. When we needed a few points we tried to set up a play for Zach to get it in his hands. Zach is one of the best 3-point shooters I have seen in a while. He has really worked on his release, making it really quick and hard to guard. Zach has also become a solid defender. We talked with him about this last year and he really took it to heart. Kraft has become an all-around player and is ready for the next level!"
Reis Rowekamp
Reis Rowekamp 6'4" | SG Grand Forks Red River | 2023 State ND |6'4 SG| Grand Forks Red River – "In my opinion, Reis was the most improved this year. He has come so far and has developed into a great player. He can really score from all 3 levels and finishes at the rim really well with both hands. Reis has perfected his footwork and shot fakes, these make him nearly impossible to guard. With his physical frame and athleticism, the defense really struggles to stay in front of him. Reis really improved his 3-point shot over the years to nearly shooting 45-50% from the arc this spring/summer."
Jake Vliem Jake Vliem 6'10" | C Sturgis Brown | 2023 State SD |6'9 C| Sturgis Brown – "Jake's physicality makes him a defensive presence in the paint. He alters shots and makes it tough for opposing players to finish on him. Offensively Jake did a really nice job towards the end of the summer posting up and kicking out to his open teammates. Jake is a very coachable player who is always looking for ways to improve!"
Max Froslie
Max Froslie 6'8" | PF Fargo Davies | 2023 State ND |6'8 F| Fargo Davies – "Max had an unfortunate injury during the year not allowing him to finish out the ECI season. It was too bad as he was really starting to play well and with a lot of confidence. Max has a huge upside with his length and ability to shoot from the perimeter. I believe this injury will make him stronger not only physically but mentally as he is already showing his dedication to the game. Max came on most trips after his injury to be a part of the team and help out from the bench. This shows a ton about his character as most kids would not do this."
Michael Murphy |6'6 F| Dawson County (MT) – "Michael battled some knee issues down the stretch of the ECI season but was really coming around with fitting into our group of guys. Michael always had a knack for getting his hands on rebounds and finishing around the rim. Murphy also really started to shoot the 3 well later in the spring/summer as his confidence seemed to grow. Michael has quite the upside with his length, athleticism, and his coachability. Being a coach's kid, he is always getting in the gym and looking for ways to improve."
Sam Kobbervig
Sam Kobbervig 6'3" | SG Central Cass | 2023 State ND |6'2 SG| Central Cass – "Sam was not able to make all the tournaments this year due to baseball but when he was there it was fun to have him. Sam brings energy and communication to the floor, more than most players. He is a team-first player and at times even too unselfish. Sam is a kid who rarely makes mistakes and just always seems to make the right read/play. I am excited to see how Sam does this year in his senior year of high school as I think it will be a great one!"
Cruz Hernandez Cruz Hernandez 5'11" | SG Hankinson | 2023 State ND |5-10 G| Hankinson – "Cruz is one of those kids who you love to have on your team but hate to play against. He is a very tough kid who exerts a ton of energy on the defensive end. He is always trying to make it tough for the guy he is guarding. Cruz will make hustle plays and he gets after loose balls. Hernandez has always been a team-first player and at times is too unselfish as well. He had a few breakout games during the ECI season where he showed his ability to score from the three-point arc or by attacking the hoop."
Welcome Muhoza Welcome Muhoza 6'5" | SF Fargo North | 2023 State ND |6'5 F| Fargo North – "Welcome really surprised me this year as he has some of the best footwork in the post that I've seen in a while. Even though he may play more perimeter in high school, he is a force to be reckoned with in the post. His up-n-under and shot fake allowed him to get some creative buckets this spring/summer against guys bigger than him. It will be exciting to see what he brings to the varsity team at Fargo North this year."
Isiah St. Romain
Isiah St. Romain 6'3" | SG Williston | 2024 State ND (2024) |6'2 SG| Williston – "Isiah was moved from our 16's to our 17's the last two tournaments to help with the shortage of players on our team. Isiah did a phenomenal job of filling in as it looked like he had been playing with us all year. Isiah brought a different set of skills to our team as he is really quick, athletic, and can score in bunches. He came to our team and didn't try to do too much but showed he could easily play an age above. St. Romaine is a great teammate with energy on the court and from the bench. This is a kid who really brings it every game and is a very good teammate."
Q & A with coach Lucas Moorman
What is your best memory from this AAU season?
"My Best memory was down in Kansas City when we lost our first game by 2 but didn't give up. We continued to work as a team and had a buzzer-beating 3 in our second game by Michael Murphy to end 1-1 on the day. From there we really started clicking and ended with 3 more wins to go 4-1 on the weekend!"
Who was your best rebounder and why?
"Throughout the spring/summer my best rebounder was Raymond Brown
Raymond Brown 5'11" | PG Fargo Davies | 2023 State ND . It didn't matter his size, as he was going to fly in there and try to rip down a board. Many of his rebounds came on the offensive side as he would crash hard on shots. He is just really good at tracking down a ball and knowing how it may come off the rim. He truly shows the meaning of it doesn't matter your size, rebounding is a mentality!"
PHD: Can you talk about your best shooter?
Coach Moorman: "I talked about this above, but Zach Kraft
Zach Kraft 6'2" | PG Grand Forks Red River | 2023 State ND was our best shooter this year. The time and effort that he has put into his shot is the sole factor in his percentages. He is also a very confident shooter as he doesn't let a miss get in the way of his game."