Most outstanding player: 2022 Bryson Van Grootheest Bryson Van Grootheest 6'0" | CG Rock Valley | 2022 State IA (Rock Valley) Stats: 23.3 points, 1.7 rebounds, 3.7 assists, 2.3 steals, 59.6 FG%, 38.5 3P%, 75.0 FT% Van Grootheest was dominant…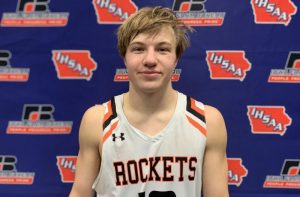 Most outstanding player: 2022 Bryson Van Grootheest
Bryson Van Grootheest 6'0" | CG Rock Valley | 2022 State IA (Rock Valley)
Stats: 23.3 points, 1.7 rebounds, 3.7 assists, 2.3 steals, 59.6 FG%, 38.5 3P%, 75.0 FT%
Van Grootheest was dominant and efficient in every game last week, pacing a Rock Valley team that was far and away the best team in the 2A field. He's a quick-twitch athlete who can blow by defenders, and he's also a really good perimeter shooter with a quick release and extended range. He uses his length effectively on the defensive end to get his hands into passing lanes, and he was as good as anyone in the tournament at quickly turning turnovers into easy buckets.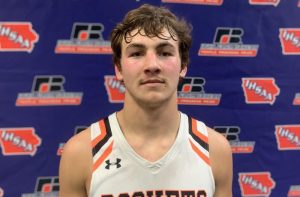 2022 Landyn Van Kekerix
Landyn Van Kekerix 5'11" | SG Rock Valley | 2022 State IA (Rock Valley)
Stats: 16.7 points, 8.0 rebounds, 2.0 assists, 1.3 steals, 60.6 FG%, 69.2 FT%
The future Iowa football player was the most dynamic athlete on the floor in each game the Rockets played (and that's no small feat with a Division I basketball player and another likely Division I football player in the field), using his unique blend of size, explosiveness, and physicality to dominate games on both ends of the floor. He saved his best performance for last, scoring 26 points on 10-12 shooting in their title game destruction of Central Lyon.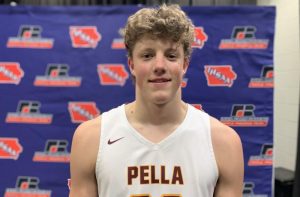 2022 Eric Mulder
Eric Mulder 6'8" | PF Pella Christian | 2022 State IA (Pella Christian)
Stats: 16.0 points, 17.0 rebounds, 2.0 blocks, 1.5 steals, 57.1 FG%
Watching Mulder play, it's easy to see why IPFW offered, and why the Mastodons may end up getting an absolute steal. He's a fluid athlete at 6-9 who runs the floor extremely well, has great hands, and is a really good finisher around the rim. He was excellent on the glass in both of the Eagles' games and is a strong rim protector.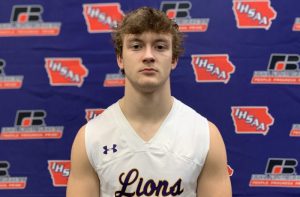 2023 Zach Lutmer
Zach Lutmer 6'1" | PG Central Lyon | 2023 IA (Central Lyon)
Stats: 13.7 points, 3.3 rebounds, 3.0 assists, 41.4 FG%, 76.2 FT%
Lutmer is a highly coveted football prospect as well, and it's easy to see why. He's an explosive athlete with an excellent feel for the game and great court vision, which given that he's a standout quarterback, should come as no surprise. He has a big, physical frame that he can continue to add more strength to, and he has the ability to impact the game on both ends of the floor with his athleticism, IQ, and overall talent.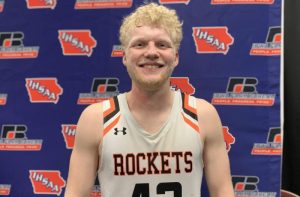 2022 Sam Remmerde
Sam Remmerde 6'3" | PF Rock Valley | 2022 State IA (Rock Valley)
Stats: 14.7 points, 8.3 rebounds, 1.7 assists, 2.0 blocks, 2.7 steals, 64.3 FG%, 77.7 FT%
Remmerde is a 6-5 stretch-forward who showed his ability to impact games on both ends of the floor throughout the week. He was especially good in the second halves of games, seeming to gain strength as other players started to wear down. With his length and ability to score inside and out, he was an extremely difficult player for opposing teams to defend.
Second Team
2022 Mason Gerleman
Mason Gerleman 6'0" | SG Central Lyon | 2022 State IA (Central Lyon)
2023 Andrew Austin
Andrew Austin 6'6" | PF Central Lyon | 2023 State IA (Central Lyon)
2022 Levi Schelhaas
Levi Schelhaas 5'9" | PG Pella Christian | 2022 State IA (Pella Christian)
2023 Tate Petersen
Tate Petersen 6'1" | PG Monticello | 2023 State IA (Monticello)
2022 Dawson Van Beek (Rock Valley)
Honorable mentions: 2022 Carson Lienau Carson Lienau 6'4" | PF Jesup | 2022 State IA (Jesup); 2022 Corbin Fuelling (Jesup); 2023 Jonovan Wilkinson
Jonovan Wilkinson 6'2" | SF Roland-Story | 2024 State IA (Roland-Story); 2024 Tysen DeVries (Pella Christian); 2022 Cooper Spiess (Central Lyon); 2022 Caleb Kats (Rock Valley)