[player_tooltip player_id="682266" first="Josh" last="Dix"] 4A #5 Council Bluffs Lincoln (6-2) at 4A #7 Sioux City East (7-1) The only two teams who remain unbeaten in Missouri River Conference play, both Lincoln and East enter at 5-0. The Lynx are coming…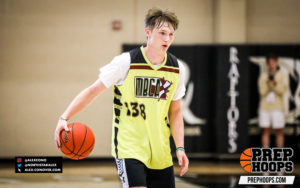 4A #5 Council Bluffs Lincoln (6-2) at 4A #7 Sioux City East (7-1)
The only two teams who remain unbeaten in Missouri River Conference play, both Lincoln and East enter at 5-0. The Lynx are coming off of back-to-back losses to Nebraska powerhouses last week and will be looking to re-gain their footing against the Black Raiders. While East has dominated the series historically, Lincoln has won four straight, including a pair of double-digit wins last year. The Lynx are led by Iowa signee Josh Dix
Josh Dix 6'5" | SG Council Bluffs Lincoln | 2022 State #149 Nation IA (20.7), a do-it-all wing who impacts the game at a high level on both ends of the floor. He's dishing out over 6 assists a game and averages over 2 steals and 2 blocks a game as well. Senior lead guard Jamison Gruber Jamison Gruber 6'1" | PG Council Bluffs Lincoln | 2022 State IA (17.3, 4.0 assists) and sharpshooting wing Jaxson Jones (11.6) join Dix to give Lincoln a dynamic trio of scorers on the wing, while Jake Duffey (8.0) has provided solid production in the paint.
East has been a pleasant surprise this year, with their lone loss coming to a very good Kenwood (IL) team by just two points. The Black Raiders haven't played a game since that loss back on December 18th, so will they be rusty? Or rested? They're led by a trio of double-figure scorers in senior Bie Ruei Bie Ruei 6'4" | SF Sioux City East | 2022 State IA (15.3) and juniors Preston Dobbs
Preston Dobbs 6'5" | SF Sioux City East | 2023 State IA (12.9) and Cole Ritchie (11.5), but this is a very balanced team that has four others averaging between 5.6 and 8.0 points a game. They share the ball well (16.3 assists a game), and they pull down over 40% of their own misses.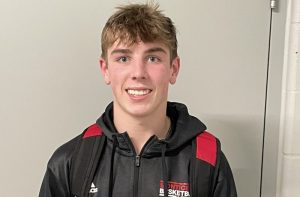 2A #9 Monticello (11-0) at 2A #7 Camanche (10-0)
These two programs have developed a very fun rivalry over the last few years, and if you're looking for excellent defense, tune into this one – Monticello allows 45.2 points a game, and Camanche is giving up just 38.0. They play different styles, but both squads routinely get excellent results on that end of the floor. Monticello has been led by junior guard Tate Petersen
Tate Petersen 6'1" | PG Monticello | 2023 State IA (19.1, 6.0 assists) and sophomore forward Preston Ries
Preston Ries 6'1" | SF Monticello | 2024 State IA (18.4), who combine to account for well over half the team scoring. Petersen is a three-year varsity starter who has taken his game to another level both as a scorer and distributor, while Ries is an athletic combo forward who can score inside and out and has developed into a big-time threat. Big man Trey Kuper (9.5), a senior who leads the team in rebounding, can also stretch the floor, and guards Peyton Schilling (6.7) and Caleb Sauser (5.8) have been strong defenders.
After losing star Zach Erwin
Zach Erwin 6'4" | SF Camanche | 2022 State IA to a season-ending injury before the season began, Camanche could have folded up and had a ho-hum season. Instead, coach Josh Davis has done arguably his best coaching job during his stint with the Storm, leading a dynamic defensive team that creates turnovers and turns them into points at a high clip. They've been led by senior wing Adam Dunlap
Adam Dunlap 6'2" | SF Camanche | 2022 State IA (16.7) and junior big man Zane Witt
Zane Witt 6'8" | PF Camanche | 2023 State IA (13.8, 8.0 rebounds, 2.5 blocks), both of whom have taken major leaps as players this season. Witt is a rim-running, rim-protecting big who is a matchup problem with his athleticism and size, and Dunlap is a quick, springy athlete who can be a terror in transition. Throw in Mike Delzell Mike Delzell 6'0" | SF Camanche | 2022 State IA (9.4), a do-it-all combo forward, and Tucker Dickherber Tucker Dickherber 5'10" | PG Camanche | 2022 State IA (6.7, 4.8 assists), a veteran lead guard who protects the rock, and you've got a really solid quartet of contributors. They've gotten strong production out of their bench pieces as well.
1A #3 Remsen, St. Mary's (10-0) at Gehlen Catholic (8-2)
St. Mary's made a statement with their win over the Jays right before the holiday break, 82-64, and they'll be looking to back up that statement again and put some more distance between them, the Jays, and Unity Christian with another big win. In that blowout win in late December, the Hawks shot over 69% from the floor and used a 22-2 second quarter to blow things open. An experienced and balanced team, they have five players averaging between 9.2 and 12.2 points a game, led by junior wing Jaxon Bunkers Jaxon Bunkers 5'11" | SF St. Mary's, Remsen | 2023 State IA (12.2), who leads the team in scoring and assists. The Hawks are an elite defensive team, allowing just 35.4 points a game, and they do an excellent job limiting turnovers (8.0 a night). That's a recipe for success at any level of basketball.
Since the St. Mary's loss, the Jays have beaten Akron-Westfield by 28 and Hinton by 13. A potent offensive team, they're led by senior wing Carter DeRocher Carter DeRocher 6'2" | SF Gehlen Catholic | 2022 State IA (22.3) and junior guard Keaten Bonderson
Keaten Bonderson 6'0" | PG Gehlen Catholic | 2023 State IA (17.2). DeRocher has been impressive with his efficiency (52-41-90 shooting splits), and while Bonderson's efficiency numbers have gone down this season, he's still the type of player who can explode in any given game. The focus for Gehlen, however, will need to come on the defensive end. While it's unlikely that St. Mary's will shoot as well as they did again, the Jays will need to lock in and really make the Hawks work for it if they want to get revenge and make the conference race interesting. 
Glenwood (6-3) at 3A #3 Harlan (9-0)
Back on December 14, Harlan held the Rams to just 27.6% from the floor en route to a 71-49 win, arguably their best defensive effort of the season. Can they do it again? The young Rams are led by a trio of juniors – Caden Johnson Caden Johnson 5'10" | PG Glenwood | 2023 State IA (16.3), Zac Kelsey (11.0), and Logyn Eckheart (9.7). Outside of Johnson, there was very little returning experience on this team, and they're getting better every week, so expect to see a more competitive effort from Glenwood this time around. 
Harlan has been very good defensively this season, holding teams to an average of 49.1 points a game. They've held six of their opponents below 50 points, and have gotten balanced production on the offensive end, with three players averaging in double-digits – Jacob Birch (17.1), Bradley Curren
Bradley Curren 5'11" | PG Harlan | 2023 State IA (14.0), and Connor Frame Connor Frame 6'2" | SF Harlan | 2022 State IA (13.4). Birch has been a highly efficient scorer, shooting 56.5% from the floor, Curren leads the team in assists (5.1 a game), and Frame is an athletic wing who can get to the rim and finish. Additionally, the Cyclones absolutely hammer the offensive glass, averaging 14.9 offensive boards a game, an eye-popping 55.8% offensive rebounding rate. That ability to rack up second chances is huge for Harlan, and a big reason why they're still undefeated.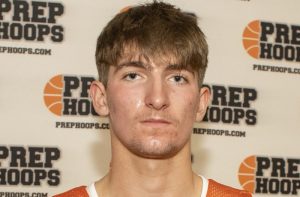 1A #7 Newman Catholic (10-0) at Osage (9-2)
These two teams are the class of the Top of Iowa East, with Newman Catholic entering with an 8-0 league mark, and Osage sitting at 7-1. If Newman Catholic is able to complete the sweep (they won the first meeting at home, 72-51, back on November 30), they would essentially clinch the division race already. The Knights are led by a dynamic trio on the perimeter in junior wing Douglas Taylor
Douglas Taylor 6'5" | SF Newman Catholic | 2023 State IA (21.9, 58.9 FG%) and point guard Max Burt Max Burt 6'0" | PG Newman Catholic | 2023 State IA (8.1, 7.4 assists), and senior off-ball guard James Jennings James Jennings 5'11" | PG Newman Catholic | 2022 State IA (18.6, 45.5 3P%). Taylor and Burt have both committed to play baseball at Iowa, and Jennings is a knockdown shooter who can also be relied upon as a secondary ball-handler alongside Burt. They have a trio of other pieces who contribute at a high level as well in Noah Hamilton (6.7), Tim Castle (6.4), and Elijah Brinkley (5.3).
In the Green Devils' loss to Newman Catholic earlier this year, they shot just 2-16 (12.5%) from behind the arc. They shoot 32% from 3 as a team this year, so while they aren't an excellent shooting team, they are certainly better than they showed against the Knights the first time around. They're led by a trio of double-figure scorers in Nathan Havel Nathan Havel 6'2" | PF Osage | 2022 State IA (13.5, 7.0 rebounds), Max Knudsen (12.7), and Tyler Oberfoell Tyler Oberfoell 5'9" | PG Osage | 2022 State IA (12.0, 4.8 assists). Both of these teams possess stingy defenses, with Newman allowing 40.4 points a game, and Osage letting up just 43.7 a night.