Living up to it's reputation the the Prep Hoops Top 250 Expo delivered the usual deep and geographically diverse field. We'll begin by looking at my native region of Northern Michigan.  I would encourage you to also check out my…
Living up to it's reputation the the Prep Hoops Top 250 Expo delivered the usual deep and geographically diverse field. We'll begin by looking at my native region of Northern Michigan. 
I would encourage you to also check out my coverage from last weekend's Bank Hoops All State Camp. Several players who performed well at that event also showed out on Sunday. Including but not limited to Anthony Ribel
Anthony Ribel 6'3" | SG Traverse City Central | 2024 State MI , Evan Solomon Evan Solomon 6'3" | PG Charlevoix | 2022 State MI , and Caleb Caul
Caleb Caul 6'2" | CG Grayling | 2022 State MI . 
Preston Malpass
Preston Malpass 6'7" | PF East Jordan | 2024 State MI 6-7 2024 East Jordan (pictured at top of article) Might be the top long term recruit regardless of class in Northern Michigan. This is a good group so that is saying quite a bit. Did nothing on Sunday to disprove this sentiment. The only real thing to knock is he is still quite skinny. But don't forget he is also very young. Showed the full package on Sunday. Mobile enough to be a wing. Skilled and and tough enough to do work in the post. Played with excellent balance that allowed him to complete several drives against bigger players. Had a few bouncy and impressive finishes above the rim. Never going to be confused for point guard but is a good ball handler for his size. With his skill set, age, and advanced athletic ability. I could see him settling in anywhere between the 2 and 5 positions. Those are some excellent options to have for this prospect with an extremely bright future. 
Cole Jenema
Cole Jenema 6'9" | SF Cadillac | 2022 State MI 6-9 2022 Cadillac If this was a straight measurement combine Jenema might be at the top of the list. Simply put there aren't many prospects with this combination of height, length, and foot speed. Finding his spots when the ball tips is the next step. On Sunday he did what you see very few prospects do. A big blocked shot on the perimeter followed by leading a break with his solid ball handling ability. I've seen him do it many times. Has the ability to hit shots from the perimeter but it is not very fluid. Uncanny natural timing makes him a near elite shot blocker. With all the physical tools could stand to be a little more selfish. The two conference matchups with Petoskey's Brady Ewing
Brady Ewing 6'7" Petoskey | 2022 MI should be on every small college coaches radar. They are both that good.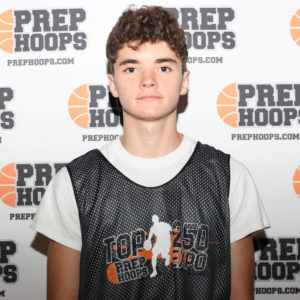 Joel Ewald
Joel Ewald 5'10" | SG Roscommon | 2022 State MI 5-10 2022 Roscommon Ewald is "gyms open" type of player. Meaning if I gym is open he is playing. And furthermore is playing hard. A veteran of these types of events. Sunday was the best I had seen him play. A heads up point guard. He excelled at finding open players in transition several times. Shoots the ball well from deep and has a quick release to offset his lack of size. Is a coaches son and plays like it. Not going to make many mistakes. Active on the grassroots circuit. Has plenty of experience going up against high level competition. The Highland conference lost a lot of talent through graduation. Ewald could fill this void and possibly be in line for a big senior season. Size is probably always going to be an issue. But I know of a few small college coaches who would like to have him involved in their programs. 
David Shillinger
David Shillinger 5'9" Ludington | 2024 MI 5-9 2024 Ludington Another very slight guard but a much different prospect. If you're going to excel at this height you need to have a lot life in your lower body. Shillinger has that and then some. Has almost elite speed and change of direction ability already. Showed this off on Sunday despite having a pretty significant hitch due to a recent injury. This showed both his level of competitiveness and toughness. Has an extremely tight handle and is a pass first point guard. Has tested himself nationally by playing with Bates Fundamentals 2024 squad the past two summers. Also plays for a historic regular season program where you won't have to worry about his defensive chops. Physical growth and an offensive identity are going to be key in this exciting young guards development.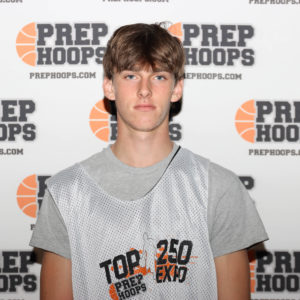 Dylan Barnowski
Dylan Barnowski 6'1" | CG St. Mary's Of Lake Leelanau | 2023 State MI 6-2 2023 Lake Leelanau St Mary This young man has come a long way since I first saw him at the Prep Hoops 250 Expo as a rail thin freshman who had yet to play a varsity contest. Now standing a legit 6-2 Barnowski is one of the top guards in Northern Michigan regardless of class. Plays in a run and gun offense in the regular season and that showed on Sunday. Good rebounder for his size. When he secures the board his first, second, and third options are to push the ball in transition. Goes to the the hole hard and is a clever finisher around the rim. Helps that he is left handed and has long arms. Played a little more off the ball on Sunday. When playing point operates well in the pick and roll. Particularly with fellow camp participant Shawn Bramer
Shawn Bramer 6'2" | SF St. Mary's Of Lake Leelanau | 2023 State MI . The Eagles who return just about everybody should be one of the top Division 4 teams in the region. Perhaps the entire state. Barnowski is a big reason why.