Preseason Player of the Year: 2023 Sage Evans Sage Evans 6'2" | PF West Harrison | 2023 State IA , West Harrison Take your pick on which Evans from West Harrison you want for this honor, but we'll go with…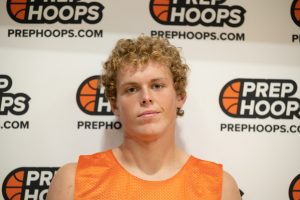 Preseason Player of the Year: 2023 Sage Evans
Sage Evans 6'2" | PF West Harrison | 2023 State IA , West Harrison
Take your pick on which Evans from West Harrison you want for this honor, but we'll go with Sage, who dominated the glass last season while stuffing the stat sheet on both ends of the floor for the Hawkeyes. This is the best team in the league, and Evans is (arguably) their best player.
First Team
2023 Sage Evans
Sage Evans 6'2" | PF West Harrison | 2023 State IA , West Harrison: 16.7 points, 14.5 rebounds, 3.6 assists, 2.4 steals, 49.2 FG%, 41.9 3P%
An undersized 6-2 power forward, Evans has a relentless motor and a nose for the ball. He's a dominant rebounder who also scores at a high clip. He can stretch the floor, get others involved, and his rebounding is second-to-none.
2023 Koleson Evans
Koleson Evans 6'6" | SF West Harrison | 2023 State IA , West Harrison: 15.5 points, 9.8 rebounds, 1.1 assists, 1.0 steals, 1.3 blocks, 51.0 FG%, 44.7 3P%
A 6-5 combo forward who can really shoot it, Evans is a strong rebounder in his own right, but it's his shooting and size combination that makes him such a dangerous threat for the Hawkeyes.
2022 Gabe Obert Gabe Obert 6'2" | SF Coon Rapids-Bayard | 2022 State IA , Coon Rapids-Bayard: 14.8 points, 4.2 rebounds, 1.6 assists
A 6-2 wing who can score in bunches, Obert leads a Crusaders team that made some noise late last season and brings back their top four scorers.
2022 Will Ragaller, Ar-We-Va: 14.7 points, 6.4 rebounds, 2.9 assists, 2.4 steals
Another high scorer, Ragaller is a 5-11 forward who does most of his damage inside the arc. He does a little bit of everything for the Rockets, leading the team in assists and steals last season.
2022 Colby Rich, CAM: 14.2 points, 5.7 rebounds, 1.7 assists, 1.3 blocks, 39.4 3P%
A 6-2 shooter, Rich's 52 made 3-pointers were tops in the league last season, and he knocked them down at a very respectable 39.4% clip. His scoring numbers should go up even more this year following the graduation of a fellow 14 point scorer.
Second Team
2023 Mason King
Mason King 5'10" | PG West Harrison | 2023 State IA , West Harrison
2022 Dylan Hoefer, Woodbine
2022 Tanner Oswald, Coon Rapids-Bayard
2023 Easton Nelson, Exira-EHK
2023 Trey Petersen, Exira-EHK
Honorable Mentions
2022 Jaidan TenEyck, Boyer Valley
2022 Trevor Malone, Boyer Valley
2024 Cash Emgarten, Exira-EHK
2022 Cade Ticknor, CAM
2022 Cooper Kock Cooper Kock 6'2" | PF Ar-We-Va | 2022 State IA , Ar-We-Va
2024 Jackson Radcliff, Exira-EHK