Preseason Player of the Year: 2022 Jayden Mackie Jayden Mackie 6'2" | PG Aplington-Parkersburg | 2022 State IA , Aplington-Parkersburg The Upper Iowa commit was arguably the standout performer of the entire state tournament in March, showcasing his all-around scoring…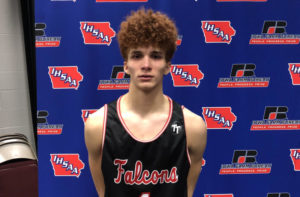 Preseason Player of the Year: 2022 Jayden Mackie
Jayden Mackie 6'2" | PG Aplington-Parkersburg | 2022 State IA , Aplington-Parkersburg
The Upper Iowa commit was arguably the standout performer of the entire state tournament in March, showcasing his all-around scoring talents and putting up points in bunches with efficiency. He's a good athlete who can score from all three levels and facilitate and is the best player on the league's best team. This is a fairly easy selection.
First Team
2022 Jayden Mackie
Jayden Mackie 6'2" | PG Aplington-Parkersburg | 2022 State IA , Aplington-Parkersburg: 14.4 points, 3.2 rebounds, 2.4 assists, 1.1 steals, 50.4 FG%, 42.0 3P%
The best player on the best team in the conference, Mackie's ability to score or distribute is rivaled by few in the state. He's a great athlete who has really improved as a shooter during his time in high school.
2022 Carson Lienau Carson Lienau 6'4" | PF Jesup | 2022 State IA , Jesup: 18.4 points, 9.7 rebounds, 1.9 assists, 64.9 FG%
An efficient big man with great hands and footwork, Lienau came eight rebounds short of a double-double average last season. Look for him to easily average that this season. He's a physical force in the paint with a good feel for the game.
2023 Garrett Hempen
Garrett Hempen 6'1" | PG Aplington-Parkersburg | 2023 State IA , Aplington-Parkersburg: 12.2 points, 2.2 rebounds, 3.2 assists, 1.7 steals, 92.2 FT%
The Falcons are loaded in the backcourt, and Hempen is another one of the standouts. A physical guard who can get to the bucket or knock down 3s, Hempen was second on the team in assists last season and ranks third among division returnees in helpers. 
2022 Gunner Meyer
Gunner Meyer 6'5" | SF Wapsie Valley | 2022 State IA , Wapsie Valley: 12.6 points, 5.3 rebounds, 1.4 assists, 39.1 3P%
An athletic wing who finishes above the rim both in the halfcourt and in transition, Meyer came on strong down the stretch for the Warriors last season. He gets to the rim and knocks down 3s at a fairly efficient clip, and with his length, he can be a solid defender as well. 
2023 Mason Harter Mason Harter 6'6" | PF Wapsie Valley | 2023 State IA , Wapsie Valley: 11.6 points, 9.5 rebounds, 1.0 assists, 1.2 blocks, 58.0 FG%
Harter made an immediate impact for the Warriors following his move from Sigourney, nearly averaging a double-double as a sophomore while also holding his own defensively in the paint. He's a good athlete with big, broad shoulders who finishes effectively around the bucket.
Second Team
2024 Gavin Thomas
Gavin Thomas 6'0" | SG Aplington-Parkersburg | 2024 State IA , Aplington-Parkersburg
2022 Carter Gallagher Carter Gallagher 6'2" | PG Columbus Catholic | 2022 State IA , Columbus Catholic
2022 Peyton Schmitz Peyton Schmitz 6'0" | PG Sumner-Fredricksburg | 2022 State IA , Sumner-Fredericksburg
2022 Klay Seehase Klay Seehase 6'7" | C Sumner-Fredericksburg | 2022 IA , Sumner-Fredericksburg
2022 Caylor Hoffer Caylor Hoffer 5'11" | SG Denver | 2022 State IA , Denver
Honorable Mentions
2022 Grant Behrens, Union
2024 Jack Miller
Jack Miller 6'1" | PG Jesup | 2024 State IA , Jesup
2022 Parker McHone Parker McHone 5'8" | PG Jesup | 2022 State IA , Jesup
2022 TJ Freeland, Union
2022 Christian Haugstad Christian Haugstad 6'7" | C Aplington-Parkersburg | 2022 State IA , Aplington-Parkersburg
2022 Parker Landsgard, Wapsie Valley
2023 Andrew Westpfahl Andrew Westpfahl 5'8" | SG Wapsie Valley | 2023 State IA , Wapsie Valley
2022 Elijah Switzer, Aplington-Parkersburg