Jason Lagana from Methacton & Team Final Red. Photo: Team Final Red The fourth weekend of play at the 2021 Competitive Edge High School Fall League featured a number of lopsided games, but fortunately we still got to witness a…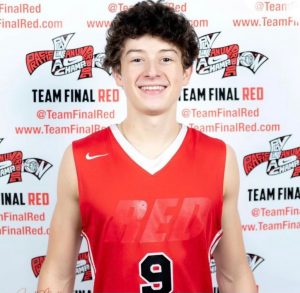 The fourth weekend of play at the 2021 Competitive Edge High School Fall League featured a number of lopsided games, but fortunately we still got to witness a slew of prospects playing at an elevated level.
Below is a review of five prospects who played well during the fourth Saturday of action in the Comp Edge Fall League (King of Prussia, PA).
Jason Lagana – 6'0" / Junior / Methacton / Team Final Red / Point Guard: Lagana is coming off a spring / summer during which he played at a remarkably high level, so it should come as no surprise that he is having an impact for the Warriors this fall. There are three aspects of Lagana's game that jump out immediately – his shooting, his all-round intensity, and his defensive abilities. Lagana can drain jumpers with the best of them and he owns "in the gym" range. When he is hot – look out. He is a solid athlete and when you combine that with his high intensity level, Lagana can create real problems for opposing ball handlers. Finally, Lagana, is a polished player who exhibits good instincts for the game.
Matt Malarkey – 6'3" / Senior / Conestoga / 610 City Elite / Wing: Malarkey is the valuable "athletic, glue guy" who is the perfect complement to 'Stoga's big fella Michael Walz Michael Walz 6'11" | PF Conestoga | 2022 State PA (Committed to Richmond) and floor general Ryan Mackey
Ryan Mackey 6'0" | PG Conestoga | 2022 State PA . Malarkey can splash home the three-ball, fill the lanes in transition and owns a solid dribble drive game. He is especially adept at taking smaller defenders to the hoop via a baseline drive and then scoring over them. Malarkey's handles and court vision are solid enough that in a pinch he can run at the point guard spot. At the other end, Malarkey's wingspan and anticipation skills make him an effective passing lane disruptor / shot blocker.
Madison Tatom Madison Tatom 5'11" | SG Upper Merion | 2023 State PA – 5'11" / Junior / Upper Merion / PSB Philly / Point Guard: Tatom's well rounded skill set was on full display this past Saturday. He is an outstanding catch and shoot three-point specialist who can stretch a defense to create space for teammates. In addition to being a lethal perimeter shooter, Tatom (2020-21 1st Team All Pioneer Athl. Conf. selection) can use his quick burst and creative handles to get to the hoop for a bucket. When he was not scoring the rock, Tatom used his high basketball IQ and excellent court vision to facilitate for others. For an undersized player, Tatom is an excellent rebounding guard.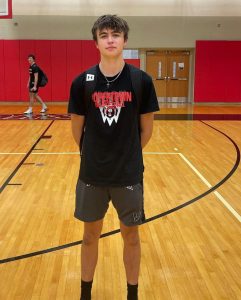 Zach Ward – 6'3" / Junior / Boyertown / Eastern PA Elite / Combo Guard: The Comp Edge Fall League games are Ward's first runs with the Boyertown varsity team. Despite his lack of varsity experience, Ward has made immediate contributions. Ward's length is his greatest offensive asset as it allows him to score over defenders in transition or snag offensive rebounds and convert them into second chance points. Ward can knock down threes at a high percentage too. As his ability to score off the bounce develops, Ward will become exceedingly difficult to stop. On defense, Ward's length also enables him to create turnovers and serve as a solid defensive rebounder. The 2023 prospect tallied 14 points (unofficially) in their win over Upper Merion on Saturday.
Jake West
Jake West 6'1" | SG Archbishop Carroll | 2025 State PA – 5'11" / Sophomore / Archbishop Carroll / Team Final Red / Combo Guard: Back in June at the Philly HS Live (Session I) event West played excellent all-around basketball. During the July recruiting period he provided scoring and playmaking from the lead guard spot for Team Final Red. This fall West continues turn heads with a fluid jumper that is automatic from anywhere on the floor. With his shooting skills, next level basketball IQ and ability to distribute the rock, West is an extremely dangerous pick-n-roll guard. The up and down, often chaotic nature of "fall ball" has allowed West to demonstrate that he can play in the transition game too.