As college coaches packed the Indianapolis Community Center, players from all over the country played at a high level.  Here are some of their stories! 
Akeives Shorts – A Career Game
D1 Minnesota has a point guard ranked in the top 125 going to Iowa State, a combo guard headed to Iowa State ranked in the top 150, and a 2023 guard that is ranked in the top 25 in his class nationally.  And Akeives Shorts of the Alabama Celtics went at them all plus the frontline of their defense for a 30 point explosion making 11 of 15 field goal attempts. 
Shorts is a 6-foot-0 guard from Charles Henderson High School in Alabama that has been solid the last 3.5 months, but nothing like what we saw Friday night.  Shorts attacked the middle of the D1 Minnesota defense like he was a running back hitting the A gap in football and there wasn't a nose tackle, linebacker, power forward, or center that could rotate to him in time to contest his sprint to the cup.  The quickness of Akeives will live in the nightmare of that defense for some time. 
What was even more impressive was the mix of pace for Shorts as well as his understanding of shot selection.  He pushed in transition at times but didn't force it unless lanes were there. Shorts rotated the basketball so Kobie Stringer
Kobie Stringer 6'0" | CG Long | 2022 State #NA Nation AL could have his day as well (23 points on 8 of 10 shooting) and then picked his spots for the right attack.  He also hit from the arc three times leading his squad to a 78-73 massive victory. 
Akeives Shorts made a big name for himself Friday night and it will be interesting to see what comes next. 
Briggs plays Big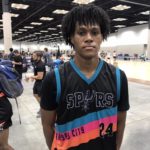 Few teams play team basketball on the 17U circuit the way the Kansas City Spurs do: tough, active with the ball and without, ball movement, calculated, constant.  
There was no better example for those words than Jaron Briggs
Jaron Briggs 6'4" | CG Piper | 2022 State KS on Friday afternoon when the Spurts knocked off Minnesota Select. Minnesota Select has a talented guard line-up but the backcourt isn't big and that is where Jaron struck hard.  He used that left handed attack to blow by his man a couple ways (sometimes with the quick first step, other teams with a physical blow by physically getting around his man) and the strength of Briggs often won out at the rim when Select's help defenders arrived. 
Jaron's court IQ contributed to the big game as well. He isn't a player that forces his offense, Jaron catches and attacks within the framework and goes heavy to the rim while a defense is recovering from actions.  Loved the way he approached the game. 
Briggs is coming off of a 19 point, nine rebound, three assist, and two steal a game season at Piper High School as a 6-foot-4 junior wing.  Briggs matched that winter 19 with a physical July 19 points on a big stage.
The 6-foot-10 big from the D1 Minnesota Prospects is a nationally ranked big.  That's why you had a mixture of St. Thomas Academy (three coaches) and Cal Poly looking on along with Minnesota and BYU.  Lee was solid in Dallas last weekend and he started off his four/five game set in Indianapolis with 16 points and eight boards.
When Ahjany has two steps around the basket for a putback or quick cut, next to nobody can stop him from a massive dunk or finish high above the rim.  Each of his last 5-6 games Lee seems to be going to the rim for an aggressive dunk that tops the next.  He had two of those yesterday plus five other rim finishes that were either cut completions or one/two dribble touch scores at the cup.  
Lee is a rare talent at 6/9/6'10.  He has a nice touch, is longer than just about anybody anywhere in the 2022 class, and Ahjany moves his feet laterally to the point that bigs always have to shoot over him.  Also a pain for offenses when he slides over and gets that length in help defense. 
The Lead Crusader
Tyler Borowski
Tyler Borowski 6'2" | PG Appleton East | 2022 State WI of Appleton East High School in Wisconsin has to be one of the most consistent players I've seen this summer. In four showings it seems to be a guarantee that Borowski's team wins (beat D1 Minnesota Prospects yesterday), he will score his consistent seven buckets with the touch and intelligence, and Tyler does that while the rest of the team also gets comfortable looks in the team frame work. 
Owen Pawlikowski
Owen Pawlikowski 6'3" | SG Kimberly | 2022 State WI scored 15 on 7-8 shooting, Carter Thomas
Carter Thomas 6'5" | PF Neenah | 2022 State WI 15 points and six boards, and Josiah Butler
Josiah Butler 6'3" | CG Fox Valley Lutheran | 2022 State WI put up 13 points.  Each of these players (and others) were taking high percentage shots throughout the game as the Crusaders continue to roll through games attempting high percentage shots in comfort.  It's a team concept but it also reflects on the Borowski leadership and approach. 
2K21 Notes
Kendall Blue

Kendall

Blue

6'6" | SG

East Ridge | 2022

State

#

242

Nation

MN

had a nice game and has become steadier with the summer.  Like the way the 6'6 guard from D1 Minnesota was turning players up the floor with his great lateral steps at his size.  Blue scored 18 and it was an active 18 with most the scores (save a three) coming off his dribble or moving off the ball sharply.  It was a workman's 18 which was quite respectable. 
Shorts and Stringer had the big numbers but also credit Alabama Celtics star Bryson Dawkins for the big part he played in the win.  Dawkins made all his foul shots, made a clutch three, and moved the ball to his teammates so they could keep shooting in comfort, while scoring 14 himself.  Of course there was the usual dunking highlight as few can lift like Dawkins can at 6-foot-3.

Pharrel Payne

Pharrel

Payne

6'9" | C

Park Of Cottage Grove | 2022

State

#

84

Nation

MN

is a Prep Hoops First Team All American candidate and he played like it again.  Payne had 19 points and nine boards in front of Minnesota, Purdue, and Texas A&M among others.  A&M offered after the game. 
I am all in on 6'8

Antwaun Massey

Antwaun

Massey

6'8" | PF

Minnesota Prep | 2022

#

249

Nation

MN

of KC Spurs and Minnesota Prep Academy.  He looks bigger and much more fluid than he did six months ago.  Take his length, activity, agility in his frame, and the learned game experience from the Spurs and you have a strong division one prospect. 
Swede Wahwassuck of SSA had a game winner completing his 15 point game and a win over Gain Elite.  Swede crossed over a bigger player that got stuck on the wing and Wahwassuck made him pay at the cup with a rim score. Also referred to as Nachs Wahwassuck.

Nasir Whitlock

Nasir

Whitlock

6'1" | PG

DeLaSalle | 2023

State

MN

, a 2023 from DeLaSalle High School, continues to be on a scoring tear off of ball screens.  Had 19 points on 8 of 20 shooting in the Gain Elite loss to SSA.