The CHSAA held its June Team Camp Live Period Event June 25-27th at Iona Prep in New Rochelle, NY. Various college coaches visited the event to watch some of the best prospects in the region, if not the country.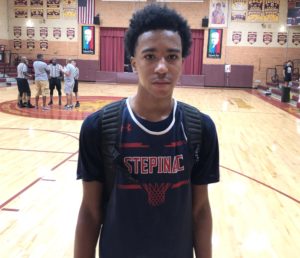 Johnuel Fland
Johnuel Fland 6'2" | PG Stepinac | 2024 State #8 Nation NY , 2024, Stepinac was one of the main attractions this weekend and he didn't disappoint. He was steady on both ends and connected on a number of shots from all three levels. The young playmaker made excellent decisions with the ball and managed to display why he's one of the best prospects in the country. There were a number of high major programs in attendance to check out the 2024 prospect.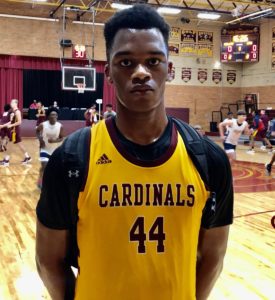 Isaiah Alexander
Isaiah Alexander 6'7" | SF Archbishop Stepinac | 2022 State NY , 2022, Cardinal Hayes continued to be a force on the inside and dominate the paint. After his stellar performance on Friday night, the 4.0 student, had the gym buzzing. Tobe rolled his ankle Saturday, but it wasn't serious, and he should be back soon to finish the summer with New Heights Lightning. 2024 prospects, standout, Ian Jackson
Ian Jackson 6'5" | SF Cardinal Hayes | 2024 State #9 Nation NY and Elijah Moore
Elijah Moore 6'2" | SG Cardinal Hayes | 2024 State #90 Nation NY  played well in Tobe's absence on Sunday. Jackson was able to slash to the rim and penetrate at will while Moore continued to be a threat from the perimeter. Hayes won the adjusted CHSAA season and carried their momentum into the Live period. 
Iona Prep's Jason Rivera, 2023, and Lou Hutchinson
Lou Hutchinson 6'5" | SG Long Island Lutheran | 2022 State NY Jr, 2022 played tough on both ends of the floor. Each's recruitment has been picking up steam since the AAU season started and will do the same after a successful June Camp showing.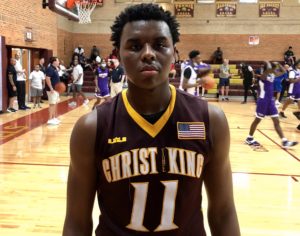 Dwayne Pierce
Dwayne Pierce 6'5" | SG Christ the King | 2024 State #88 Nation NY , 2024, Christ the King is well known locally and made a reputation for himself nationally. He left a lot of college coaches asking questions after his performance on Friday night. The 6'5″ wing displayed his full offensive package. His running mates Latiek Briscoe
Latiek Briscoe 6'2" | PF St Francis Prep | 2022 State NY , 2022, Jalil Bethea, 2023, Brandon Williams
Brandon Williams 6'8" | SF Christ The King | 2023 State #121 Nation NY , 2024, and Steven Solano
Steven Solano 6'11" | C Christ the King | 2024 CA-S , 2024 also gathered a ton of interest after their performances last weekend. Christ the King was one of the deepest and most talented teams throughout the weekend.
Additional Standouts
'22 Omari Ward
Omari Ward 5'11" | PG Fordham Prep | 2022 State NY , Mount St. Michael
'22 Chance Morrish Chance Morrish 6'2" | CG St. Francis prep | 2022 State NY , St. Francis Prep
'22 Ahmir Moore, St. Rays
'22 Jeremiah Sejour Jeremiah Sejour 6'11" | PF Nazareth | 2023 State NY , Molloy
'22 Christian Joe, Loughlin
'23  Christian Greeley Christian Greeley 6'2" | SG St Joseph by the Sea | 2023 State NY , St. Francis Prep
'24 Christian Jeffrey, Loughlin