WISCONSIN DELLS —   10 players who helped their cause the most during the 2021 Rock Spring Classic at Justagame Fieldhouse… John Adams John Adams 6'6" | PF Milwaukee North | 2024 State WI – 2024 – F/C – Wisconsin…
WISCONSIN DELLS —   10 players who helped their cause the most during the 2021 Rock Spring Classic at Justagame Fieldhouse…
John Adams John Adams 6'6" | PF Milwaukee North | 2024 State WI – 2024 – F/C – Wisconsin Playground Club
Adams is just a wrecking ball on the interior. One of the most physically imposing prospects in his class, Adams is a strong and long post prospect with a tone-setting mentality. Loved him defensively and on the glass all weekend. Adams makes opponents play from the perimeter and will block/alter most shots that come his way. On the offensive end, he's still just scratching the surface skills-wise but can get after the offensive glass and create second-chance opportunities. 
Jalen Carlino Jalen Carlino 6'0" | PG Kenosha Bradford | 2022 State WI – 2022 – PG  – D.F. Elite
Carlino had a strong overall weekend in the Dells. The 6-foot guard really showed out as a playmaker with the ball in his hands. Carlino contributed across the board all weekend. He had games where he went off as a scorer, games where he racked up assists, and games where he rebounded the ball well for his position and came up with loose balls. Often, you also saw Carlino do all three.
Noah Daniels Noah Daniels 6'3" | SF New Berlin West | 2022 State WI – 2022 – W – Wisconsin Rap
He's unranked, but that won't last. Daniels averaged 17 points, seven rebounds, and nearly three assists per game for New Berlin West last season. The all-around ability was definitely on display Saturday. Daniels has a terrific motor and just contributes across the board. The 6-foot-4 can create easy buckets as a slasher, knock down his open 3's, drive and dish, rebound, push the pace in transition, and flies around defensively.  Wisconsin Rap has a quality squad, but Daniels takes them to another level with his energy and ability to contribute across the board.
Tamarrein Henderson
Tamarrein Henderson 6'3" | CG West Salem | 2024 State WI – 2024 – SF – Wisconsin Playmakers
Caught Henderson on Sunday against Martin Bros. The freshman really looks the part physically. He's an athletic, strong, 6-foot-3  wing with a really nice feel for the game. Wasn't known coming into the  weekend, but Henderson averaged nearly nine points per game for Sparta last season.
Andrew Kelley
Andrew Kelley 6'1" | PG McFarland | 2024 State WI – 2024 – PG – Wisconsin Academy
Kelley can really score it from the point guard position. He's a tough, hard-nosed guard who puts the ball on the deck with a purpose. Like the way he plays through contact and can score in those 8-10 foot areas. Kelley hit  gaps well all weekend and understands how to utilize ball fakes to shit the defense and open up those driving lanes.
Luke Pautz
Luke Pautz 6'4" | SF Roncalli | 2022 State WI – 2022 – SF – Wisconsin Blizzard
Prospect that just gets the game of basketball. Pautz is a very versatile, multi-dimensional wing with a ton of value at the next level. His best asset is distributing the basketball. The Roncalli star isn't a true point guard, but you wouldn't know at times with the way he finds people in transition or makes decisions with the basketball in the halfcourt. A solid defender, Pautz will also take on the responsibility of slowing down the other team's best player. He can space the floor from 3-point range and generate easy buckets as a slasher. With his ability to play and defend multiple positions, Pautz will give coaches a lot of flexibility with their lineup rotations.
Sean Minor Sean Minor 5'9" | PG Wisconsin Lutheran | 2024 WI – 2024 – PG – Closed Gyms
Kid competes and didn't shy away from a high-level matchup against Wisconsin Playground Club. Minor went toe-to-toe with some of the top guards in the state and certainly won his fair share of battles. A quick, 5-foot-9 guard, Minor can pressure 94 feet up the floor. He can be disruptive and create turnovers without fouling. On the ball, Minor has blow-by ability and terrific touch once he gets into the paint to score over bigger defenders.
A.C. Strok – 2023 – SG – Wisconsin Academy
Looked a little bit rusty offensively, but often did everything right except put the ball in the hole. The 6-foot-3 wing looked good with his ability to create rhythm jumpers off the dribble in the mid-range. Strok has some deceptive ball handling ability, able to bend and play low to the ground. From there, he's pretty smooth and effortless when he goes to rise and fire. Strok appeared to be a very confident shooter that sticks to his stuff whether he's made five in a row or missed five in a row.  
Ryan Sweeney
Ryan Sweeney 6'2" | CG Green Bay East | 2022 State WI – 2022 – G – Team 1848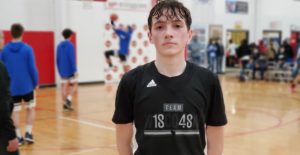 Sweeney's stock went way up with his performance against Young and Reckless, who ended up winning the 17U title.  Facing a lot of terrific athletes, Sweeney was the best guard on the floor Saturday night. The Green Bay East star can absolutely go with the basketball. He's a slim, lanky kid, but don't let that fool you. If Sweeney gets the ball in the open floor and is in a foot race, he's winning it. Also a prospect with some surprising above the rim bounce, Sweeney showed improved ability in the halfcourt. He was able to break guys down, adjust his shot mid-air, and finish against length/athleticism. Want to see more of his shooting ability, but Sweeney pleasantly surprised in the nightcap.
Andrew Verhelst
Andrew Verhelst 6'3" | SF Sheboygan Lutheran | 2023 State WI – 2023 – F – Wisconsin Crusaders
Verhelst may not always score a ton of points for a very talented Wisconsin Crusaders squad, but when he does, they seem to be momentum changers. A big, strong forward, Verhelst attacks the rim as hard as anyone. Verhelst is a bruiser that's just not going to feel contact and defenders certainly shy away from challenging him.  Verhelst picked his spots really and attacked gaps when available.  Even if he doesn't score a point, Verhelst takes pride in doing the little things — boxing out, rebounding,  defending, and making hustle plays. A high motor forward that plays an intense brand of ball, Verhelst sparked his teammates all weekend.