The Teams Alburnett (17-7, 52.6% of scoring returning): Leading scorer Andrew Ossman graduated, but the Pirates return a strong quartet of players and should remain competitive at the top of the league. Junior guard Braydon Osborn (8.6) and senior Mason…
The Teams
Alburnett (17-7, 52.6% of scoring returning): Leading scorer Andrew Ossman graduated, but the Pirates return a strong quartet of players and should remain competitive at the top of the league. Junior guard Braydon Osborn (8.6) and senior Mason Neighbor (6.9) are the team's top two returning ball handlers, a pair of experienced guards who can handle the ball, get others involved, and protect it. Junior wing Jordan Caton (5.9) was a solid role player who provided some perimeter scoring last season and should be ready to take another step up, and senior big man Tytan Bowers
Tytan Bowers 6'8" | C Alburnett | 2023 State IA (4.8) is one of the most intriguing prospects in small school basketball. A 6-7/6-8 big man with some mobility, Bowers is raw but has some raw talent as a rebounder, rim protector, and interior finisher. If he's able to take another step up this season, the Pirates could be really dangerous.
Central City (5-18, 99.1%): New coach Ryan Turner has a strong core returning for the Wildcats, who lost just nine total points from last year's team. Junior forward Mekhi Benton Mekhi Benton 6'3" | PF Central City | 2024 State IA (13.8) led the team in scoring and rebounding last season and is an athletic player who can run the floor and rebound well on both ends of the floor. Brothers Matthew Klostermann (9.9) and Aiden Klostermann (9.3) will headline the backcourt. Matthew led the team in assists last year as a freshman and is a quick guard who can break down a defense and get to the rim, while Aiden, a junior, is the team's top perimeter shooting threat and a reliable secondary ball-handler. Role players Brayden Rickels (3.4), Jayden Hanson (3.0), and Marcus Schellhorn (2.6) also return. Despite making a coaching change, Central City should be improved with all the experience they have coming back, and continue building some momentum for a 2023-24 season that could be pretty special.
East Buchanan (7-15, 77.4%): Six of the top seven scorers return for the Buccaneers, led by senior Chance Beeh (9.6) and junior Hunter Bowers (9.5). Bowers led the team in rebounding last season and does a particularly good job controlling the offensive glass and helping his team grab valuable extra possessions. Trystin Russell (3.0) and Dalton Kortenkamp (5.1) were the top two in assists last season and return to lead the backcourt.
Edgewood-Colesburg (21-4, 1.3%): Last year's 21-win team was a special one for the Ed-Co community, but they will take a major step back this season following the graduations of the top eight scorers from last year's team. In all, just 20 total points from that team return from junior Caden Cole (11 points), and sophomores Pryce Rochford (6) and Will Wiskus (3).
Maquoketa Valley (9-14, 80.6%): The top three, and six of the top seven, scorers return for the Wildcats, giving them a veteran group to build around this season. Senior guard Avery Holtz (12.0) led the team in both scoring and assists last season and will continue to be the focal point of the offensive attack. Junior Kody Hoeger (9.1) was really strong on the glass last year, leading the team in rebounding, while senior Lucas Orcutt (5.8), juniors Lance McShane (4.6) and Toby Grimm (3.2), and sophomore TJ Cook (3.0) were all strong role players last year and will be major contributors again. Look for Cook to take a leap this season into more of a scoring role as he showed some flashes as a three-level scorer last season.
North Linn (27-1, 40.3%): The Lynx have been on an unprecedented run over the last six seasons, going 161-5 with three of those five losses coming in state championship games. They lose three starters from last year's 1A championship team, and for the first time since the 2014-15 season, there won't be a Hilmer at starting point guard. Senior forward Tate Haughenbury
Tate Haughenbury 6'5" | PF North Linn | 2023 State IA (15.5) is the team's leading returnee, a long, athletic forward who scores with remarkable efficiency around the rim, rebounds, and uses his length to really impact the game defensively. He was named captain of the 1A all-tournament team with his strong play and will be looking to carry that momentum into his senior year. Senior guard Ben Wheatley Ben Wheatley 6'1" | SG North Linn | 2023 State IA (7.9) is a good perimeter shooting threat, as is junior wing Ty Pflughaupt
Ty Pflughaupt 6'4" | SG North Linn | 2024 State IA (3.6), who should take a major leap this year after providing some defense and shooting off the bench last year. The true breakout candidate, however, is sophomore point guard Mason Bechen Mason Bechen 5'11" | PG North Linn | 2025 State IA (4.5), who will step into the starting point guard role and pace an offensive attack that is always dynamic. Sure, North Linn lost a lot of production off of last year's team, but this is a community that grows up playing their up-tempo, pressing, trapping style, and the new faces are ready to step into big roles. The train will keep rolling.
Springville (19-5, 26.0%): The Orioles suffered some huge personnel losses with the graduations of Rhenden Wagaman, Luke Menster, and Dylan DeMean, who combined to average 50.9 points and 21.7 rebounds a game last season. Cade Sheda Cade Sheda 6'3" | PG Springville | 2023 IA (9.9), a talented senior point guard, returns to lead the team this season. Sheda can get to the rim and knock down shots, and he dished out 4.0 assists a game last season. Fellow senior returnee Brett Kane (5.7) is also a reliable ball-handler and passer who can initiate the offense. The rest of the rotation figures to be pretty young and inexperienced, so they'll be leaning heavily on Sheda and Kane early on.
Starmont (0-22, 79.3%): The bad news is that the Stars' closest game last season was an 18-point loss to Maquoketa Valley. The good news is that they bring back their top two scorers, and eight of the top nine overall, so they gained a lot of experience and should be a bit more competitive this season. Senior forward Keegan McTaggart (6.3) and junior Sawyer Beatty (4.8) combined to pull down nearly ten rebounds a game last season and will hold down the painted area, while sophomore Kyle Sherman (5.9) and junior Maddox Vaske (1.9) should be the primary ball handlers.
Projected Order of Finish
1. North Linn
2. Alburnett
3. Springville
4. Maquoketa Valley
5. East Buchanan
6. Central City
7. Edgewood-Colesburg
8. Starmont
Analysis: Despite losing three starters from a state championship team, North Linn is still a heavy favorite in the division and one of the best teams in 1A. Alburnett will continue to be strong and is a team that would be capable of pulling an upset or two in the postseason and making a little bit of a run.
Preseason Player of the Year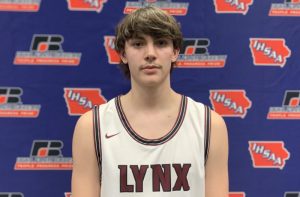 2023 Tate Haughenbury
Tate Haughenbury 6'5" | PF North Linn | 2023 State IA , North Linn: A long, bouncy forward who finishes above the rim with authority, Haughenbury will be the focal point of a Lynx team that projects to remain among the best teams in 1A basketball this season. He does a great job using his length and athleticism to impact the game on the defensive end.
Players to Watch
2023 Tate Haughenbury
Tate Haughenbury 6'5" | PF North Linn | 2023 State IA , North Linn
2023 Ben Wheatley Ben Wheatley 6'1" | SG North Linn | 2023 State IA , North Linn
2025 Mason Bechen Mason Bechen 5'11" | PG North Linn | 2025 State IA , North Linn
2024 Ty Pflughaupt
Ty Pflughaupt 6'4" | SG North Linn | 2024 State IA , North Linn
2024 Mekhi Benton Mekhi Benton 6'3" | PF Central City | 2024 State IA , Central City
2025 Matthew Klostermann, Central City
2024 Aiden Klostermann, Central City
2023 Cade Sheda Cade Sheda 6'3" | PG Springville | 2023 IA , Springville
2023 Brett Kane, Springville
2024 Hunter Bowers, East Buchanan
2023 Chance Beeh, East Buchanan
2024 Trystin Russell, East Buchanan
2023 Avery Holtz, Maquoketa Valley
2024 Kody Hoeger, Maquoketa Valley
2023 Mason Neighbor, Alburnett
2024 Braydon Osborn, Alburnett
2024 Jordan Caton, Alburnett
2023 Tytan Bowers
Tytan Bowers 6'8" | C Alburnett | 2023 State IA , Alburnett