The Teams Bishop Heelan (13-10, 72.7% of scoring returning): Junior wing Matthew Noll Matthew Noll 6'7" | PF Bishop Heelan | 2024 State IA (14.0, 8.1 rebounds) may be the best player in the conference, and he leads a Crusaders…
The Teams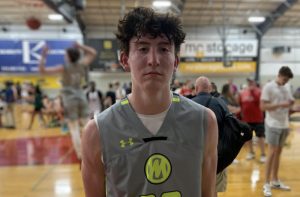 Bishop Heelan (13-10, 72.7% of scoring returning): Junior wing Matthew Noll
Matthew Noll 6'7" | PF Bishop Heelan | 2024 State IA (14.0, 8.1 rebounds) may be the best player in the conference, and he leads a Crusaders team that brings back five of the top six scorers. Noll is coming off an explosive summer as a three-level scorer for Martin Brothers and could emerge as one of the state's elite scoring threats this season. Senior guards Carter Kuehl
Carter Kuehl 5'11" | PG Bishop Heelan | 2023 State IA (9.2) and Sam Skinner
Sam Skinner 5'9" | SG Heelan | 2023 State IA (8.8) are both capable ball-handlers and shooters, and junior wings Beau Chamberlain
Beau Chamberlain 6'2" | SG Bishop Heelan | 2024 State IA (5.1) and Sean Schaefer (3.8) should take another step forward this season. The Crusaders gave up nearly 65 points a game in their 10 losses last season, and they'll need to improve on that end of the floor if they want to become a serious contender in 3A and in the conference, but with Noll leading the charge, they should be a pretty potent offensive team that is capable of beating anyone on any given night.
Council Bluffs Jefferson (1-20, 64.6%): The Yellow Jackets won just one game last season, but bring back four of their top five scorers, so there is some thought that this could be an improved team this winter. Junior guard Jordan Dewaele (8.5) is the top returning scorer and rebounder, and he also blocked 1.2 shots a game last season. Seniors Jayden Kapels Jayden Kapels 6'2" | SG Thomas Jefferson | 2023 IA (7.1) and Drake Miller (5.7), and junior Devin Davis-Conti (5.0) are the other key returnees for the Jackets. Only six of their losses last season were by single digits, and while they may not win a bunch more games this season, they should be more competitive on a nightly basis.
Council Bluffs Lincoln (15-6, 15.7%): The Lynx were rolling against in-state competition last season before losing Iowa wing Josh Dix to a season-ending injury, and they stumbled a bit, understandably, down the stretch as a result of the injury. Not only is Dix graduated, but so are the next four scorers from that group, leaving sophomore forward Creighton Bracker
Creighton Bracker 6'6" | PF Council Bluffs Lincoln | 2025 State IA (3.8, 5.4 rebounds) as the top returnee. Bracker was a solid role player for CBAL last season, a physical and skilled 6-5/6-6 combo forward who can score inside and out as well as control the glass. Junior lead guard Jayden Calabro
Jayden Calabro 5'6" | PG Council Bluffs Lincoln | 2024 State IA (3.6) was expected to share primary ball-handling duties with Griff Rardin, who had a productive freshman season, but Rardin moved to Kentucky when his dad got a coaching job, so Calabro should be the team's primary threat on the perimeter. Etienne Higgins (2.3) had some good moments last season as a freshman, and the Lynx will add Lewis Central transfer Cole Arnold Cole Arnold 6'2" | SF Council Bluffs Lincoln | 2024 State IA to the mix as well. Arnold averaged 14.5 points a game last season for the Titans and is a physical three-level scorer on the wing who should shoulder the scoring load on the perimeter. CBAL and East have been the teams to beat in the conference for the last several years, and despite losing a lot of production, expect to see the Lynx back in the running this season.
Le Mars (13-10, 2.9%): Few teams in the state were hit by graduation as hard as the Bulldogs, who return just 34 field goal attempts from last year's team. The top eight scorers graduated, and only one player, Nolen Parmalee, played in double-digit games among returnees, appearing in 11 contests. It will be entirely new faces taking the floor this year for the 'Dogs.
Sergeant Bluff-Luton (9-13, 100.0%): The Warriors had made the 3A state tournament five consecutive seasons before last year, and with everyone coming back, they'll have a chance to start a new streak. Senior guard Tyler Smith Tyler Smith 5'10" | SG Sergeant Bluff-Luton | 2023 State IA (16.4) was the team leader in scoring and assists last season. Dylon Schaap (9.8) and Nick Hinkel (4.4) are viable threats on the perimeter alongside Smith, while Scott Kroll Scott Kroll 5'10" | PG Sergeant Bluff-Luton | 2023 State IA (8.5) and Tylar Lutgen (5.1) are interior presences. Seven of their 13 losses came by single digits last season, and with all of the experience they gained last season, they should be able to close a few more of those games out. Always tough, physical, and defensive-minded, SB-L should be a nightmare to play on a nightly basis and a contender for the conference title.
Sioux City East (16-6, 68.4%): The Black Raiders lost leading scorer Bie Ruei to graduation but bring back five of the top seven from last year's 16-win team, so they'll have plenty of firepower ready to go for their up-tempo style of play. They'll be led by a trio of seniors with plenty of experience in Preston Dobbs
Preston Dobbs 6'5" | SF Sioux City East | 2023 State IA (12.1, 38.6 3P%), Cole Ritchie Cole Ritchie 6'2" | SG Sioux City East | 2023 State IA (10.5), and Brandt Van Dyke
Brandt Van Dyke 6'8" | PF Sioux City East | 2023 State IA (9.9), giving them a dynamic trio who can do a little bit of everything. Dobbs is the team's top perimeter shooting threat, Ritchie is a good, physical forward who pounds the glass, and Van Dyke is a talented 6-7 wing who can score or facilitate. Kelynn Jacobsen (6.5) provides additional size and rebounding, and Sam Jons (5.6, 63.4 FG%) was extremely productive off the bench last season. There is also a chance that we could see the Yusuf brothers – Naef and Bilal – a pair of talented 2026 prospects on the varsity roster this season. This has been the preeminent program in western Iowa for the last two decades, averaging 19.6 wins a season over the QuikStats/Bound era.
Sioux City North (2-20, 64.5%): The Stars lost their leading scorer to graduation but bring back three players who started a combined 65 games last season, so they have some experienced pieces returning. Senior wing Jack Lloyd (8.8), junior guard Zach Hesse
Zach Hesse 6'3" | SG Sioux City North | 2024 State IA (7.8), and senior Carson Strohbeen (4.1) are the top returnees, while senior Carter Reekers (4.4) and sophomore Dominic Foster (4.1) also saw significant time last season.
Sioux City West (7-15, 81.0%): A pair of double-figure scorers return for the Wolverines in senior guards Keavian Hayes Keavian Hayes 6'2" | SG Sioux City West | 2023 State IA (17.1) and Lamarion Mothershead
Lamarion Mothershead 6'3" | SF Sioux City West | 2023 State IA (11.7), giving West a pair of athletic, slashing guards who can also knock down shots from the arc. Hayes is one of the best players in the conference, a dynamic three-level scorer who can defend and facilitate. Senior wing Jay Grause (8.9, 42.9 3P%) also returns after knocking down a team-high 45 3-pointers last season. Improvements will need to be made on the defensive end if they want to become more competitive after giving up an average of 73.7 points a game in their 15 losses.
Projected Order of Finish
1. Sioux City East
2. Heelan
3. Council Bluffs Lincoln
4. Sergeant Bluff-Luton
5. Sioux City West
6. Le Mars
7. Sioux City North
8. Council Bluffs Jefferson
Analysis: We expect this to be a four-horse race at the top of the conference between East, Heelan, CBAL, and SBL, and arguments could be made for any of them at the top. We'll side with East here, who should be the deepest of the contenders and a program that has dominated this conference for a while.
Preseason Player of the Year
2024 Matthew Noll
Matthew Noll 6'7" | PF Bishop Heelan | 2024 State IA , Heelan: Coming off a really strong summer with Martin Brothers, Noll is a versatile three-level scorer with great size and length who could emerge as one of the state's most potent scoring threats this season. His ability to create his own shots, move without the ball in his hands, and dominate on the glass make him a very intriguing prospect.
Players to Watch
2024 Matthew Noll
Matthew Noll 6'7" | PF Bishop Heelan | 2024 State IA , Heelan
2023 Carter Kuehl
Carter Kuehl 5'11" | PG Bishop Heelan | 2023 State IA , Heelan
2023 Sam Skinner
Sam Skinner 5'9" | SG Heelan | 2023 State IA , Heelan
2023 Keavian Hayes Keavian Hayes 6'2" | SG Sioux City West | 2023 State IA , Sioux City West
2023 Lamarion Mothershead
Lamarion Mothershead 6'3" | SF Sioux City West | 2023 State IA , Sioux City West
2023 Jay Grause, Sioux City West
2023 Tyler Smith Tyler Smith 5'10" | SG Sergeant Bluff-Luton | 2023 State IA , Sergeant Bluff-Luton
2023 Dylon Schaap, Sergeant Bluff-Luton
2023 Scott Kroll Scott Kroll 5'10" | PG Sergeant Bluff-Luton | 2023 State IA , Sergeant Bluff-Luton
2023 Preston Dobbs
Preston Dobbs 6'5" | SF Sioux City East | 2023 State IA , Sioux City East
2023 Cole Ritchie Cole Ritchie 6'2" | SG Sioux City East | 2023 State IA , Sioux City East
2023 Brandt Van Dyke
Brandt Van Dyke 6'8" | PF Sioux City East | 2023 State IA , Sioux City East
2024 Cole Arnold Cole Arnold 6'2" | SF Council Bluffs Lincoln | 2024 State IA , Council Bluffs Lincoln
2025 Creighton Bracker
Creighton Bracker 6'6" | PF Council Bluffs Lincoln | 2025 State IA , Council Bluffs Lincoln
2024 Jayden Calabro
Jayden Calabro 5'6" | PG Council Bluffs Lincoln | 2024 State IA , Council Bluffs Lincoln
2023 Jack Lloyd, Sioux City North
2024 Zach Hesse
Zach Hesse 6'3" | SG Sioux City North | 2024 State IA , Sioux City North