We are now a week away from college basketball officially tipping off and it seems to be a good time to remind folks which prospects from last year's senior class have a chance to make a splash as freshmen at…
We are now a week away from college basketball officially tipping off and it seems to be a good time to remind folks which prospects from last year's senior class have a chance to make a splash as freshmen at the next level. We'll stick specifically with the prospect who moved onto Division I programs for this specific article.
Cam Whitmore | Villanova
Ranking: No. 1
Whitmore has become one of the highly anticipated freshmen in all of college basketball. After helping Team USA U18 to a gold medal in Tijuana last July, the focus has been on how much of an impact he'll make for the Wildcats under new head coach Kyle Neptune. That anticipation will unfortunately have to wait as the 6'7 athletic combo forward underwent surgery for an injured thumb suffered in practice. Whitmore will be reevaluated in early November and from there, we'll get a better idea as to when his debut will be made. Whitmore is in the conversations of being a potential lottery pick in this year's NBA Draft.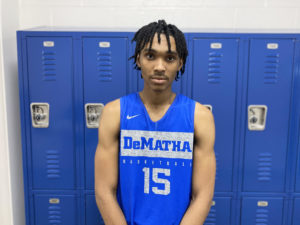 Tyrell Ward | LSU
Ranking: No. 3
Ward looks to be a quick option off the bench to start the season for new head coach Matt McMahon. It is believed that he might even have a chance to crack the starting lineup, but nevertheless will be an impact with his ability to score from all three levels at 6'6. DMV fans are no stranger to his ability to fill it up from three or give the occasional poster slam especially in transition. Look for Ward to supply immediate production as a sixth man as the Tigers begin their season and prep to make a run in the SEC.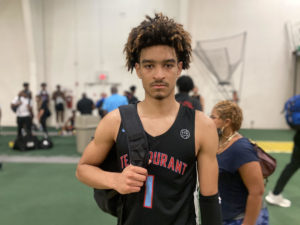 Rodney Rice | Virginia Tech
Ranking: No. 4
Associate head coach Mike Jones worked his DMV connections with the Hokies' 2022 recruiting class headlined by former DeMatha standout guard Rodney Rice. He has the ability to play on or off the ball, but is at his best operating in high ball screens where he's a threat to score from multiple levels. He also has good vision and feel as a passer. As Rice adjusts to the complexity and physicality that high major basketball offers, it's safe to say that he'll be an impact for Virginia Tech for some time.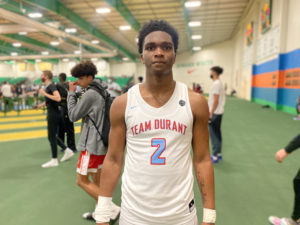 Darren Buchanan Jr. | Virginia Tech
Ranking: No. 5
The other DMV product that landed in Blacksburg this fall was former Woodrow Wilson standout forward Darren Buchanan Jr. The definition of a do-it-all stat sheet stuffer, early reports have indicated the staff being very pleased with how much time he is dedicated to staying in the gym. Buchanan isn't necessarily elite at one specific thing, but he's a well rounded workhorse who's willing to fulfill whatever role is needed. Those guys often times find minutes within a rotation very quickly.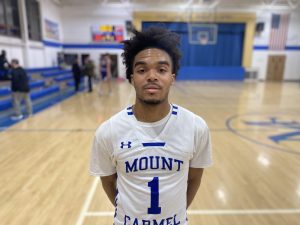 Deon Perry | Loyola (MD)
Ranking: No. 6
Obviously we were extremely high on Perry coming out of high school given his ability to control a game from the point guard position. For Mt. Carmel, Perry had a Trae Young sort of presence that helped earn an appearance in the MIAA A Conference title game while shouldering a heavy responsibility for all-around offensive production. I'll be in attendance for Loyola's opening exhibition matchup tomorrow evening to get a first look, but all indications point to Perry contributing at a respectable rate as a freshman for head coach Tavaras Hardy.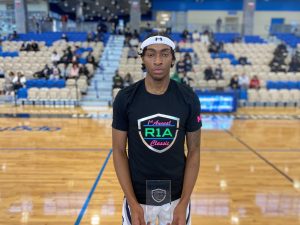 Christian Winborne | St. Joseph's (PA)
Ranking: No. 7
I'm confident in stating there wasn't a single person in the area higher on Winborne's game and potential than myself. He supported those thoughts the other night as he led St. Joe's with 22 points in an exhibition win over Towson. It should be a sign for things to come as Winborne brings confidence for his age. While he'll face his fair share of adversity throughout the season as the typical freshman does, I'd be willing to bet he has more eye-popping performances and makes a run for A-10 Freshman of the Year.
Devin Dinkins | George Mason
Ranking: No. 12
Dinkins is another lead guard from the DMV that comes from programs that understand how to win at a high level. He looks to translate those winning ways for head coach Kim English this season and could find himself playing an important role right away. Dinkins is a good decision-maker and a capable shooter from deep. He applies sound pressure defensively, but many know that the defensive side of the game can be the most difficult for any newcomer. As Dinkins settles into a role, look for him to take advantage of his minutes and contribute in momentum-changing ways.