Preseason Player of the Year: 2024 Matthew Noll Matthew Noll 6'7" | PF Bishop Heelan | 2024 State IA (Heelan) Noll is coming off a stellar summer with Martin Brothers, establishing himself as one of the state's elite scoring threats.…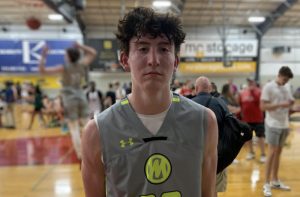 Preseason Player of the Year: 2024 Matthew Noll
Matthew Noll 6'7" | PF Bishop Heelan | 2024 State IA (Heelan)
Noll is coming off a stellar summer with Martin Brothers, establishing himself as one of the state's elite scoring threats. He looks primed to have a massive junior year and get onto the radar of everyone around the state.
First Team
2024 Matthew Noll
Matthew Noll 6'7" | PF Bishop Heelan | 2024 State IA (Heelan): 14.0 points, 8.1 rebounds, 2.1 assists, 1.1 steals
A long, 6-6/6-7 three-level scorer, Noll can fill it up in a hurry for the Crusaders. He's great on the glass, can defend multiple positions, and create for others.
2023 Keavian Hayes Keavian Hayes 6'2" | SG Sioux City West | 2023 State IA (Sioux City West): 17.1 points, 6.7 rebounds, 2.9 assists, 1.6 steals, 52.9 FG%, 39.3 3P%
A powerful, quick-twitch guard who can blow by defenders and get to the rim seemingly at will, Hayes was remarkably efficient as a junior, posting 53-39-68 shooting splits. He led the Wolverines in scoring, rebounding, assists, and steals.
2023 Tyler Smith Tyler Smith 5'10" | SG Sergeant Bluff-Luton | 2023 State IA (Sergeant Bluff-Luton): 16.4 points, 3.8 rebounds, 2.7 assists, 1.9 steals
A 5-11 lead guard, Smith led the Warriors in scoring as a junior and will be the focal point of an attack that will battle it out with Heelan, East, and CBAL all year for conference supremacy.
2023 Preston Dobbs
Preston Dobbs 6'5" | SF Sioux City East | 2023 State IA (Sioux City East): 12.1 points, 4.0 rebounds, 1.3 assists, 49.5 FG%, 38.6 3P%, 81.8 FT%
A 6-5 combo forward who showed that he can score inside and out, Dobbs contributes across the board for the Black Raiders and provides versatility on the defensive end.
2023 Cole Ritchie Cole Ritchie 6'2" | SG Sioux City East | 2023 State IA (Sioux City East): 10.5 points, 6.6 rebounds, 2.0 assists, 1.2 steals, 47.3 FG%
Ritchie, a 6-2 guard, was strong as a junior for East, contributing in a major way on the glass and serving as a solid secondary ball-handler and decision-maker. He's at his best playing downhill and attacking the bucket.
Second Team
2023 Lamarion Mothershead
Lamarion Mothershead 6'3" | SF Sioux City West | 2023 State IA (Sioux City West)
2023 Brandt Van Dyke
Brandt Van Dyke 6'8" | PF Sioux City East | 2023 State IA (Sioux City East)
2023 Dylon Schaap (Sergeant Bluff-Luton)
2023 Carter Kuehl
Carter Kuehl 5'11" | PG Bishop Heelan | 2023 State IA (Heelan)
2024 Cole Arnold Cole Arnold 6'2" | SF Council Bluffs Lincoln | 2024 State IA (Council Bluffs Lincoln)
Honorable Mentions
2023 Jay Grause (Sioux City West)
2023 Jack Lloyd (Sioux City North)
2023 Sam Skinner
Sam Skinner 5'9" | SG Heelan | 2023 State IA (Heelan)
2023 Scott Kroll Scott Kroll 5'10" | PG Sergeant Bluff-Luton | 2023 State IA (Sergeant Bluff-Luton)
2024 Zach Hesse
Zach Hesse 6'3" | SG Sioux City North | 2024 State IA (Sioux City North)
2025 Creighton Bracker
Creighton Bracker 6'6" | PF Council Bluffs Lincoln | 2025 State IA (Council Bluffs Lincoln)