Fargo, ND – In this article, we are taking a look at players from North Dakota & South Dakota. One of the players in this article already has an offer and another has taken a visit to NDSU. The other players…
Fargo, ND – In this article, we are taking a look at players from North Dakota & South Dakota. One of the players in this article already has an offer and another has taken a visit to NDSU. The other players in have the potential to be recruits for the Bison. Read below for 7 names to keep eyes on this winter. You never know, they could be wearing the green & gold someday!
You may think that a certain class does not have any scholarships available, or a certain position group is deep. Does that really matter in today's world? The Transfer Portal has changed that way of thinking. Coaches are constantly maintaining and developing relationships with prospects/recruits. Let's hope it is with some of these guys!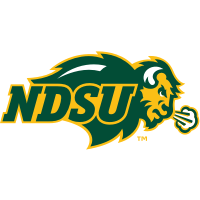 Alec Squires
Alec Squires 6'10" | C Sioux Valley | 2024 State SD (2024) |6'10 C| Sioux Valley
He had a phenomenal AAU season with the Pentagon Schoolers. Squires showed that he can perform well against top competition. He is already a great prep player but I think his ceiling is sky-high. Once Squires gets on campus, in a "college system" and hits the weight room hard, he is going to turn into a monster and every team in the Summit League will wish they had him. The Cossack obviously has great height/length, add in the fact that his motor never stops & he runs like a deer, and you have yourself one heck of a player! Squires has great feet and hands, his post moves are always improving, and he has no problem dunking in traffic. Alec has a nose for the ball off the rim and he is always fighting for boards. He also sticks outs as an active but smart rim protector. I am assuming he is on NDSU's radar but I think they should get serious before it is too late. Squires was on campus at UND on Saturday and he received his first D1 offer from the Fighting Hawks. I would imagine the SD schools are all keeping a close eye on Squires as well. Alec is not just an excellent prospect with 6'10" length, he is a hard worker, comes from a great family, and is a fantastic kid. All this leads me to believe that Alec Squires
Alec Squires 6'10" | C Sioux Valley | 2024 State SD would be a great fit for the Bison Basketball Program.
Ben Brooks Ben Brooks 6'7" | PF Madison | 2025 State SD (2025) |6'7 PF| Madison
He is the #1 prospect in the 2025 Class from South Dakota. Brooks has the size, athleticism, and skill to be a D1 Mid-Major player. I have not heard a whole lot about his recruitment but it is highly likely that the USD and SDSU have him on their radar. This summer with SD Attack, Ben showed off a high level of play. For his young age and 6'7" height, Brooks has advanced ballhandling and passing skills. He scores from all 3-levels and his 3-point shooting has been impressive. Ben's length and mobility make him an intriguing defender. Keep close eyes on Madison this winter, it will be fun to see what type of season Mr. Brooks has for the Bulldogs.
Isaiah Schafer
Isaiah Schafer 6'1" | CG Bismarck Century | 2024 State #246 Nation ND (2024) |6'1 CG| Bismarck Century
There is no doubt in my mind that Schafer is a Division 1 level shooter. As a sophomore, Isaiah was All-State, scored 17.8 ppg, made 11 3-pointers in a single game, and shot a mind-numbing 44.3% from beyond the arc! Those numbers alone are impressive. Now, look at what he did this summer with D1 Minnesota, who was absolutely loaded with talent. Schafer averaged 15.8 ppg, 3.2 apg, 2.4 rpg, 97.5 FT%, and 4.3 made 3's per game. He was also the leading scorer on a stacked squad. Most people would not have predicted that from a North Dakota kid. Those numbers are splendid but when you realize he put those up on the 3SSB Circuit, they are even better! This summer, Schafer picked up an offer from SMSU and he has received interest from many other schools. The way that today's game is played, 3-point shooting is a premium and Schafer is a PREMIUM shooter! He is also a skilled guard, a hard worker, and a gym rat. Expect a fantastic junior season for Isaiah and his college recruitment to flourish.
Jeremiah Sem
Jeremiah Sem 6'3" | SG Fargo North | 2024 State #212 Nation ND (2024) |6'3 SG| Fargo North
If you have ever watched him play then you know that Sem is a special athlete that moves differently than most. He can get up and do things above the rim that even current Bison cannot do. Sem showed again this summer with ECI that he is an elite athlete that would have no problem fitting into the Summit League. Jeremiah does have some contact and was/is being recruited by the Bison. He was on the NDSU campus this summer for a visit. It is going to be very interesting to follow Sem's recruiting process. This offseason he has become more efficient as a scorer. Sem seems to be attacking off the catch quickly and is downhill before the defense can rotate. He has also been great at moving the ball and creating for others. There is no question that Jeremiah will have a stellar junior season. Look out for those highlight-reel SLAMS, he is the best dunker in North Dakota. I think all of the local Bison fans would like to see NDSU land the Fargo North product.
Karson Ouse
Karson Ouse 6'7" | SF Kindred | 2025 State ND (2025) |6'6 SF| Kindred
The Kindred kid was really really good this past AAU season. Karson stood out against top competition and showed that he is on a different level compared to most players his age. Ouse is currently the #2 ranked prospect in the 2025 Class from North Dakota. At 6'6", Karson has excellent handles, is creative off the bounce, and is very athletic. He knows the game well and he can score from all areas. With his skill and mobility, Karson is very intriguing. Ouse certainly has the length to be a Summit League player. Like every youngster, he needs to add weight and muscle. Karson will be a major player for the Vikings this season, it will be interesting to see how he handles being a DUDE this year for the Vikes. Ouse will be one of the best in B.
Mason Klabo
Mason Klabo 6'1" | PG Fargo Davies | 2025 State ND (2025) |6'1 PG| Fargo Davies
The young sophomore already has an offer from NDSU. This past January, coach Richman attended Davies vs. North, and Klabo dropped 45 points with 7 triples. Shortly after, the Bison offered him a scholarship! There is no question as to why Mason is the #1 ranked player in the ND 2025 Class. As a freshman, he was 1st Team All-State and averaged an impressive 24.4 ppg, 5.9 rpg, 4.2 apg, and 3 spg. In AAU ball, Klabo played with Howard Pulley out of Minnesota and he was surrounded by super talent. From every report that I heard, Klabo had a great run in the grassroots season. I can tell you this, NDSU is not the only team interested in the young Mr. Klabo. It would be a huge get for the Bison, but odds are that we will have to wait a while before Mason makes a decision. The good part for Bison fans is, Klabo has many ties to NDSU. Mason's older brother (Jaden) played football at NDSU, his uncle (Chuck) was an All-American football player for the Bison, and his aunt & grandpa played hoops for the Bison as well. It is going to historic ride for this young Eagle in the next few years. Until the basketball season starts, expect Klabo to continue his standout season in football. This kid is a STUD!
Porter Ihnen
Porter Ihnen 6'5" Lennox | 2024 MN (2024) |6'5 PG| Lennox
This big lefty was the PG for South Dakota Attack in AAU ball. Ihnen turned heads, that's for sure. At one point, Porter picked up an offer from the University of South Dakota. In early August Porter picked up another offer from South Dakota State University. If he is getting that kind of attention, I would imagine that the Bison have taken a look. Ihnen is a natural scorer that can fill it up from every level. He is no stranger to scoring in the 30's or 40's. Porter is the #2 Ranked player in 2024 Class from South Dakota. He is easily a top player in the Dakotas, regardless of class. Ihnen is very skilled, knows the game well, and is a playmaker. Besides being a lethal offensive threat, Ihnen is a highly productive rebounder. At 6'5 and a pure bucket, I imagine the Oriole will continue to gain interest from college programs. The question is, will NDSU be one of those schools?