PrepHoops Live ATL: Day 3 Frontcourt Standouts 2023 6-5 W Jack Bommarito – I AM 3 Early morning basketball on the final day of a tournament can sometimes be difficult, but it didn't affect Jack Bommarito's play at all as…
PrepHoops Live ATL: Day 3 Frontcourt Standouts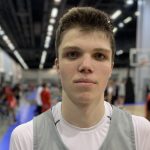 2023 6-5 W Jack Bommarito – I AM 3
Early morning basketball on the final day of a tournament can sometimes be difficult, but it didn't affect Jack Bommarito's play at all as the diverse scoring machine dumped in 29 points, 5 rebounds, 1 assist, 2 steals and 1 block, drilling four threes in the process. Bommarito has good size on the perimeter. He's a true wing that attacks defenses both off the bounce and with his jump shot. He's got a sneaky good handle when combatting pressure. Jack is a skilled finisher, able to score with either hand and can absorb contact while doing so. Bommarito scored on a trio of floaters, using a eurostep to break free. Jack's efficient manner in which he scored was one of the more impressive performances I witnessed this weekend.
2023 6-5 W Shawn Jones – DMV Stags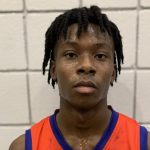 Equipped with length and a motor, Shawn Jones was a problem in DMV's 69-52 win over the Iowa Barnstormers. Jones hit a pair of mid-range jumpers but did a lot of his work in the paint, drawing fouls and scoring on putbacks. Jones went 5-7 from the line during his 15 points, 6 rebounds, 1 assist, 1 steal and 1 block outing. Jones is a versatile defender that was equally impactful on the perimeter as he was defending in the post.
2023 6-3 W Cameron Wagner – Beast Elite Blue
Cam Wagner knocked down shots on Sunday morning. The wing hit four threes, a mid-range jumper and scored on a pair of drives, one being an And-1 on his way to 19 points.
2023 6-6 PF Max Weaton
Max Weaton 6'6" | PF Fairfield | 2023 State IA – Iowa Barnstormers Black
Maxwell Weaton provided steady play in the post. While he didn't get a ton of post-up opportunities, Weaton showed that he could score with his back to the basket given the chance. He had a nice drop step finish and scored on a pair of offensive rebound putbacks. He finished with 9 points and 4 rebounds.
2023 6-5 F Jakenes Heard
Jakenes Heard 6'5" | PF Model | 2023 State GA – ENG United
The high energy glue-guy that does the dirty work inside as a rebounder and defender showcased a growing offensive game. Jakenes scored on three drives and looked comfortable shooting the three. He sank a corner three and helped space the floor with his attempts from straight away. Heard's springy legs make him a threat for putbacks. He likes to use the rim as a shield, scoring on reverses inside. Jakenes posted 16 points, 8 rebounds, 1 assist and 2 blocks in a 70-65 win.
2023 6-5 F Hunter Thiel
Hunter Thiel 6'5" | SF Little Chute | 2023 State WI – Wisconsin Crusaders Elite
D-III programs were in to check out Hunter. Thiel is a reliable forward that knows his role and plays within himself. He finishes with both hands around the basket. Thiel seals with a wide base and is effective in high-low looks. He scored on a pair of drives in a 63-42 win and converted an And-1. Thiel led all scorers with 16 points, 4 rebounds, 1 assist, 1 steal and 1 block.
2023 6-8 C Tristan Johanknecht – Wisconsin Crusaders Elite
The size and stature alone will draw college attention. Johanknecht is a sturdy post presence that has some subtle mobility with the ball in his hands. He scores well with his off-hand and has a strong drop step in traffic. He had 8 points, 6 rebounds, 2 assists, 1 steal and 1 block vs. Team T-Mac.