The Jay Bilas Skills Camp is quickly becoming one of the Nation's premier camps and is attracting some of the best talent from across the country. With a staff loaded with some of the most brilliant minds in basketball, the…
The Jay Bilas Skills Camp is quickly becoming one of the Nation's premier camps and is attracting some of the best talent from across the country. With a staff loaded with some of the most brilliant minds in basketball, the level of instruction was second to none. The players competed from when they arrived to when they left, and there has been nothing but rave reviews coming out of this camp. I can only imagine what next year will bring but until then, let's take a look at some of the standouts from this year's camp…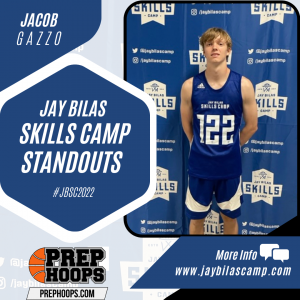 Jacob Gazzo (6'9/F |C/2023)
High School Team: Briarcrest Christian School
Instagram: jacobgazzo
Twitter: @jacobgazzo
One of the most talked-about players throughout the camp was Jacob. The Ole Miss commit had eyes on him as soon as he walked into the gym as he stood 6'9; then, people really started paying attention when the ball got in his hands, and he opened up his toolbox. He is a smooth inside-out guy that showed a lot of versatility on the offensive end of the floor. He can play with his back to the basket or initiate his offense out of his face-up game. He has a nice touch from beyond the arc as he can stretch the floor and easily gets into his in-between game with 1-2 dribbles.
He has excellent shooting mechanics and touch from all areas of the court.
He recently transferred from Parklane Academy (MS) to Briarcrest Christian (TN). He will be finishing his high school career at Briarcrest, looking to compete against a higher level of competition as he prepares for life in the SEC. He still has to get stronger, faster, and refine his ball skills to make cleaner moves off the dribble, but many were impressed with the potential he displayed throughout the camp.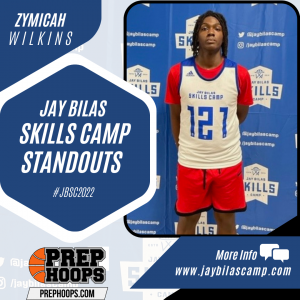 Zymicah Wilkins (6'8/F |C/2025)
High School Team: RS Central
Instagram: rockstarmikey11
Twitter: @zymicah_wilkins
When I sat down to start on this article and pulled up Zymicah, I looked up my info and said this cannot be the correct info. I was shocked to see that he was a 2025 prospect. He already has size and a nice build. What is scary is that he has natural strength already. Still, when he really commits to a weight room plan to develop his body and power, he is going to be a player that is going to be difficult to contain as he will be too strong for most defenders. He punished defenders on the low-block the entire weekend as he was fluid while scoring, and when the double and even triple teams came, he was poised to be able to make the pass to open teammates. He is effective from the elbow, the post, and everywhere in-between.
The scary part about that is he has not even tapped the surface of his potential.
He did not let any mismatches slide as he bullied smaller post players and was too quick for bigger, slower post players. He is the caliber player that will cause head coaches to lose sleep at night and stress throughout the day when his team is up next on the schedule. Not saying that he does not have this in his toolbox, but if he can consistently knock down the trey ball, I just have two words…WATCH OUT!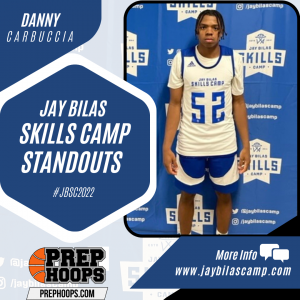 Danny Carbuccia (6'0/CG/2024)
High School Team: Archbishop Stepinac
Instagram: nolimit.dannyyy
Twitter: @nolimitdannyyy
There is a delicate balance between being a point guard and a volume scorer, as you have to find the balance between being the person responsible for running the show and choosing when to commandeer it. Danny showed that he had that balance as he orchestrated the offense and put on a scoring clinic throughout the camp. Walking through the halls during breaks, you could hear conversations about how good #52 was and how he was possibly the best player in the camp. Danny was definitely one of the best players in the camp, and he showed why possession after possession as he called his own number from the PG spot and scored at will at times and from all levels.
As much as a prolific scorer that DC is, he is not a selfish player, as he looked to get his teammates involved a good percentage of the time.
When talking about elite scorers such as DC, you often say that his game burns brightest when he gets hot scoring the rock, but he shines bright not just when scoring but when he is showing off his next-level vision making elite-level passes with accuracy. He had a very impressive camp and introduced himself to many who did not know who he was. If there is one thing I could encourage DC to work on moving forward, it would be from the vantage point of two years from now as he steps onto a college campus, and that is to commit even more to the weight room and getting stronger and quicker.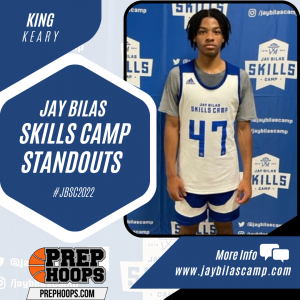 King Keary (6'2/CG/2025)
High School Team: Goodpasture Christian
Instagram: kingkeary1
Twitter: @kingkeary1
I have put ink on King before, and it was great seeing him at the camp. His game is continuing to evolve, and he is showing that he is starting to come into his own. I am still looking for the communication when on the court, as he has to bring some level of vocal leadership on the floor. As far as his actual game, he showed three-level scoring, strong floor general traits, and positional fluidity. King impacted the stat sheet as you would expect an emerging prospect to do.
One noticeable thing about King is that he is a heady player who thrives within his means, taking what the defense gives him and not trying to do more than what the possession calls for.
He has a great awareness of the game and what is needed at the moment, a valuable trait for a PG to have. Some may say that King's game lacks a little flair, which is not an insult, but he may not come down and take off in traffic, but he is a player that, because of his excellent IQ and skillset on and off the ball, is a catalyst to consistent success for any team.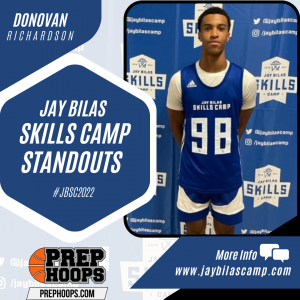 Donovan Richardson (6'5/G |F/2025)
High School Team: Collegiate School
Instagram: donnie5._
Twitter: @Donnxe06
You have probably noticed the number of rising sophomores in this article, and Donovan is another one that I am adding to this list as he was as dominant as any of the '25 campers. He has a great physical profile that is still developing. As he continues to work in the weight room, he is going to be physically imposing in a couple of years. He already finishes through contact easily, as contact never caused him to move off his set course. I can only imagine how physical his drives will be when he begins to add strength and power to his frame, which will significantly impact his game.
He was in attack mode throughout, whether off the bounce or looking for his shot from beyond the arc.
D is a high-flying scorer that has the ability to be a premier defender. He battles on the boards and overall is an emerging prospect.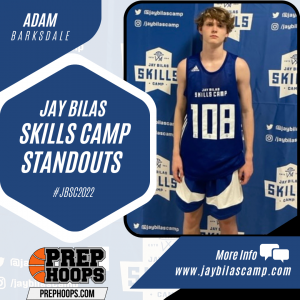 Adam Barksdale Adam Barksdale 6'3" | PG Vestavia Hills | 2025 State AL  (6'3/PG/2025)
High School Team: Vestavia Hills HS
Instagram: Adam.barksdale_13
Twitter: @barksdale_adam
I have put ink on Adam before, and he's been having some ups and downs early in the spring, but whatever was going on then seems to have been worked out as he came into camp and set the tone of what could be expected from him. I have never seen Adam as aggressive as he was at this camp, which made him a better player. When watching him in the past, he has lacked aggression, and it has stifled him as he tried playing without ruffling the feathers of his teammates, as he does not want to be known for shooting too much. Now I will say that he took some ill-advised shots during the camp, but who doesn't at camp. However, for the most part, Adam was getting it done off the bounce and from beyond the arc.
He competed relentlessly and seized the moment presented by the camp.
He benefitted greatly from this experience, as you could see his confidence grow over the 3 days. Even when he took a game-winner but missed, he walked off with the body language that said next time it is going down. He is listed as a PG, and during this camp, he was a score-first PG, unlike what he has been before since the first I covered him. He still has to get faster with his feet, as he struggled at times defensively with his on-ball D. The future is bright for Adam, and it will be interesting to see if he can build on a great experience going back to his high school team that is known for their system.
Jaylen Curry (6'2/CG/2023)
High School Team: Calvary Christian
Instagram: Jaylen_curry_2023
Twitter: @jaylencurry0
Word got out that Jaylen would be coming to camp, and expectations were extremely high, and coaches and players alike were looking forward to seeing JC in action. He definitely did not disappoint, as he was one of the most explosive players throughout the camp. The only thing that could slow him down was complications of turf toe on the last day of camp.
He was one of the best iso scorers at camp and was terrific at finishing at the cup.
He served it to defenders anyway they wanted, and all I heard was Kendrick Perkins in my mind saying he cooking up family meals for Sunday dinner and serving it spicy and mild, with green beans, yams, collards, and mac and cheese. JC gave defenders problems as they had no answer in containing him. He is a 10-eyes player, which means that all 5 players have to have their eyes on him when they are on defense. He was just too good with the ball in his hands and the tools in his toolbox. Whether it was his devastating stepback or his consistent collapsing of the defense JC showed a scoring performance that won't be forgotten for a while. Now he has some areas where he needs to work on as he has to continue to learn floor spacing and how to orchestrate it and maintain it during a possession when he is operating as a facilitator. As a scorer off the bounce, he has to be able to see the floor spacing and, if the moment gives opportunity, then attack. He also has to continue working on his efficiency from beyond the arc. Make no mistake about it; he is a walking source of production.   
Hudson Greer (6'6/SG/2025)
High School Team: Lake Travis High School
Instagram: hudgreer
Twitter: @hudsongreer1
Hudson was clearly one of the most prolific scorers at camp. His scoring prowess was nearly unmatched as he was literally getting his buckets anytime, anywhere, and against any defender. He is a creative scorer that is dynamic but not overbearing, and you can find a lot of optimism in the things that Hudson can do out on the court, whether in transition or in halfcourt sets.
Defenders found it very hard to read his game as way too many bit on his fakes, and others gave way too much space for his jumper, and in both cases, he made them pay.
Hudson is such a dazzling scorer that you can be tempted to overlook at times that he pumps the brakes a little on the defensive end of the floor. He has the length, skill, and athleticism to be a solid two-way player but has to make more of a commitment on the defensive end of the floor. At the end of the day, Hudson is a legit scoring threat and is just scratching the surface of how big of a threat he can become.