Cobber Elite Camp: Top Performers
In this article:
Moorhead, MN – I was at the beautiful Memorial Auditorium on Concordia's campus, Wednesday, June 8th. It was a fun afternoon of hoops. The players worked hard and had a productive day. They did skill work, mini-games, scrimmages, shooting drills, and…
Moorhead, MN – I was at the beautiful Memorial Auditorium on Concordia's campus, Wednesday, June 8th. It was a fun afternoon of hoops. The players worked hard and had a productive day. They did skill work, mini-games, scrimmages, shooting drills, and a tournament/scrimmage to finish up the camp.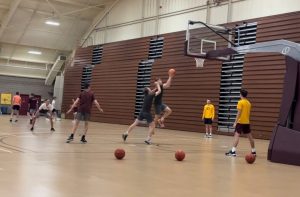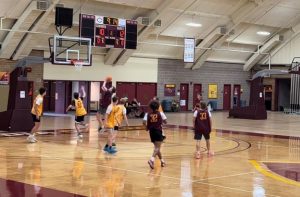 We had players in the gym from Minnesota, North Dakota, and South Dakota. Look below for impressive players and who stood out as Top Performers at the Cobber Elite Camp.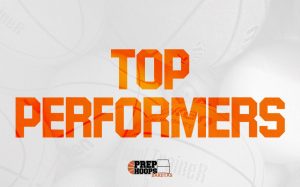 Isaiah Hanson
Isaiah Hanson 6'4" | SG Rochester Mayo | 2023 State MN (2023) |6'4 SG| Rochester Mayo
Hands down one of the best players in the gym. Hanson is an absolute stud. His first step is explosive, long, and effective. Isaiah's one-dribble pull-up is a thing of beauty. He is a physical and strong player. Hanson had many physical and tough finishes at the rim. He is also an athletic dunker. I was beyond impressed with Hanson.
Lucas Kupfer
Lucas Kupfer 6'5" | SF Bismarck Legacy | 2024 State ND (2024) |6'4 G/F| Bismarck Legacy
This is the second time that I have watched Kupfer play and he was impressive once again. He is lanky, long, and athletic. Kupfer is a sleek and dangerous slasher. He goes up and slam dunks with ease. I like his transition game, he runs like a deer and finishes with efficiency. He showed a fancy spin-move when fooling a defender and scoring a clever basket. It was a very nice taken-n-finish. He has the potential to be a legit jump-shooter and a d-stopper in the coming year. Kupfer Lucas has a high ceiling and a bright future. 
Jack Manning
Jack Manning 6'5" | C Thief River Falls | 2023 State MN (2023) |6'6 PF| Thief River Falls
He may have been the strongest player in the gym. Manning can be a bully on the block, his power and muscle were unmatched. He is super physical with good feet. In the skill drills, Manning showed awesome footwork when attacking and finishing around the cup. He finishes well with both hands. Manning can also stroke the 3-ball. I liked his rebounding on both ends. Manning is a sure-fire double-double guy in any game that he plays in. On defense, he looks like a stout defender and a lane protector. Get ready for a monster senior season from Mr. Manning. 
Logan Conklin
Logan Conklin 6'5" | SF Minot | 2024 State ND (2024) |6'5 SF| Minot
He is an impressive athlete and an athletic dunker. He may have dunked more than anyone else yesterday. Conklin is super bouncy! Logan dunked in the half-court and he really showed off his athleticism with transition dunks. In the shooting drills, Conklin was looking good from behind the arc. I liked how he contested shots with his long arms. Like most of the Minot players, Conklin is tough and he plays with an edge. His stock has definitely been rising this spring. 
Timmy Guler
Timmy Guler 5'10" | SG Pelican Rapids | 2024 State MN (2024) |5'11 G| Pelican Rapids
He was one of my favorite guards yesterday. Guler is tough, skilled, and very quick. I knew he was a player, but I didn't know Guler could shoot as he did. Timmy knocked down a perfect catch-n-shoot triple with a defender's hand in his face. He hit countless pull-up jumpers. I love how he can pull-up on a dime and still shoot with perfect balance. The Viking showed crafty footwork around the cup with an up-and-under finish. He showed an impressive vertical when going up to finish above the rim. His handles are tight and his passing skills are sharp. Throughout the day, Timmy was driving and kicking to shooters. Guler showed a flawless left-handed pass off the dribble. Guler is a dude, he will be one of the top players in the HOL next season.
Kaden Year
Kaden Year 6'6" | SF Sioux Falls Jefferson | 2023 State SD (2023) |6'6 F| Sioux Falls Roosevelt
He was really stroking the triples in the shooting drills. Year has an effortless shot. Kaden looked good all day slashing and scoring. He showed his versatility when grabbing a board, taking it coast-to-coast, and scoring a layup. In the post, Year showed a beautiful sweeping hook shot across the lane. It was soft and it looked impossible to stop. I liked his ability to finish after contact. Kaden is a tough player with his length and skill. I am excited to watch him again today and tomorrow at the NDSU team camp.
Sam Senske
Sam Senske 6'5" | SG Hawley | 2023 State MN (2023) |6'5 F| Hawley
He is going to be jumping at the State Track Meet on Friday, but he still came to camp to get in the work. Senske is a scorer, that's for sure! He was doing it from all levels. He showed off his athleticism with a baseline drive & score. I also saw Senske dunk many times throughout the day. Sam rebounded well and he dropped dimes when attacking. His pull-up game is tough and he showed a sweet fall-away jumper. He is deadly from 3pt land with deep range. Senske is a talented player. 
John Pecarich
John Pecarich 6'3" | SG Brainerd | 2023 State MN |6'3 G| Brainerd
He really impressed me in the scrimmage portion of the day. He is a shooter and a pure scorer. John showed favorable footwork and shooting form. He has a sick crossover and he is a smooth finisher. Pecarich has an extended deep shooting range. On defense, he had a couple of athletic blocks. John also did nice work driving to the basket and dishing assists. Pecarich looks like a gamer & a playmaker. 
Reis Rowekamp
Reis Rowekamp 6'4" | SG Grand Forks Red River | 2023 State ND |6'4 SG| Grand Forks Red River
He is a big and athletic wing/guard. Rowekamp has a college-ready body and he is a strong player. Rowekamp is definitely a 3-point shooter. He can fill it up from behind the arc. Reis runs the floor well and he had a couple of nice passes in transition. Rowekamp showed penetrating skills when he broke down his defender with double-moves. He finished the play with a tough contested score. Rowekamp has tons of potential. 
Carter Zeller
Carter Zeller 6'6" | PF Fargo North | 2024 State ND (2024) |6'4 PF| Fargo North
He is a big strong and powerful forward. Zeller looks to be improving his outside jumper. In the scrimmages, Zeller played more on the perimeter than I have ever seen before. When scoring around the basket, Zeller showed impressive strength and patience. I like how he waits for the defense to leave their feet or move out of position before he shoots. He also showed good feet around the basket. 
Bryer Kaczynski
Bryer Kaczynski 7'0" | C Wyndmere/Lidgerwood | 2023 State ND (2023) |7'0 C| Wyndmere/Lidgerwood
The long 7-footer has an even longer wingspan (7'2″). This intriguing player had a nice day at Concordia. Bryer showed a soft finishing touch around the rim. I thought he showed nice footwork in the skill drills. In the scrimmages, Kaczynski had multiple dunks. He looks good moving without the ball and finding a spot to catch the dump down. When his man helps, GET HIM THE BALL, Bryer is going to dunk it! Towards the end of camp, the big man had an impressive 2-handed dunk and then sprinted the court and swatted a shot. Kaczynski is defeintly a game-changer. Look for him later this summer with ND Phenom. 
Ian Fahje (2023) |6'8 PF| Pelican Rapids
He is lanky and long. Fahje looks like a "stretch 4". He showed the ability to score around the basket and from three-point land. He shot a high percentage from beyond the arc. Ian has a good feel for the game. With his length, Fahje was able to get his shot off without much trouble. Ian plays with a calm demeanor. He also did a nice job of grabbing boards and contesting shots. 
Lewis Jones Lewis Jones 5'9" | PG Goodridge/Grygla-Gatzke | 2024 State MN (2024) |5'9 G| Goodridge/Grygla-Gatzke
He stood out with a good-looking jumper from the perimeter. In the early scrimmage, Jones was knocking them down at a good clip. He had a very smooth trail 3-ball in transition. He showed good footwork when stepping into the shot. Lewis is a quick guard with good ball skills. In the scrimmage, he had a very nice left-handed bounce pass to a rolling teammate. Jones worked hard on defense and never gave the ballhandlers a free possession. 
Jackson Simmons
Jackson Simmons 6'2" | SG East Ridge | 2023 State MN (2023) |6'2 SG| East Ridge
You could see right away that this kid is a shooter! Jackson was hitting triples non-stop in the scrimmage that I watched. He was knocking them down from deep, a couple of them came from beyond college range. Simmons also hit a timely buzzer-beater from 3-point land. He showed a nice runner-game as well. In the shooting drills, Simmons was making it rain from beyond the arc. This kid is a shooter!
Carsten Hoff (2025) |5'10 G| Moorhead
In the skills portion, he fit right in with the older players. In the scrimmages, Hoff looked like a cool customer when competing against the older players. He showed a smooth floater and good handles. Carsten was active on offense and he was always moving. He hit a few triples in catch-n-shoot situations. I was also impressed with his mid-range pull-up. This youngster had a nice showing at Concordia. 
Owen Hoyme
Owen Hoyme 6'0" | SG Kindred | 2024 ND (2024) |6'0 G| Kindred
During the scrimmages, Hoyme had a hot stretch and lit the nets on fire from beyond the arc. He catches it ready to shoot and fires it with confidence. I liked how he ran the wing in transition and cashed in trips. Hoyme did a nice job of playing fast and he put up points in up-tempo possessions.