We have had our first two looks into the Top Performers from the #PHProvingGrounds; let's look at a few players that stood out as well… Isaac Broxey (6'2/CG/2023) Team: PHS Academy Instagram: Isaacb_15 Twitter: @Isaacbroxey_15 Isaac was one…
We have had our first two looks into the Top Performers from the #PHProvingGrounds; let's look at a few players that stood out as well…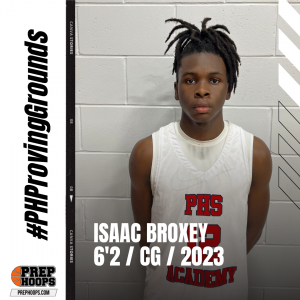 Isaac Broxey (6'2/CG/2023)
Team: PHS Academy
Instagram: Isaacb_15
Twitter: @Isaacbroxey_15
Isaac was one of the best iso scorers at #PHProvingGrounds. He has one of the quickest first steps that I saw, and he often left defenders playing catch up. Once he got an advantage, it was difficult keeping him from getting to the cup, as rotation was too slow to help. When defenders played the drive, he showed his ability to not over-penetrate and hit the defense with a floater.
His game draws fouls which makes him an extremely difficult player to contain.
He was really impressive in transition and was constantly putting pressure on the rim. Isaac poured in 12pts in a 65-63 win over SWFL Hoops.
Offers: He currently holds no offers.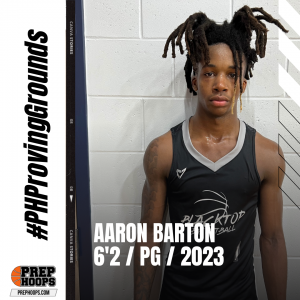 Aaron Barton (6'2/PG/2023)
Team: Blacktop Basketball 2023
Instagram: aaronbarton.1
Twitter: @aaronbarton370
Aaron is hands down a score-first PG that had all the tools in the toolbox on display. He is a player that scores at all levels and can score in bunches. When he gets going, watch out because it is hard to cool him off when he is in the zone. He is a multi-faceted scorer, making it hard to scheme against him. He is not a player that can be defended with just one player. It really takes all five players on the court to contain him.
He is not a prototypical PG, and his scoring prowess and athletic ability made him undeniably one of the top PGs that graced #PHProvingGrounds.
As much as a scoring juggernaut that he is, what makes him such a difficult match-up is that he can facilitate with the best of them when needed. In a match-up against Palm Beach All-Star Flames, he dropped 22pts.
Offers: He currently holds no offers.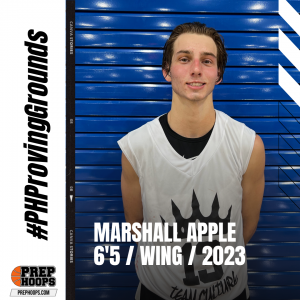 Marshall Apple (6'5/Wing/2023)
Team: Team Culture
Instagram: Marshall_Apple13
Twitter: @AppleBMarshall1
Marshall is a big guard at the guard spot. His size and length created a lot of problems on both ends of the court. As you can guess, with his size, he brings a lot of versatility to the court. He provides his coach with a luxury to play with options as he is a solid force on the perimeter and in the post. He can play on or off the ball, and his production never drops as he switches between the two. He was one of the most consistent players throughout the weekend, and it got to the point that I knew exactly what I was going to see from him when watching him perform and that is a solid player that impacts the game in many ways on both ends of the court.
Outside of his versatility, his court vision and ability to rebound set Marshall apart.
He makes winning plays even when they are not plays that are seen on the stat sheet. He dropped 12pts against TB 21 Hoops.
Offers: He currently holds no offers.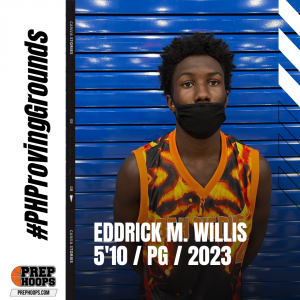 Eddrick M Willis (5'10/PG/2023)
Team: Building Good Habits Tigons
Instagram: e.ddrick_
Twitter: @4_eddrick
Eddrick was one of the fiercest and passionate PGs in the 17u division. He is a 5'10 machine that keeps going and going and going. He backed down from nothing and often even demonstratively got after his teammates, encouraging them to step up their game. Out of all the things I can say about Eddrick, the thing that keeps screaming in my head when I reflect on his game is that he is a leader. As one of the best dime droppers that was on display, he often probed and found teammates in places to be productive. He is an unselfish pass-first PG and is all about doing his part to win.
I can honestly say that taking no plays off is not just something to say about Eddrick, but it is something that he displayed the entire weekend.
His stock definitely was on the rise this weekend. I found out later from talking to his coaches that he is just as passionate and committed to winning in the classroom. A young man that gets it done off and on the court.  
Offers: He currently holds no offers.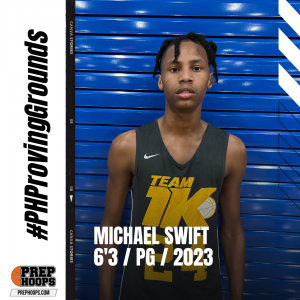 Michael Swift (6'3/PG/2023)
Team: Team 1k
Instagram: Swift.11k
Twitter: @Callmeswift___
Michael is a PG with good size and length. His calling card was definitely getting to the rack in transition or in the half-court. He is a slasher that doesn't need much of a gap to accelerate through and find his way to the cup. He is an athletic PG that you need to be careful when trying to contest him at the rim because when he gets in the paint, he is looking to finish above the rim and will finish over defenders that are feeling jumpy.
His team is at their best when the ball is in his hands, and they are out in transition, as he has good court vision, and his threat of getting to the cup puts the defense in limbo.
He is a good passer, and teammates who get out with him in transition often benefit from a pass that leads to an easy bucket. One thing that most people want to know about PGs, and that is does he elevate his team and make others around him better, and the answer to that when it comes to Michael is an emphatic YES!
Offers: He currently holds no offers.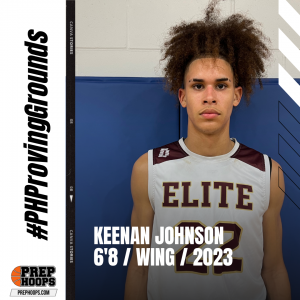 Keenan Johnson (6'8/Wing/2023)
Team: 904 Elite 2023
Instagram: keenanjohnson._
Twitter: @keenanjohnson0
Keenan has good size at 6'8 and has a wide array of skills that make him an intriguing player to watch as he works to find a path to the next level. His length made him disruptive on the defensive end of the floor and gave him a competitive advantage on the glass.
When he is attacking the rim, he showed his intentions of trying to posterize defenders numerous times.
He has to continue working on his perimeter game and showing that he can be consistent with the 15ft jumper and beyond. There is still some evolving that needs to occur with KJ, especially as a clear picture emerges of his potential position at the next level.    
Offers: Player did not list any.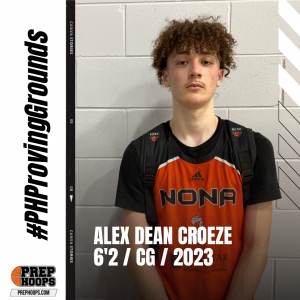 Alex Dean Croeze (6'2/CG/2023)
Team: Nona Basketball Academy 2023
Instagram: alexcroeze1
Twitter: @AlexCroeze
Alex was amongst the group of players that could create their own shot. He was a tough cover off the bounce and often slashed his way through defenses. He got out in transition and did not let players with poor defensive transition off the hook. Alex checks off a lot of boxes as he looks for an opportunity at the next level. He is a tough player to guard in p&r when he is the ball-handler, as he reads defenses really well. He is excellent in c&s opportunities and has a reliable in-between game when getting to the cup has obstacles in the way.
He is very polished running off-screen and going into his c&s opportunities.
He has a lot of tools in his toolbox, and if the right program lays eyes on him, they have a solid young player that can be productive on or off the ball.   
Offers: Player did not list any.
Stay tuned as more is coming from #PHProvingGrounds