We have had our first look into the Top Performers from the #PHProvingGrounds; let's look at a few more… Idell Walton, III. (6'7/Forward/2022) Team: PHS Academy Instagram: Jay.slide3x Twitter: @lll_idell Idell is a 2022 player that was out…
We have had our first look into the Top Performers from the #PHProvingGrounds; let's look at a few more…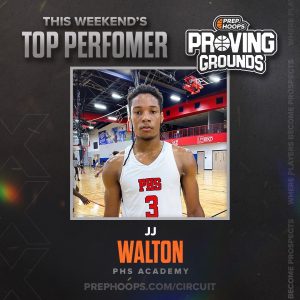 Idell Walton, III. (6'7/Forward/2022)
Team: PHS Academy
Instagram: Jay.slide3x
Twitter: @lll_idell
Idell is a 2022 player that was out in Tampa looking to increase his stock and get more eyes looking his way as he tries to find a path to the next level. There were not many at #PHProvingGrounds who had the college-ready body and athleticism all in one package, but in Idell, both qualities were found.
He is an elite rebounder and a high-efficiency finisher.
Offensively he is aggressive in attacking the cup and is a strong finisher at the rim, sometimes even finishing above the rim, displaying his dynamic athleticism. He is a high flyer and is an excellent screener in P&R action. He is a versatile defender that defends multiple positions and protects the rim. No shot in the paint is safe when Idell and his quick leaping ability is in the vicinity.    
Offers: Idell currently has 8 offers and is getting a lot of interest coming his way as he continues to display his talents when Pro Holmes is playing.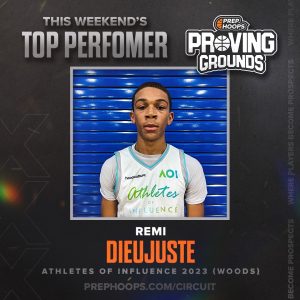 Remi Dieujuste (6'1/SG/2023)
Team: Athletes of Influence 2023 (Woods) 
Instagram: Boa_remi
Twitter: @dieujusteremi
Remi picked up where he left off two weeks earlier in Daytona Beach. He scored the rock in Daytona, but he was way more aggressive at #PHProvingGrounds. With Remi's confidence in scoring the rock also came a lot more volume shooting.
He dominated the ball and was focused on creating his shot off the bounce.
He left no questions about his scoring prowess as he was productive throughout the weekend, putting up solid numbers as he did when he dropped 19pts against Pro Holmes Elite Red. With AOI a part of #PHCircuit, I will be looking for Remi to show more of his creating abilities for his teammates. Seeing how Remi impacts the game without scoring could go a long way in getting coaches' attention at the next level.
Offers: Currently, he holds no offers.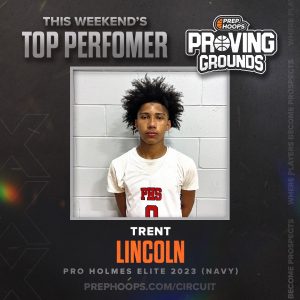 Trent Lincoln (6'3/PG/2023)
Team: Pro Holmes Academy
Instagram: @trxent
Twitter: @trxent
One of the best floor generals I laid eyes on throughout the weekend was Trent. He is definitely a pass-first PG that looked to get others involved out the gate. When it comes to understanding the PG roles and responsibilities for the next level, Trent is ahead of schedule.
He is a cerebral player that understands the complexities of all the duties of running a team.
One thing I enjoyed about watching Trent's game is his ability to play out of triple threat and his usage of jabs and shot fakes to create space and keep defenders guessing. As much of a pure PG Trent is, he can fill it up with the best when he is looking to score the rock. He gets it done at all levels but is at his absolute best when attacking off the bounce.
Offers: Trent did not list any offers when completing his profile, but when the right eyes see him, if he does not have any offers, that will change.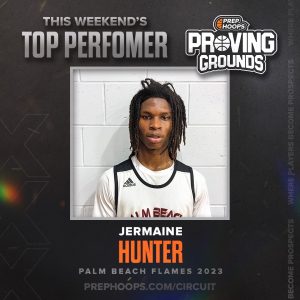 Jermaine Hunter (5'10/PG/2023)
Team: Palm Beach Flames  
Instagram: N/A
Twitter: @atl_boyshoops
Jermaine is one of the toughest PGs that I saw at #PHProvingGrounds. When I say tough, I am not just talking about being tough to guard; I am talking about a mentally and physically tough PG. He is a warrior on both ends of the court. He is a defensive stopper on one end and a PG that has a brilliant floor game in both the half-court and in transition.
He has a contagious competitive fire, and he is a PG who understands his role physically, mentally, and emotionally.
Offers: Currently, he holds no offers.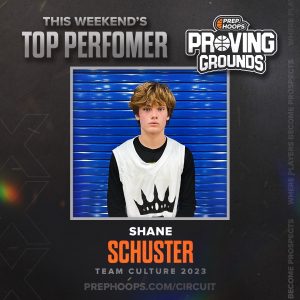 Shane Schuster (6'0/PG/2023)
Team: Team Culture
Instagram: shaneschusterr
Twitter: @shaneschuster8
Shane was one of the most fundamental and skilled players with the ball in his hands that I saw the entire weekend. He is a slasher and has a lethal mid-range pull-up J. He is a solid and consistent source of production. Those that know the game understand that winning plays are not always scoring plays, yet Shane makes scoring, and non-scoring winning plays. His intelligence on the court is undeniable, and he is a PG that keeps things in control.
He keeps his team at the pace they need to be at, and it is simple, Team Culture goes as Shane goes.
He is definitely in the driver's seat for his squad.
Offers: Currently, he holds no offers.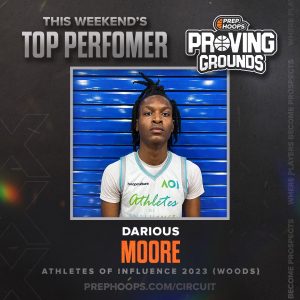 Darious Moore (5'10/CG/2023)
Team: Athletes of Influence  
Instagram: j1ggy.dj
Twitter: @darious1moore
Darious brought a lot of energy to the court for AOI. He is active on both ends of the court and, with his defensive pressure, often turns defense into offense. His on-ball pressure puts ball-handlers in uncomfortable situations and often causes them to play at a pace outside of their comfort zone. Offensively, D can score at all levels. He is listed as a combo guard but does a great job facilitating and getting his when the opportunity arises.
He is tough off the bounce and is a very good creator with the ball in his hands.
When you walk into the gym, 5'10 is everywhere, so you have to do things that distinguish you from the pack when you are this size. As Darious continues to elevate his game, that distinguishing factor will continue to shine bright.
Offers: Darious did not list any offers when completing his profile.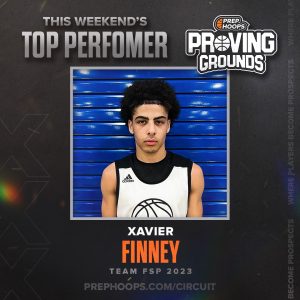 Xavier Finney (6'3/CG/2023)
Team: FSP Hoops
Instagram: hate.zay
Twitter: @xavierfinney3
Xavier is a masterful bucket getter, as he showed in the contest against G1 Sports as he dropped 19pts and did it at all levels. There were moments when Xavier seemed unstoppable and left defenders feeling helpless. He is a physical guard that is aggressive off the bounce and scores in the paint with touch and finishes thru contact.
He showed several crafty takes and finishes when the ball was in his hand.
He was firing on all cylinders throughout the weekend and played with a lot of swag. Defensively, he was active and disrupted a lot of offensive action by opponents. His on-ball D was impressive as he simply brought it on both ends of the court.  
Offers: He currently does not have any offers but is being shown a lot of interest from several colleges, and I would not be surprised if the offers are not coming in sooner than later.
Stay tuned as more is coming from #PHProvingGrounds