One of the most prestigious high school events in the country is held every year on the campus of Frostburg State University. For this year's event, top teams from the states of Maryland, D.C, Virginia and New York all gathered…
One of the most prestigious high school events in the country is held every year on the campus of Frostburg State University. For this year's event, top teams from the states of Maryland, D.C, Virginia and New York all gathered and put together a show. In the end, it was a familiar matchup between DeMatha and Paul IV that would take place for the title in which DeMatha would end its roller coaster of a season on top by a final score of 67-59. It's the Stags' third-straight Alhambra championship. Now it's time to take a look at the standout prospects from the tournament.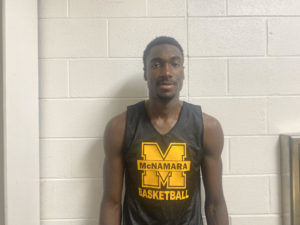 Favour Aire
Favour Aire 6'10" | C Bishop McNamara | 2022 State #86 Nation MD | Bishop McNamara '22
Stat line: 23.6PPG, 15.6RPG
Aire has the ability to dominate a game from inside the paint on both ends of the floor. Throughout the three games this weekend, he displayed why with his instincts around the rim as a rebounder both in and out of his area. Although he didn't compile the usual number of blocked shots, his presence alone alters almost any attempt around the basket. He was efficient with his touches inside and consistently ran the floor for thunderous dunks in transition. Aire will set sails for Miami and suit up for the Hurricanes next season.
Rodney Rice
Rodney Rice 6'4" | CG DeMatha | 2022 State #89 Nation MD | DeMatha '22
Stat line: 19.6PPG, 6.6RPG, 4APG
Rice was awarded Alhambra Tournament MVP honors following the championship win and for good reason. The Virginia Tech signee was dynamic as a scorer all weekend operating off the bounce and creating space for himself from three-point range and inside the arc. He did a great job of pushing tempo when advantages presented themselves and also was a presence on the glass from the guard position.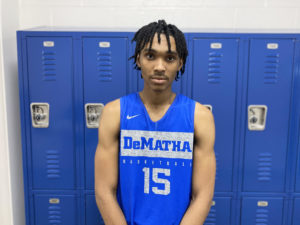 Tyrell Ward
Tyrell Ward 6'7" | SF DeMatha | 2022 State #56 Nation MD | DeMatha '22
Stat line: 18.3PPG, 5.3RPG
Ward and Rice have been the 1-2 punch for the Stags this season. At 6-foot-7, Ward has a pro-level scoring approach and the ability to knock down tough shots off the dribble. He plays well off Rice's ability to operate in ball-screens and understands when to lift or fade as the defense shifts to make himself available for catch-and-shoots, an area where he's become deadly from a shooting perspective. Ward will play his college ball for head coach Travis Steele at Xavier next season.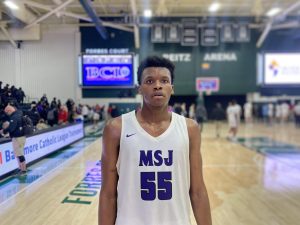 Amani Hansberry
Amani Hansberry 6'7" | C Mount St. Joseph | 2023 State #52 Nation MD | Mount St. Joe '23
Stat line: 18.6PPG, 11.3RPG
Hansberry has made it a habit of posting ridiculous stat lines this season. The 6-foot-7 big-body forward has also proven to everyone that in head coach Pat Clatchey's system, he's much more than just a back to the basket big man. He can operate from the high-post as both a scorer or passer, lead the break after corralling a board and has become a legitimate threat from three trailing in transition. Hansberry can also anchor a defense in the paint and has truly proved himself as a dependable defender guarding ball-screens even when forced to switch out on guards.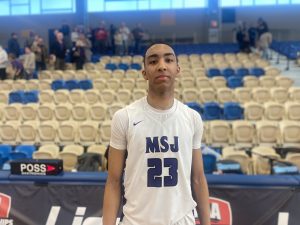 Bryson Tucker
Bryson Tucker 6'7" | CG IMG Academy | 2024 #15 Nation FL | Mount St. Joe '24
Stat line: 30.5PPG, 5.5RPG, 3APG
Tucker played in 2 of the 3 games on the weekend and had no issue proving himself as one of the top sophomores in the country. Tucker brings a mature scoring approach to the game with exceptional IQ from the point guard position to go with his 6-foot-6 frame. He's an assassin in the mid-range as he routinely posts his defender in the mid-post area and converts on fadeaways over either shoulder with efficiency. 
Mikey Allen
Mikey Allen 6'0" | CG Fort Hill | 2023 MD | Bishop Walsh '24
Stat line: 13PPG, 4RPG
Allen had a weekend that will live on with him for the rest of his life. The 6-foot-1 sharpshooter buried two game winners against Gonzaga and Mount St. Joe respectively. Although those two shots garner much attention, Allen was efficient throughout the three games from beyond the arc and continues to prove himself against top-tier competition.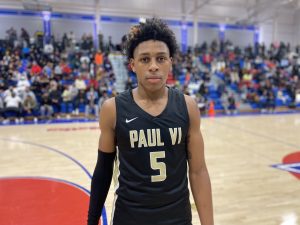 DeShawn Harris-Smith
DeShawn Harris-Smith 6'5" | SF Paul VI | 2023 State #53 Nation VA | Paul IV '23
Stat line: 18.3PPG, 7.6RPG, 3.5APG
Harris-Smith had a productive weekend despite Paul IV suffered a tough loss in the championship game to DeMatha. His versatility was on full display while his energy and intensity flowed through his team to help lift them into the title game. Harris-Smith's combination of size, strength and speed make for mismatches against almost any opponent. He isn't the type that will pick and choose his spots when he knows he has that mismatch. Instead, he'll pound them into submission, which is what he did in stints throughout the tournament.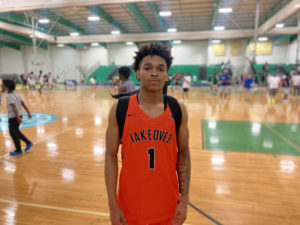 Dug McDaniel | Paul IV '22
Stat line: 15.3PPG, 3.5APG
As usual, McDaniel controlled the tempo for his team as the floor general and made his matchup extremely uncomfortable with defensive pressure. His blazing speed was apparent in the open floor and with his ability to embrace contact on the way to the rim, he puts defenders in tough positions to avoid fouling. The future Michigan Wolverine didn't go out with a championship at Alhambra, but has a laundry list of accomplishments and other championships that will prime him for Big Ten basketball.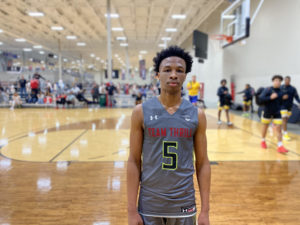 Mike Williams
Mike Williams 6'3" | CG Bishop Walsh | 2023 State #141 Nation MD | Bishop Walsh '23
Stat line: 16PPG, 2.6RPG
Williams does much of the initiating for this Bishop Walsh team and was very aggressive looking to score. Since transferring to Bishop Walsh this winter, he's proven his skills against top competition and continues to show growth as an athlete and scorer. Williams had a few over the rim finishes that ignited the home crowd and a slew of pull-up jumpers despite his defender being draped all over him. As he heads into spring/summer with Team Thrill, Williams will need to prove that he can make others around him better and use his scoring presence as a tool to do so.
Devin Dinkins
Devin Dinkins 5'10" | PG Gonzaga | 2022 State MD | Gonzaga '22
Stat line: 16PPG, 3.6RPG, 2.6APG
As a team, Gonzaga had a tough weekend going 0-3, but Dinkins had a standout performance in the opener in a 2OT loss to MSJ. The future George Mason point guard ended the contest with 30 points and a handful of huge plays in crunch time. His ability to knock down three's when operating off the dribble on top of being crafty with his handle make for a difficult assignment in ball-screen actions. He's also a confident driver who can finish creatively and use either hand to do so with soft touch. Dinkins is a competitor on both ends and should fit well with how head coach Kim English likes to play.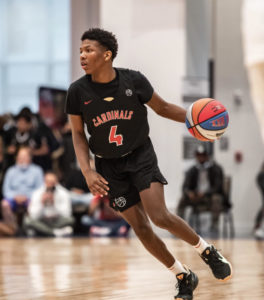 Jayden Reid
Jayden Reid 5'10" | PG LuHi | 2023 State #119 Nation NY | Long Island Lutheran '23
Stat line: 20.3PPG, 4APG, 2RPG
Reid is an electric lead guard that brings a typical New York swagger to the hardwood for his team. It didn't take him long to earn the respect of his opponents and the attention of the fans with his flashy, high-level no-look passes or shifty crossovers in isolations as he broke down his matchup with regularity. Whether it was using his quick burst in transition to get downhill into driving lanes or keeping his defender off-balance in a half-court setting, defenders struggled to keep Reid at bay throughout the weekend.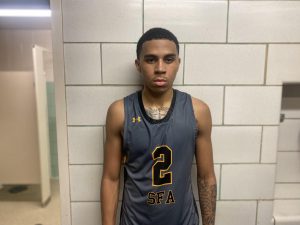 Bryce Lindsay
Bryce Lindsay 6'2" | CG St. Frances | 2022 State MD | St. Frances '22
Lindsay has put together one of the most impressive senior campaigns when it comes to answering the bell in crunch time for his team. He's had a plethora of game-winning plays this season and added two more to the list over the weekend. The first game against Bishop McNamara when he acted as a wide receiver streaking down the sideline as teammate Jahnathan Lamothe
Jahnathan Lamothe 6'3" | CG St. Frances | 2023 State #204 Nation MD quickly retrieved the ball out of the net following free-throws to put St. Frances down 1. Lindsay caught a dime from Lamothe and finished a lay-up as the buzzer sounded to seal the win. Lindsay then stepped to the free-throw line against Long Island Lutheran to earn a second victory at Alhambra. With the recent firing of head coach Frank Martin at South Carolina, Lindsay is back on the market and will be pursued by several high-major programs.