I dropped the article "Newcomers To The Top 10," "Newcomers To The Top 25" now here is "Newcomers To The Top 50." Coming in at #25: Devontae White Devontae White 6'2" | CG Wicksburg | 2022 State #NA…
I dropped the article "Newcomers To The Top 10," "Newcomers To The Top 25" now here is "Newcomers To The Top 50."
Coming in at #25:
Devontae White
Devontae White 6'2" | CG Wicksburg | 2022 State #NA Nation AL  (6'2/Combo Guard)
School: Wicksburg HS
Instagram: vxntae5
Twitter: @DevontaeWhite2
Devontae cracked not only the top 50 but the top 25 as well. He made some movement in the updated rankings, which is a by-product of his play this year. He has had a solid senior year as he has flashed his athleticism and his scoring prowess.
Devontae is one of the best rebounding guards in the updated rankings.
He plays at a nice pace and keeps his team in rhythm. His decision-making skill is one of the ways that he makes his teammates around him better. Another way is because of his scoring ability, as he draws a lot of attention from defenders, and he is a good passer to open teammates. We will be updating his recruiting status along with many in the final updated rankings after the Final 48.
Coming in at #33: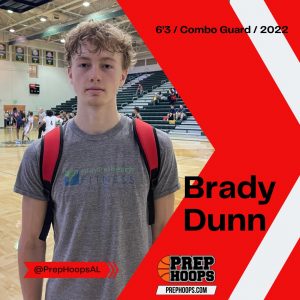 Brady Dunn Brady Dunn 6'3" | CG Oak Mountain | 2022 State AL  (6'3/Combo Guard)
School: Oak Mountain HS
Instagram: brady.dunn14
Twitter: @N/A
Brady makes his ranking debut at #33 and is one of the purest shooters in the updated rankings. He has an excellent shooting technique, and he has been a steady source of production for his squad and has the tools to carry that same ability to the next level. When you watch his game, you can get carried away with how smooth his mid-range pull-up J is, and you can easily overlook the small things that come naturally, such as knowing how to space the floor, moving without the ball, and knowing where to be on offense in relation to where the ball is, which are just a few things that brady does so well.
He is cerebral in his play and has a good IQ and a good feel for the game.
Coming in at #39: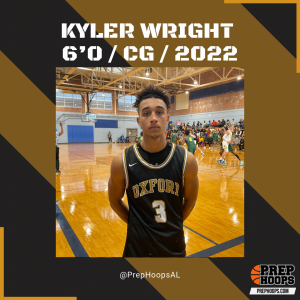 Kyler Wright Kyler Wright 6'0" | PG Oxford | 2022 State AL  (6'0/Combo Guard/2022)
School: Oxford HS
Instagram: Kylerbw
Twitter: @Kylerbw3
I have really enjoyed watching Kyler this year. He has proven to be a solid piece of the puzzle for Oxford. Defenses have found it tough footing, having to keep in check both Rylan Houck
Rylan Houck 6'5" | SF Oxford | 2022 State #NA Nation AL and Kyler. He easily shifts from on-ball to off, and his production does not diminish in the switch. He has a nice balance between facilitating and scoring and does both exceptionally well.
This is his ranking debut, and a solid senior year has led to where he is currently: a #39 ranking, staring at a potential deep run in the postseason, and a chance to continue his career at the next level.   
Coming in at #41: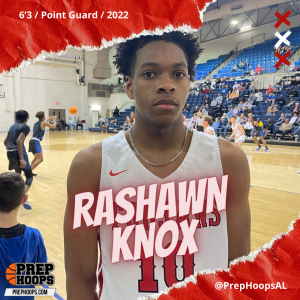 RaShawn Knox RaShawn Knox 6'3" | PG Hazel Green | 2022 State AL  (6'3/Point Guard)
School: Hazel Green HS
Instagram: rashawn.knox
Twitter: @RashawnKnox
RaShawn has shown off his toolbox and its tools on several occasions that I have seen him play this year. He has good size at the guard spot and knows how to use his body in scoring off the bounce. He has a complete package that he puts on display. If coaches at the next level have been able to catch his performances, I am sure they were drawn to his potential at the next level.
He is another player making his ranking debut and could see himself moving even higher once we put out the final 2022 rankings after the Final 48.
He is a player whose stock has steadily been climbing throughout the season.
Coming in at #44: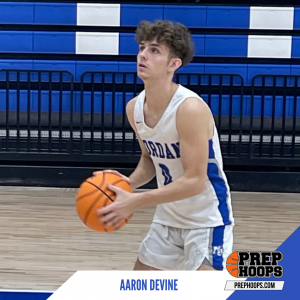 Aaron Devine
Aaron Devine 5'10" | CG Mortimer Jordan | 2022 State AL  (5'10 / Point Guard)
School: Mortimer Jordan HS
Instagram: N/A
Twitter: N/A
Before putting out the updated rankings, I was asked often why wasn't Aaron in the top #100, as many stood up for Aaron and gave valid points of why he should be in the top 100 of his class. This year, he has proven that he is a high-level scorer who can fill it up on any given night. He shot the ball very well throughout the year from behind the arc. I saw him numerous times throughout the year, and he was impressive on each outing. He continued to elevate his game as his team was hampered by injuries that ultimately were too much for one player to make up on his own.
He has been getting more interest down the stretch, and if the right fit finds him, he will definitely be a significant asset to a program at the next level.
Coming in at #50: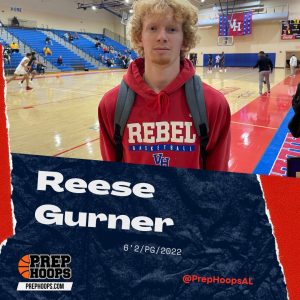 Reese Gurner Reese Gurner 6'1" | PG Vestavia Hills | 2022 State #NA Nation AL  (6'2/Point Guard)
School: Vestavia HS
Instagram: reese_gurner
Twitter: @GurnerReese
If anyone has taken advantage of their final year of high school basketball, it is Reese Gurner Reese Gurner 6'1" | PG Vestavia Hills | 2022 State #NA Nation AL . He has turned into perhaps the breakout player of the year. Through his play, he has improved his ranking from 96 to 50. Not sure if anyone has had that significant amount of movement. He is an offensive threat with the ball in his hands or sitting in the corner waiting on the dish off from dribble penetration.
His aggressiveness off the attack is one of the things that has taken great leaps in his development, and he has become one of the hardest players to stop off the bounce.
His movement up the rankings directly correlates with his growth and maturity as a player over the past year.   
Stay tuned as we dive deeper into the updated 2022 rankings.