Breaking down the new names who will crack the top 150 in the updates class of 2022 rankings, set to be debuted this week…
No. 54 Jonah Gordon
Jonah Gordon 6'6" | PF SJNA | 2022 State WI (SJNA)
Really intrigued by this prospect. Gordon has a ton of potential and upside as a 6-foot-7 combo forward with some serious athletic ability. Gordon is averaging 17 points and nine rebounds per game this season. He doesn't have a ton of talent around him, meaning the opposition is ganging up to slow Gordon down. Gordon has the versatility to play on the perimeter, a very high motor to attack the offensive glass, and some effortless leaping ability. 
No. 62 Ja'Quell Chisom
Ja'Quell Chisom 6'4" | SF Pius XI | 2022 State WI (Pius XI)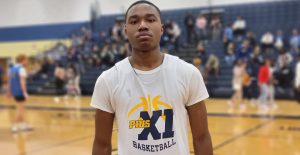 A prospect I like more and more with each viewing, Chisom is a potential home run addition for a Division 3/small school program. Think he's also a guy that could do a prep/JUCO stint and really elevate his stock even more like Chris Bready (Waukesha West). Chisom (6-4) has the tools to be a very effective scorer from all three levels. He's got a strong frame, tight handles, and an outstanding mid-range game — thriving when he catches and faces up in the high post.
No. 69 Miles Barnstable Miles Barnstable 6'1" | SG Howards Grove | 2022 State WI (Howards Grove)
Tough to gauge Barnstable as we haven't seen him in AAU, but the film really passes the eye test.  You have to take it for what it's worth, being that Barnstable plays at a small school, but the skills are undeniable.  Barnstable is putting up 26 points, eight rebounds, and 3.4 assists per game this season.
No.  96 Nick Ferge Nick Ferge 6'6" | SF Marquette | 2022 State WI (Marquette)
Ferge is another hidden gem in this class. While he's going to play Lacrosse in college, he's a solid hoops prospect as well. The 6-foot-5 wing is almost positionless and will play point forward on offense and defend the paint on defense. Ferge does a little bit of everything on the floor and giving Marquette 11 points and seven rebounds per game.
No. 121 Ta-Shun Pender Ta-Shun Pender 6'4" | SF Madison West | 2022 State WI (Madison West)
Pender is having an excellent senior season and is one of the breakout stars in the Madison area. A bouncy, athletic wing who can also shoot the rock, Pender is averaging 20.4 points per game for the Regents. Pender has very good positional size (6-4) and versatility on both ends of the floor. Can get to the rim quickly off the bounce and play above the basket with ease.
Others: Ryan Carew Ryan Carew 6'3" | SG Whitefish Bay | 2022 State WI (Whitefish Bay), Alijah Matthews
Alijah Matthews 5'11" | CG Racine St. Catherine's's | 2022 State WI (Racine St. Catherine's), Aidan Blackmon
Aidan Blackmon 6'0" | PG Wauwatosa East | 2022 WI (Wauwatosa East), Felix Rose
Felix Rose 6'5" | SF La Crosse Logan | 2022 WI (La Crosse Logan), Gabriel Byrd
Gabriel Byrd 6'1" | CG Milwaukee Riverside | 2022 State WI (Milwaukee Riverside), Jamison Grall
Jamison Grall 6'1" | SG Kimberly | 2022 State WI (Kimberly), Logan Raffel Logan Raffel 5'11" | PG Middleton | 2022 State WI (Middleton), Ben Lubbers Ben Lubbers 6'5" | PF Lake Country Lutheran | 2022 State WI (Lake Country Lutheran), Isaac Verges Isaac Verges 6'3" | SG Franklin | 2022 State WI (Franklin)