GRAFTON —  Breaking down the top performers from the 2022 Halli Lannen Memorial Showcase on Saturday… Terryon Brumby Terryon Brumby 6'0" | PG Racine Case | 2022 State WI – 2022 – PG – Racine Case The Eagles weren't…
GRAFTON —  Breaking down the top performers from the 2022 Halli Lannen Memorial Showcase on Saturday…
Terryon Brumby
Terryon Brumby 6'0" | PG Racine Case | 2022 State WI – 2022 – PG – Racine Case
The Eagles weren't able to hang with Whitnall, but Brumby has nothing to put his head down about. The senior guard  had 19 tough points against a very good defensive ball club. Could have finished better, but was really impressed by Brumby's ability to knife his way to the rim.  The 6-foot-1 guard is a downhill, attacker with a very strong upper body. He utilizes change of pace and hesitation about as well as anyone in Wisconsin's 2022 class. Brumby isn't an above the rim guy, but has the ability to finish creatively and athletically in traffic. Brumby is a willing defender too. He'll get up into people and play physically without fouling.
Gabriel Byrd
Gabriel Byrd 6'1" | CG Milwaukee Riverside | 2022 State WI – 2022 – G – Milwaukee Riverside
A prospect that stood out at the Prep Hoops Top 250 Expo in the fall, Byrd contributed nicely for Riverside. The senior guard gets his team organized and in their stuff. Could be more careful with the basketball, but Byrd is relied upon to generate offense, whether that's as a scorer or facilitator.  At 6-foot-1, Byrd does a really good job of splitting defenders off the pick n' roll. He's lanky, but can play low to the ground. His length also allows him to be an impact player on the defensive end. Byrd gets his hands on the ball and takes away passing lanes. Byrd finished with 10 points and a handful of assists in a loss to Kenosha Tremper.
Jamari Gamble
Jamari Gamble 6'3" | SG Milwaukee Riverside | 2023 State WI – 2023 – SG – Milwaukee Riverside
Currently unranked, Gamble made a strong case for himself on Saturday. A high volume scorer, Gamble was putting the ball in the hole at a high rate and in different ways against Kenosha Tremper. If defenders went under screens, Gamble could rise up for the shot. If not, he took them off the dribble and got two feet in the paint.  At every opportunity, Gamble got out and ran in transition and showed the ability to finish above the rim. A smooth player in the open floor, Gamble is a long strider who covers ground quickly. He finished with a game-high 21 points in a loss to the Trojans.
Jalani Hudnall – 2022 – SG – Kenosha Tremper
Hudnall got hot in the second half as Tremper rallied to knock off Milwaukee Riverside. The senior guard had just five points in the first half, but exploded for  20 in the final period, giving him a game-high 25. Hudnall hit five 3-pointers in the second half and six for the game. Once Hudnall got into a bit of a rhythm, he got the green light from the coaching staff to let it fly. His shooting was instrumental early in the second half as the Trojans broke the game open and never looked back.
Amari Jedkins
Amari Jedkins 6'7" | PF Racine Case | 2022 State WI – 2022 –  F – Racine Case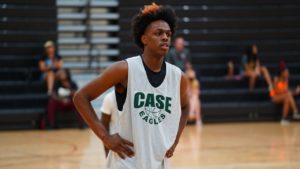 He's always been a high-upside, project-type forward, but Jedkins seems to really be developing his skillset.  Doesn't take a ton of outside shots, but looked very good and was efficient when he did. The 6-foot-8 forward is a big-time athlete that's relied on his measurables.  Now starting to pair that with skill on the perimeter, Jedkins has a scary ceiling.  Jedkins looked smooth, decisive, and confident when creating shots.  He's still going to make most of his noise in transition or around the rim, but is making defenders chase him outside the paint.  Defensively, you're going to get a high motor forward that's willing to bang in the post and protect the rim.  Despite an outburst by one of Whitnall's star players, thought Jedkins had some really good spurts on that end of the floor. He also chipped in with 15 points on Saturday.
Danilo Jovanovich
Danilo Jovanovich 6'6" | PF Whitnall | 2022 State WI – 2022 – F – Whitnall
Once again, Jovanovich was unstoppable, scoring a game-high 34 points. Even more impressive, Racine Case kept him in check for a good part of the first half, yet Jovanovich was still able to put up a huge scoring performance. While he'll take a lot of shots, Jovanovich is not only efficient, but patient offensively. He's willing to work through extended periods of time and if it's not there, Jovanovich gets rid of the ball and sets screens for someone else. A mismatch nightmare, Jovanovich is a three-level scorer at 6-foot-8, but is particularly dangerous in the mid-range/high post. The lefty has nimble feet and is able to score falling away from the basket. He loves to push in transition too. Jovanovich will grab a rebound, start the fast break, and it usually finishes with him at the rim or an assist. 
Ben Lubbers
Ben Lubbers 6'6" | SF Lake Country Lutheran | 2022 WI – 2022 – F – Lake Country Lutheran
Lubbers  had 14 points and three rebounds for the Lightning, who ran away with a win over Grafton.  A lot of guys played well for LCL, but Lubbers seemed to have a big impact when the game was still in the balance. A sneaky scorer for his team, Lubbers often takes advantage of a guy who's forgotten about by the opposition.  Defenders often gang up on Luke Haertle
Luke Haertle 6'3" | SG Lake County Lutheran | 2022 State WI and Noah Howard
Noah Howard 6'4" | SG Lake Country Lutheran | 2022 State WI . All of a sudden you'll see the 6-foot-5 forward find wide-open driving lanes.  A lanky, athletic forward, Lubbers can put the ball on the deck and slash from the perimeter. He's also shown some ability to step away from the rim and shoot the ball at times. LCL posts up their guards a lot.  Lubbers is very aware of double teams and extra help and often slips his way to the bucket for easy points.
Michael McNabb
Michael McNabb 6'4" | CG Grafton | 2024 State WI – 2024 – SG –  Grafton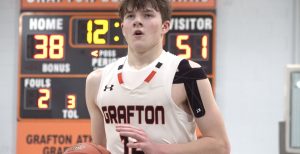 Wasn't McNabb's best performance of the season, but you can see why he's having a big year offensively. The sophomore guard is a two-way player with excellent positional size (6-4). McNabb has the handles to take guys off the dribble, can score with his back to the basket in the post, and finds crafty ways to get the ball in the hole.  Needs to improve his outside shot and get defenders to respect that, but McNabb also doubles as a playmaker and facilitator for Grafton.  He's got a solid feel for the game and sees the entire floor when he puts the ball on the deck. McNabb also did a nice job defensively on Lake Country Lutheran's best player, a Mr. Basketball candidate.
Will Starks
Will Starks 6'4" | SF Kenosha Tremper | 2023 State WI – 2023 – SF – Kenosha Tremper
Really like the way Starks rebounds and attacks the basketball off the rim. He's a strong, athletic leaper off two feet, can high-point the ball, and has really strong hands to snatch it away. One of the best slashers in the state, Starks is a rip-and-go wing go gets to the rim effortlessly.  Think he's improved his ball handling and break-you-down ability as well. With his long strides and quick first-step, Starks doesn't need a wide gap to get to the bucket. As a passer, Starks was unselfish as well, not taking on multiple defenders, but instead making the right decision with the basketball and setting up his teammates nicely. Starks scored 16 points in a come-from-behind win over Milwaukee Riverside.
RESULTS
Milwaukee Riverside 67 Kenosha Tremper 77
Grafton 43 Lake Country Lutheran 78
Racine Case 63 Whitnall 88