The Miners from Beulah have to be the favorites to get to the State Tournament largely because of Trey Brandt Trey Brandt 6'1" | PG Beulah | 2022 State ND . However, all roads still go through Dickinson Trinity. The…
The Miners from Beulah have to be the favorites to get to the State Tournament largely because of Trey Brandt
Trey Brandt 6'1" | PG Beulah | 2022 State ND . However, all roads still go through Dickinson Trinity. The Titans are reigning champs and they also have home-court advantage as the Region tournament is played on their homecourt. Beulah and Trinity both lost a good amount of talent to graduation. It will be fun to see how these new-look teams do early in the season. Hazen will also be a talented team that will not be far behind Beulah and Trinity. They have talented guards that can really shoot it. My dark horse pick is Beach. The Buccaneers have the size and athleticism to be a scary team. Read below to see who made the Region 7 Player Watchlist.
Super Region 7 Teams
Beach, Beulah, Bowman County, Dickinson Trinity, Glen Ullin/Hebron, Grant County/Mott-Regent, Hazen, Heart River, Hettinger/Scranton, Kildeer, New England, Richardton-Taylor.
Preseason Player Of the Year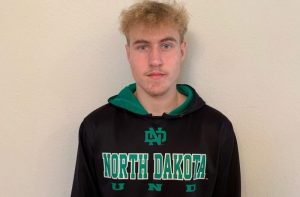 Trey Brandt
Trey Brandt 6'1" | PG Beulah | 2022 State ND (2022) |6-1 PG| Beulah
Last season stats: 24.5 ppg, 5.5 rpg, 4.5 apg, 3 spg. Brandt was also 1st team All-State and All-Region last year. In his sophomore year, Trey was 2nd Team All-State, and his freshmen season Trey made the State Tournament All-Tournament Team. Brandt will have a great senior season and he will likely be a Mr. Basketball finalist at the end of the season. In the offseason, Trey committed to playing basketball at Minot State. Brandt is a true gym rat and he is a tireless worker. Trey has refined skills and he is an underrated athlete. He shot the ball very well from beyond the arc this spring/summer in AAU hoops. Trey is a gamer and he will be ready to lead the Miners back to the State Tournament. It is going to be a wild year in Region 7 and Brandt will be the best player.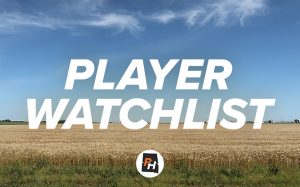 Region 7 Player Watchlist
(alphabetically ordered)
Aiden Haich (2022) |6-0 G| Dickinson Trinity
He is a big strong guard at 6'0″ 190 lbs. Haich will be a leader for the Titans. Aiden is an intelligent player that understands the game. He can also shoot it from the perimeter and Aiden has the chance to be a consistent scorer. Haich will do most of his damage spotting up in catch-and-shoot situations. 
Bishop Duffield Bishop Duffield 6'1" | SG Bowman County | 2024 State ND (2024) |5-10 G| Bowman County
He is a shooter that can fill it up from beyond the arc. Bishop is a smart kid with a good feel for the game. He is a two-way that never takes a possession off. Besides being a nice shooter, Duffield can slash to the rim for points.  
Dane Farstveet (2023) |6-0 G| Beach
He has basketball in his blood as his grandpa is a legendary coach in ND. Dane is a lefty. He shines on the defensive side of the ball. Farstveet is very aggressive on D and he is a good rebounder. Dane matches up with the opposing team's best player. He will be one of the best defenders in the Region. He knows how to use his body, get in his matchups head, is pesky, and is ever-present. It will be fun to watch Dane lock up with top talent this season and see how far his defense will take the Bucs. 
Gavin Scott Gavin Scott 5'11" | CG Bowman County | 2022 State ND (2022) |5-11 G| Bowman County
He has the potential to be a game-changing shooter. Gavin does most of his damage from beyond the arc. He will keep the defense stretched out by spotting up around the 3-point line. Teams will need to give him attention as Scott can knock down the open look with consistency. 
Gunnar Remboldt Gunnar Remboldt 6'1" | SG Glen Ullin/Hebron | 2022 State ND (2022) |6-1 G| Glen Ullin/Hebron
He broke the school record with 8 three-pointers last season. Gunnar is a very good shooter. Remboldt has an easy-looking and soft shot. He has quick feet and Gunnar does not need much room to get his shot off. He also runs the floor hard which results in easy transition buckets. 
Jake Shobe
Jake Shobe 6'0" | SG Dickinson Trinity | 2024 State ND (2024) |6-1 G| Dickinson Trinity
He can play the point or run the wing as a shooting guard. Shobe is a cold-blooded scorer. He is also a tough defender for being such a young player. Jake is a competitor and he hates to lose. He will do whatever it takes to win. Jake is a driven youngster. He is a big-time shooter, but Shobe can also slash to the rim, hit mid-range J's, and cut for open looks. I think Shobe is going to blow up this season. Keep your eyes on this lefty. 
Kanyon Unruh Kanyon Unruh 6'0" | SG Glen Ullin/Hebron | 2023 State ND (2023) |6-0 G| Glen Ullin/Hebron
He is a phenomenal shooter. Unruh has great shooting form with a high release and a perfect follow-through. Kanyon will be one of the top shooters in the Region. He spaces the floor and stretches the defense out to the 3-point line. I like how he moves without the ball and he catches ready to shoot. On defense, Kanyon has good anticipation skills that help him force turnovers. 
Mason Wick Mason Wick 6'3" | SF Hazen | 2022 State ND (2022) |6-3 SF| Hazen
He is a very good shooter from beyond the arc. Mason has extended range with the ability to really stretch the defense. Wick is a long player that can change a game with his 3-point shooting. He is deadly in the catch-and-shoot game. Can this elder Bison lead Hazen to a deep playoff run?
Talan Batke
Talan Batke 6'2" | SG Hazen | 2023 State ND (2023) |6-0 G| Hazen
Much like the Wick brothers, Batke can hit triples from downtown. Talan can flat-out shoot. Batke is a skilled ball handler. He is also a nice athlete with quick feet. Talan uses fakes well to keep defenders out of sync. 
Tevin Dietz
Tevin Dietz 6'1" | SG Beach | 2022 State ND (2022) |6-1 G| Beach
He missed last season because of an injury, but Tevin looked good in AAU in the spring/summer and he will be ready to roll this winter. Tevin has been working very hard in the last 12 months. On the court, Dietz sees the floor well and he has a high hoops IQ. Tevin is a strong and gifted athlete. He can shoot it but he can also body and muscle-up smaller guards around the basket. Dietz is a competitor that is ready for a huge senior season. I expect Dietz to be an All-Region performer. 
Trace Beauchamp Trace Beauchamp 6'4" | SG Beulah | 2024 State ND (2024) |6-1 G| Beulah
He is a nice all-around game. Trace can shoot the 3-ball and he can put the ball on the floor. Beauchamp has a knack for getting to the rim and finishing with consistency. What's nice about Trace is that he can play either guard spot. He sees the floor well and this will allow Brandt to move around and play off the ball. Beauchamp is one of the better up-and-comers in Region 7. 
Trapper Skalsky Trapper Skalsky 6'0" | SG Beulah | 2022 State ND (2022) |6-0 G| Beulah
He will need to take on a bigger role this season on the offensive end. Brandt will get most of the attention and Trapper will have the chance to get good looks. Skalsky will come into the season as a stronger player and an improved shooter. He excels spotting up and spacing the floor from the 3-point arc. Skalsky can also get the job done around the basket. He is a guard, but he likes to post up as well. I like his shooting touch and his confidence. Skalsky has a dangerous first step and an awesome turn-around jumper from the post. He has the ability to really score the ball, he ended last season with a hot hand. Get ready for an All-Region senior season from Trapper. 
Trey Swanson
Trey Swanson 6'5" | C Beach | 2023 State ND (2023) |6-4 PF| Beach
He will most likely be the best rebounder in Region 7. As a sophomore, Swanson averaged over 13 rpg. Trey averaged a double-double last year. Since last season, Swanson is a bigger player with more muscle. He uses his body well and he is a very physical post. Trey is so big and wide that he will give teams problems because he cannot be moved. He will demand a double team when he gets the ball deep in the post. On defense, Swanson will be the anchor for the Bucs and an intimidating lane protector. Beach and Swanson will be looking to have a great year and to make a run in the Region tournament.
Tyson Wick Tyson Wick 6'2" | PG Hazen | 2024 State ND (2024) |6-1 G| Hazen
He is a mature player that knows hoops and he gives 100% effort. Wick can penetrate to create for others or to get looks for his floater/runner game. Tyson will be a serious 3-point threat. Hazen has the chance to be a very good team this season and the young Wick will be a big factor. 
Weston Zacher Weston Zacher 6'6" | PF Grant County | 2024 State ND (2024) |6-6 PF| Grant County/Mott-Regent
He will be one of the biggest players in Region 7. This young frontcourt player has a high ceiling. Zacher has skill, he moves well, and he works hard. I am excited to see how Weston has improved over the offseason. This big man could be ready for a breakout year with the new co-op.