Prospect standouts from Sunday's action at the Wisconsin Swing Fall League… Abe Cook Abe Cook 6'7" | PF Adams-Friendship | 2022 State WI – 2022 – F – Adams Friendship Think Cook could be a potential steal at the…
Prospect standouts from Sunday's action at the Wisconsin Swing Fall League…
Abe Cook
Abe Cook 6'7" | PF Adams-Friendship | 2022 State WI – 2022 – F – Adams Friendship
Think Cook could be a potential steal at the small school level. The 6-foot-6 forward still has plenty of upside left. Cook is a bouncy, plus length forward that impacts the game around the rim. He's able to serve as a momentum changer when it comes to dunks in traffic or   shot blocking. Cook has a body type  that's still pretty raw and he'll benefit greatly from a couple of years in a collegiate strength and conditioning program. Not overly skilled right now, but Cook  knows where his bread is buttered and doesn't try to do things he's not capable of yet on the floor, which is a skill in itself that's hard to teach young prospects.
Gavin Farrell
Gavin Farrell 6'2" | SG Verona Area | 2023 State WI – 2023 – SG – Verona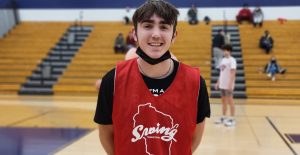 Farrell looks a little more athletic and isn't as reliant on being on an outside shooter. Liked some of the aggressive drives to the rim the Verona native had on Sunday. Farrell has been known as a sharpshooter from the outside, but perhaps will show some different facets to his game this winter. The 6-foot-4 junior has a hand-down man-down mentality from the outside and if defenders leave him or forget about him, Farrell will often make them pay.
Kaden Fosdick Kaden Fosdick 6'4" | PF Middleton | 2023 State WI – 2023 – F – Middleton
Fosdick is an aggressive, slashing forward that gives defenses a lot of problems. He can catch on the perimeter or  in the high post and use a series of moves to get to the bucket. Not a guy that's going to play above the rim, but he can definitely take a bump and likes to initiate contact as well. The 6-foot-5 combo forward can handle the ball in the open floor as well. He was seen getting a rebound and taking it all the way to the rack if nobody forced the ball out of his hands.
Gus Foster Gus Foster 6'2" | SF Big Foot | 2022 State WI – 2022 – SF – Big Foot
Foster looks a little longer and has a really nice frame heading into his senior season. A strong, athletic, tenacious prospect, very few players can match Foster's motor.  Everybody knows he's going to the rim and defenders still have a tough time matching his physicality. Very underrated defender and offensive rebounder as well. Foster just sticks his face in the fan and makes those hustle plays, whether it's getting on the floor for 50-50 balls, attacking the offensive glass, or switching onto the opposition's hot hand to generate a stop.
Jaeden Grade
Jaeden Grade 5'11" | PG Laconia | 2023 State WI – 2023 – PG  – Laconia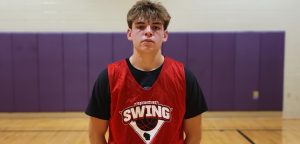 One of the bigger surprises  on Sunday, Grade did a lot of nice things from the point guard spot. The 5-foot-10 junior has a really nice feel for the game and  is able to see things  developing before they happen. Ball doesn't stick to Grade's hands. He's either looking to make a play for somebody else, attack the bucket, or catch-and-shoot as soon as the ball hits his hands. If nothing's available, he's swinging it, cutting to a vacant spot on the floor, or trying to free someone else with a screen. Not an overly athletic prospect, but Grade has a nice hesitation game which can freeze defenders and open up drives to the rim.
Deven Kulp – 2023 – G – McFarland
Kulp exploded for 35 points in the final game  of the night. A guard with good size at 6-foot-2, Kulp was able to make a living off dribble-drive buckets. Had seen Kulp a bit previously on the Prep Hoops Circuit. He's  a strong rim attacker that goes in at top speed and can adjust in mid-air if needed. Kulp also spaces the floor well off the ball. He can find the corners and the soft spots in the defense to feed off dribble penetration. 
Gavyn Hurley
Gavyn Hurley 6'4" | CG Middleton | 2023 State WI – 2023 – PG – Middleton
Not many players can control games without scoring the way Hurley does. He had a game where he only took a few shots, but you definitely noticed his presence. The 6-foot-5 point guard is an all-around prospect that impacts the game across the board. He's versatile, able to play on and off the ball, and defend multiple positions. You put the ball in his hands and good things happen. If not, Hurley will get involved any way he can and do the little things that may not show up in the stat box.
Jacob Naber
Jacob Naber 6'7" | PF Janesville Parker | 2022 State WI – 2022 – PF – Janesville Parker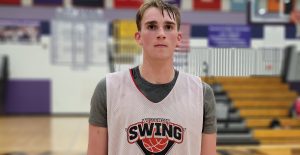 Naber had a dominant game Sunday night.  One of the top available back-to-the-basket post prospects, Naber is a skilled scorer down on the block. He can score over either shoulder and does a great job of dropping his shoulder, delivering contact, and spinning off defenders. Naber can step away from the hoop a bit as well. He's got a budding face-up game from the mid-range and can also score with his momentum fading away from the rim.  Naber has good size at 6-foot-7 and would be a really strong pickup at the Division 3 level, including in the WIAC as a prospect who can potentially play early, but also is still developing and has a chance to make some big gains in college.
Owen Soehl
Owen Soehl 6'4" | SG D.C. Everest | 2024 State WI –  2023 – SG – D.C. Everest
Soehl can just score the rock and knows how to find different ways to put the ball in the hole. An ankle injury cut his night short, but Soehl certainly impressed in his limited time on the floor. The 6-foot-3 guard moves very well off the ball. He's able to succeed because he does his work early and puts himself in rhythm and spots on the floor that allow clean looks.  Soehl is very fundamentally sound as a shooter as well. He always gives the passer a clear target with his hands, squares his hips to the rim, and gets great elevation.  Soehl also has a strong, athletic frame and knows when defenders are cheating or over-playing. He'll turn a corner quick or back-cut for easy buckets on a consistent basis in those instances.