Preseason Player of the Year: 2023 Ethan Patterson Ethan Patterson 5'11" | SG Washington | 2023 State IA , Washington Washington won the league last season, and they should do so again this year with five of their top six…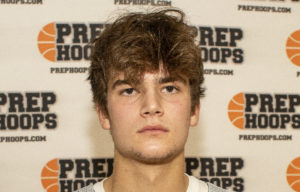 Preseason Player of the Year: 2023 Ethan Patterson
Ethan Patterson 5'11" | SG Washington | 2023 State IA , Washington
Washington won the league last season, and they should do so again this year with five of their top six scorers back. Patterson is a knockdown shooter who moves really well off the ball, and he has really expanded his game as well, becoming a better playmaker and shot creator. The best player on the league's best team.
First Team
2023 Ethan Patterson
Ethan Patterson 5'11" | SG Washington | 2023 State IA , Washington: 15.7 points, 3.0 rebounds, 2.7 assists, 1.3 steals, 46.9 FG%, 40.4 3P%, 89.7 FT%
A skilled 5-10 shooting guard, Patterson moves really well off the ball and is a knockdown shooter off the catch. He has worked to expand his offensive skill set and improve the ability to create his own shot, and he's an excellent free throw shooter who can be relied upon to ice games away.
2022 Kasen Bailey
Kasen Bailey 6'4" | SG Washington | 2022 State IA , Washington: 13.9 points, 3.1 rebounds, 3.6 assists, 1.1 steals, 81.2 FT%
A long and athletic 6-2 wing, Bailey is a strong complement to Patterson for the Demons. He gets into the paint and finishes above the rim both in the halfcourt and in transition, and he has improved as a playmaker, leading the team in assists last season.
2022 Dayton Davis Dayton Davis 6'4" | SF Fort Madison | 2022 State IA , Fort Madison: 16.3 points, 11.3 rebounds, 1.9 assists, 3.0 steals
A 6-4/6-5 combo forward, Davis has excellent hands that he uses to dominate on the glass and swipe plenty of steals. He has a good frame and embraces contact in the paint. He pulled down 4.8 offensive rebounds a game last season, gaining plenty of valuable extra possessions for the Bloodhounds.
2023 Max Weaton
Max Weaton 6'6" | PF Fairfield | 2023 State IA , Fairfield: 19.6 points, 9.2 rebounds, 2.4 assists, 1.0 steals, 54.8 FG%
The Trojans struggled in league play last year, going just 3-7 against conference foes, but Wheaton was fantastic. He's the leading returning scorer in the league, and he does so at a highly efficient clip. A 6-4 big man with good footwork and touch, he can score at will on the block.
2022 Dewon Trent Dewon Trent 6'3" | SG Mount Pleasant | 2022 State IA , Mount Pleasant: 15.8 points, 7.3 rebounds, 1.4 steals, 52.1 FG%
Trent does a majority of his damage inside the arc, but has the ability to step out and knock down an occasional 3. He scores efficiently around the rim and has great hands. 
Second Team
2022 Amarion Davis Amarion Davis 6'3" | SF Burlington | 2022 State IA , Burlington
2023 JJ Lane JJ Lane 5'9" | PG Fairfield | 2023 State IA , Fairfield
2022 Miles Dear
Miles Dear 5'10" | PG Fort Madison | 2022 State IA , Fort Madison
2022 Sam Jerrel, Mount Pleasant
2023 Tate Allen, Fairfield
Honorable Mentions
2022 Lance Sobaski, Washington
2022 Reiburn Turnbull, Fort Madison
2022 MJ Davis, Keokuk
2023 Owen Vansickel, Mount Pleasant
2022 Lucas Kroll, Washington
2022 Travis Leyden, Washington