It is going to be tough to predict which four teams will make it to the State Tournament this year. There is one thing that we do know, the WDA is full of talented players. As of right now, I…
It is going to be tough to predict which four teams will make it to the State Tournament this year. There is one thing that we do know, the WDA is full of talented players. As of right now, I would say that Bismarck Century is the Preseason #1 team in Class A. The top of the WDA will be very tough. There are 8 legitimate teams that could make it to State. That does not happen every year. In any case, let us take a look at the players on our watchlist. Read below for more info…
WDA Teams
Bismarck Century Patriots, Bismarck Demons, Bismarck Legacy Sabers, St. Mary's Saints, Dickinson Midgets, Jamestown Blue Jays, Mandan Braves, Minot Magicians, Turtle Mountain Braves, Watford City Wolves, Williston Coyotes. 
Top Player in the WDA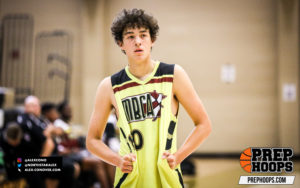 Treysen Eaglestaff
Treysen Eaglestaff 6'5" | SF Bismarck | 2022 State ND – Bismarck
WDA PLAYER WATCHLIST
(alphabetically ordered)
Aaron Grubb Aaron Grubb 6'3" | PF Mandan | 2022 State ND (2022) |6-3 F| Mandan
Look for this hardworking forward to average a double-double in points and rebounds this year in the WDA. Aaron is a physical kid that does not shy away from contact. I like the way he attacks the ball for rebounds. Grubb does the little things that help his team. He is a tough defender and a rough-and-tumble frontcourt matchup. Aaron has improved his jump shot since last season. 
Adam Kallenbach Adam Kallenbach 6'0" | SG Jamestown | 2022 State ND (2022) |6-1 G| Jamestown
He has a good understanding and feel for the game. Adam values and takes care of the basketball. The Blue Jays will need Kallenbach to score and facilitate. Adam has improved as an athlete and he can put up points from all 3 levels. The Jamestown coaches are excited to see how Kallenbach will lead their young squad. 
Alex Dvorak
Alex Dvorak 6'1" | PG Dickinson | 2023 State ND (2023) |6-0 G| Dickinson
He can score with the best of them. Outside of Eaglestaff, Dvorak will most likely average the most points this season. Alex can drain the outside jumper and get to the basket for buckets. He is very aggressive and alex has great handles. He also has the ability to hit the open man for good looks. Dvorak is a better athlete than people give him credit for. Alex is quick, explosive, and bouncy. I have witnessed many impressive dunks from the 6-footer. Alex should be very high on your watchlist this season. 
Anthony Doppler
Anthony Doppler 6'4" | SG Bismarck Century | 2023 State ND (2023) |6-4 SG| Bismarck Century
He is a big, long, strong, and an exceptional shooter. Doppler can score from all 3 levels with consistency. In the past year, Anthony has improved his physical strength. Doppler is also improving as a two-way player/defender. For a shooter guard, Anthony is a very good rebounder. Expect Century to be ranked #1 in Class A to start the year and Anthony to be leading the charge. 
Britton Cranston
Britton Cranston 5'10" | SG Dickinson | 2022 State ND (2022) |5-10 G| Dickinson
He is an extremely hard worker, one of the best in North Dakota. Britton will do whatever it takes to help his team win. He gets the job done on both sides of the ball. Cranston is a great defender and he has the ability to score from anywhere on the court. He is easily one of the best "guard" rebounders in the State. Cranston and Dvorak will have the Midgets ready to fight for a State Tournament appreance. 
Darik Dissette
Darik Dissette 6'4" | SG Minot | 2023 State #300 Nation ND (2023) |6-3 G/F| Minot
A strong and tough athlete. Darik is a great defender that can match up with forwards or guards. Dissette is effective off the bounce and from cutting. His three-point shooting has improved from last season and Darik boards up on both ends of the court.  
Devin Beach Devin Beach 6'3" | SG Jamestown | 2022 State ND (2022) |6-3 SG| Jamestown
This senior can be a game-changer on both ends of the court. Devin is an explosive and impressive athlete. Beach will bring a big amount of versatility on both the offensive and defensive sides of the ball. Devin has the potential to be an x-factor for the intriguing Blue Jays. 
Eric Wentz
Eric Wentz 6'2" | SG Minot | 2022 State ND (2022) |6-2 SG| Minot
A very gritty and tough kid. Wentz will be one of the best perimeter defenders in the WDA. Eric is a very good and timely 3-point shooter. Wentz shines when attacking to his left and he can finish with both hands. Much like Dissette, Eric is a skilled cutter. 
Evan Gross Evan Gross 6'3" | SG Bismarck St. Mary's | 2022 State ND |6-1 G| St. Mary's
He can do a bit of everything on the court. Evan can create for himself and for his teammates. Gross is an above-average rebounder for a backcourt player. He is a long 6'1 defender that can create problems for the offense. Evan and the rest of the Saints will be battling for a chance to get back into the State Tournament this spring. 
Garrett Bader
Garrett Bader 6'2" | SG Bismarck St. Mary's | 2022 State ND (2022) |6-2 G| St. Mary's
A very competitive player that finishes well in transition. Garrett has a smooth shooting stroke and he moves well without the ball. Bader will be a huge 3-point shooting threat this year for the Saints.
Houston Davis
Houston Davis 6'4" | SF Turtle Mountain | 2023 State ND (2023) |6-3 G/F| Turtle Mountain
He is a gifted scorer that can do it from all over the floor. Davis is a great shooter from deep, his mid-range game is solid, and he is excellent when posting up on the block. On defense, Houston has great instincts and a nice feel for the game. His desire to keep improving and hard work are impressive. He suffered an injury in football, but once Davis is back you will want to see this kid play. He is a fun player to watch, especially on the offensive end. Davis is crafty, smart, and he has nice footwork on the block. 
Isaiah Schafer
Isaiah Schafer 6'1" | CG Bismarck Century | 2024 State #246 Nation ND (2024) |6-0 G| Bismarck Century
He is a high-level shooter that looked good this summer playing up a level in AAU hoops. Schafer has improved his game and scoring from all three levels on the hardwood. Isaiah is maturing physically which will only help his game. His added strength and muscle will boost his game on both ends of the court. Expect Schafer to walk onto the court as a two-way player this season. 
Jaxon Kellogg
Jaxon Kellogg 6'3" | PG Bismarck Legacy | 2023 State ND |6-3 G| Bismarck Legacy
A big, long, and strong guard. He played point guard this summer in AAU and he did very well. Jaxon has the potential to burst onto the scene into the WDA and to be an impact player immediately. He is a creator, distributor, tough defender, rebounder, and he does the little things well.
Jayden Williams Jayden Williams 5'11" | PG Williston | 2023 ND (2023) |5-11 G| Williston
He is a very quick and speedy guard that gives great effort. Jayden is a sticky on-ball defender that will create problems for ball-handlers. On offense, Williams can penetrate gaps and slash to create opportunities.
Landon Gerving (2022) |6'0 G| St. Mary's
Every team needs someone like Landon. He is willing to match up with the opposing team's top player and still be a serious scoring threat. He is a team player that will do anything for his fellow Saints. Gerving will be looking to build off an excellent football season where he excelled at WR and CB for the Saints. 
Luke Van Berkom Luke Van Berkom 6'8" | PF Jamestown | 2022 State ND (2022) |6-6 PF| Jamestown
He is a physical inside player that does not mind getting physical. I like his energy and grit. Luke is a solid rebounder and a tough rim protector. He has an outstanding offensive skill set. Van Berkom can score in the paint and from the perimeter. He will be a very important piece for Jamestown. Luke will be the anchor in the frontcourt for the Blue Jays. 
Malaki Sik
Malaki Sik 6'3" | SF Williston | 2023 State ND (2023) |6-3 SF| Williston
He is a long and athletic forward. Malaki has improved his outside shooting and his court vision since last season. Sik is a high-energy player that leaves it all on the court. His size and athleticism could create some mismatches for the Coyotes this year. 
Nate Fedorchak
Nate Fedorchak 6'1" | SG Bismarck St. Mary's | 2022 State ND (2022) |6-1 G| St. Mary's
I think he is going to have a huge senior season shooting the ball, especially from beyond the arc. His pull-up game is spot on and he can also space for catch-and-shoot opportunities. Nate is efficient in transition and the Saints will really put up points when the game is played fast. 
Nick Schumacher Nick Schumacher 6'1" | SG Bismarck St. Mary's | 2022 ND (2022) |6-0 G| St. Mary's
The Saints will ask him to do a bit of everything this year. Nick makes great decisions and he has a broad skill set. Schumacher is a natural leader. He is pound for pound of the strongest athletes in the WDA. 
Parker Wallette
Parker Wallette 6'3" | SF Turtle Mountain | 2023 State ND (2023) |6-3 F| Turtle Mountain
He has a nose for the ball. Parker always seems to be around the basketball and he is an excellent offensive rebounder. On offense, Wallette has a great spin move from the block and he always sets it up perfectly. Parker knows what he is good at and he excels at finding his spot and scoring buckets. Wallette and Davis have the potential to be a nice frontcourt duo for the Braves.  
Ryan Erikson
Ryan Erikson 6'10" | C Bismarck Century | 2023 State ND (2023) |6-9 C| Bismarck Century
For a BIG, Ryan is a very gifted passer with a soft touch. I love the way he passes out of the post and from the elbow. He can dominate in the paint and also step outside for jump shots. Ryan is a good rebounder with strength and size. I expect him to average a double-double. Erikson is working to improve his defense away from the basket. Ryan will keep improving as he adds physical strength. He is likely the best low post play in the WDA. 
Treysen Eaglestaff
Treysen Eaglestaff 6'5" | SF Bismarck | 2022 State ND (2022) |6-5 F| Bismarck
He has committed to play ball at the next level with UND. Treysen will likely be a Mr. Basketball finalist. Eaglestaff can do it all and he makes everything look easy. His game is a work of art. Tresyen has every skill to be a juggernaut on the offensive end this season. He is also a precision passer. On defense, he is sneaky good and he tips passes and forces turnovers. How far can Tre take the Demons? Make sure you tune in this season to find out. 
Zander Albers
Zander Albers 6'5" | PF Bismarck Legacy | 2022 State ND (2022) |6-5 PF| Bismarck Legacy
Expect him to have many highlight-type dunks this season. Zander is a great athlete. He can rebound and protect the rim very effectively. Albers can also nail the 15-foot jumper. His athleticism will give opposing BIGS problems.