As part of our preseason preview content, we're counting down the top dozen candidates for this year's Mr. Basketball award, presented annually to the top senior in the state. The list continues with our No. 8 player, North Linn point…
As part of our preseason preview content, we're counting down the top dozen candidates for this year's Mr. Basketball award, presented annually to the top senior in the state. The list continues with our No. 8 player, North Linn point guard Austin Hilmer
Austin Hilmer 5'11" | PG North Linn | 2022 State IA .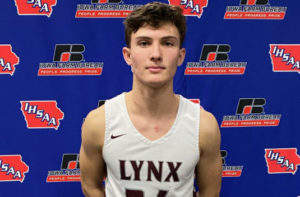 Name: Austin Hilmer
Austin Hilmer 5'11" | PG North Linn | 2022 State IA
Height: 6-2
Position: PG
School: North Linn
2020-21 stats: 468 points (17.3/game), 85 rebounds (3.1), 208 assists (7.7), 97 steals (3.6), 46.0 FG%, 35.8 3P%, 73.9 FT%
Career stats: 1,216 points (15.2), 223 rebounds (2.8), 493 assists (6.2), 256 steals (3.2), 46.3 FG%, 36.9 3P%, 71.9 FT%
About Hilmer: One of the most enjoyable players in the state to watch, Hilmer is a fiery competitor on both ends of the floor who plays at a frenetic, but under control, tempo. He has the ability to both score and facilitate at a high level, and he flies all over the court on the defensive end as the key cog in the Lynx's constant pressure defense. He will likely end up finishing in the top-10 all-time in assists and top-15 in steals. He already has a state championship on his resume, and the Lynx will be the favorite to take home the title this year in 1A. He has committed to play at Upper Iowa, where he'll join older brother Jake, the state's all-time leader in assists and steals.
Why he can win Mr. Basketball: Hilmer has already put together a pretty strong resume, and he'll have a chance to add some more big bullet points on it this year. He's going to be one of the most productive players in the state on both ends of the floor, plays for a high-profile team, and has an older brother who has already claimed the award (when he shared it with DJ Carton). If Hilmer can lead the Lynx to a second state championship during his four-year career, he will certainly get some attention from voters.