Last weekend's Fall College Showcase featured about 90 individual players, who came from as far as Las Vegas, in the Gamepoint Facility in San Marcos. 
Co-hosted by Coastal Elite, Gamepoint and the Cali Rebels travel basketball organizations, many of the players were affiliated with those programs, while some came for additional exposure. 
At the end of the event, about 60 kids were selected for the Top 20, 40 and 60 games. 
We start the event breakdown with the first, second and third all-showcase teams, followed by reports looking at other standouts by position.
Fall College Showcase – All-Showcase First Team
Bellamy put on the best individual performance of the day, scoring 40 points in his first showcase game. Blessed with great burst in the half court and open court and unlimited range on his jumper, he scored from three levels, including several threes from almost half court. A recent transfer from Corona Roosevelt, Bellamy made the most of his day in San Diego, opening the eyes of the Division 2 programs on hand.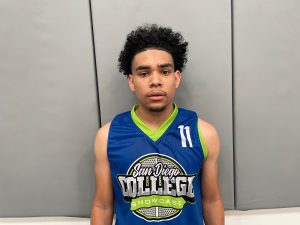 Erick Chaney, 6-1 2022 G, Bakersfield Christian
Chaney was arguably the best shooter in the gym, knocking down 21 threes in his three camp games, and shooting it well above 60 percent from deep. A big-bodied guard who is more than a shooter, Chaney attacked the basket and absorbed contact to finish around the rim, and attacked closeouts to finish midrange pullups. 
Arguably the prospect with the most upside on hand was Matingou, a wiry guard with nice length and explosive leaping ability. He did many of the things that have catapulted his recruitment in recent months (he's got excellent court vision and is really good in the pick-and-roll), but the area he has improved the most is his perimeter shooting, knocking down his first three 3-point shots from the wing.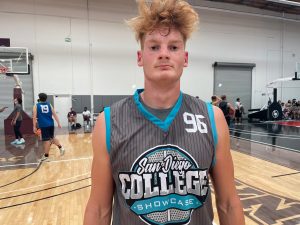 Bence Duka, 6-8 2022 F, Capistrano Valley Christian
Duka quickly became my favorite big man on hand at the showcase due to his relentless motor. He pursued every loose ball and rebound out of his area (exceptional offensive rebounder), defended on the post and perimeter and converted offensive rebounds into scores around the basket. Duka also is a solid catch-and-shoot threat from midrange and has very good passing vision in the midpost. 
The fourth guard to really impress at the showcase, Gil has developed into a very potent scorer from all three levels. Known early on for his right-hand dominant slashing, Gil has developed a very good midrange game and shoots it consistently from three, both off the catch and off a live dribble. Additionally, he has underrated court vision and