We continue our early preseason preview for the Baltimore Catholic League by breaking down prospects in various classes. We took care of the 2022's late last week and now move onto the rising juniors of the league. For part one…
We continue our early preseason preview for the Baltimore Catholic League by breaking down prospects in various classes. We took care of the 2022's late last week and now move onto the rising juniors of the league.
For part one of the 2022 prospects, click here!
For part one of the 2023 prospects, click here!
Mike Williams
Mike Williams 6'3" | CG Bishop Walsh | 2023 State #141 Nation MD | Calvert Hall
Williams will be the cow bell for this Cardinals team under new head coach Gary Neal. The 6-foot-3 combo guard made major progressions in overall development this spring and summer to prepare for the increase role. Williams can fill it up in the scoring column in a variety of ways, but what will be most important for this team to reach their full potential is whether he can make those around him better. Williams has the leadership qualities to do so, now it'll be the in-game reps to help polish this aspect of his game. He'll have plenty of opportunities as he attempts to lead his team in a loaded Baltimore Catholic League pool.
Karim Harris Karim Harris 6'2" | SF Rosedale Christian | 2023 State MD | Calvert Hall
One of the more underappreciated prospects of his class locally, I expect Harris to take a big step this season. At 6-foot-4, he's a bit undersized for a forward, but he plays much bigger with his physicality and feel around the rim. Harris also has an underrated face-up game where he can bury 15-footers with consistency. He'll need to do heavy lifting on the glass this season and be a consistent rebounder and anchor on the defensive end.
Samartine 'Fatts' Bogues | Calvert Hall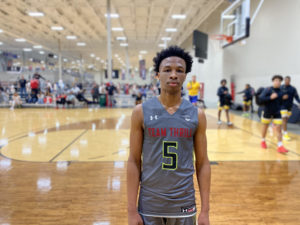 Since entering the league as a freshman, Bogues has prided himself on his disruptive on-ball defense that he applies the full length of the floor. While there still remains some needed improvement on his decision making offensively, he's shown improvement and should have the opportunities to operate in ball screen scenarios this season at a high clip. When his shot is falling from three, he can cause havoc for opponents, but if he can balance that aggression in shooting selection with setting up others, I believe he'll be an extremely productive guard going forward.
Amani Hansberry
Amani Hansberry 6'7" | C Mount St. Joseph | 2023 State #52 Nation MD | Mount St. Joseph
Hansberry makes his debut to the BCL after transferring from St. John's (DC). The Gaels are always in the contender conversation, but once it was announced that Hansberry would enroll, it makes their argument that much stronger. The 6-foot-8 forward is used to be featured as an old school big who feasts on touches with this back to the basket where he can finish over either shoulder, but look for him to be given the freedom to showcase his versatility under head coach Pat Clatchey. Hansberry is an excellent passer, a dominant rebounder and disrupts any shot around the rim when he's in the vicinity. 
Austin Abrams
Austin Abrams 6'3" | SG Mount St. Joseph | 2023 State MD | Mount St. Joseph
I'm predicting for Abrams to be one of the most improved players in the league this season in comparison to the numbers he averaged as a sophomore. His play over the summer with Mid-Atlantic Select and with MSJ during the June Live Period did wonders for his confidence. The 6-foot-3 guard is a high-level shot maker and continues to develop his game playing off of one or two dribbles. The Gaels are loaded at the guard position with quality prospects and Abrams is near the top of that list.
Ace Valentine
Ace Valentine 6'2" | PG Mount St. Joseph | 2023 State MD | Mount St. Joseph
Valentine had his moments as a sophomore where he played a respectable amount and even started for a long stretch of games. Reports from The Smith Center are encouraging as to how Valentine's level of play has looked throughout the early fall. He's a high IQ player who understands the reads to make out of the offensive sets. Valentine will be a key piece for the Gaels this season to truly compete as contenders at the top of the standings.
Ryder Drew | Loyola
Drew is a 6-foot-3 guard who will log heavy minutes in the Dons' rotation this season. Throughout the EBA Summer League, he showed his ability to knock down shots from mid-range off the dribble and from three off the catch with regularity. Drew plays with a bit of an edge to him, which helps gives this team some toughness in the backcourt.
Brashawn Galloway Brashawn Galloway 6'4" | SG Baltimore Polytechnic Institute | 2023 State MD | Loyola
Galloway is a intriguing prospect to be because of his frame. Nearing 6-foot-4 and left-handed, the junior has potential to be a well-balanced offensive threat. He's a capable shooter from the corners and when he's determined, he uses his frame to get to the rim and finish. He can guard multiple positions defensively. Confidence and consistency will be what I'm watching for with Galloway going forward.
Drazen Sinigoj | Mount Carmel
Sinigoj is a transfer from Argentina who I was able to get eyes on yesterday at Mount Carmel's workout. He's a 6'3-6'4 guard who is a flat-out shooter from three. He'll pair well next to 2022 point guard Deon Perry
Deon Perry 5'8" | PG Mt. Carmel | 2022 State MD and showed great understanding with his shot readiness as the pass was on his way to him. He can extend a few feet beyond the arc with his jumper and comes with a solid IQ for the game. As he continues to adjust to the speed of the American style, I foresee some big-time shooting performances from Sinigoj throughout the 2021-22 season.
Allen Mordi | Mount Carmel
Another transfer from overseas, Mordi hails from London and brings a strong 6-foot-4 frame with a high motor to the Cougars' roster. He'll be expected to impact the game with his defensive versatility, his rebounding and capitalizing on looks at the rim when they come his way.