During a weekend that had Mikey Williams coming into town for the 2nd half of the Coach K Combine, the high school division was loaded with talent and gave those in attendance some very good appetizers during the 1st half…
During a weekend that had Mikey Williams coming into town for the 2nd half of the Coach K Combine, the high school division was loaded with talent and gave those in attendance some very good appetizers during the 1st half of the combine, before the main meal came later that night. Here are some 2025 standouts.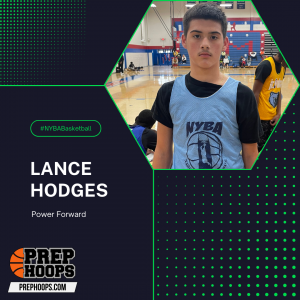 Lance Hodges – 5'11 / Forward / AAU: Clarksville Crossovers 2025 / Northeast High School (Clarksville, TN)
Instagram: Iamlance24
Twitter: @Iamlance24
Lance is listed as a 5'11 forward, which leaves you wondering what position has he been playing up to now. Regardless of the listed position, Lance showed a solid skillset at the guard position. He has a quick first step that kept him beating and drawing fouls on defenders. He was tough to handle in the open court and thrived in transition as he got to the rim countless times.
He has excellent body control as he got near the rim, which contributed to his production at the rim, as he was not attacking out of control.
Opportunities for Growth: Lance has to continue working on being a dependable scorer from behind the arc as it will open up his game off the bounce.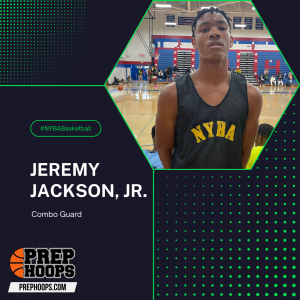 Jeremy Jackson, Jr. – 6'3 / Combo Guard / AAU: NYBA Elite 2025 / Columbia Academy (Columbia, TN)
Instagram: Thatjaxonkid
Twitter: @Jeremyjacksonj4
Jeremy has really been in the lab, and it showed during camp. From when the last time I saw him, his handles and his jumper has improved. He is pulling up off the dribble from behind the arc and from mid-range. He has always been a high-energy guy, but his game is developing into a more mature stage.
He is becoming a versatile player on both ends of the court.
He is versatile enough to defend at least three positions, and he creates match-up problems when the ball is in his hands, pending on who the other team puts on him. I am looking forward to seeing how his high school team utilizes him this year, as he will provide them with a lot of flexibility. Opportunities for Growth: With Triple J's strides in his game, he will begin to see a lot of interest soon. With that possibility, I encourage him to continue working on his perimeter shot, c&s consistency, and exploring the development of leadership capacity. I encourage Triple J to read John Maxwell's book, 'Developing the Leader Within You,' as he has the potential to grow into an Alpha player on and off the court.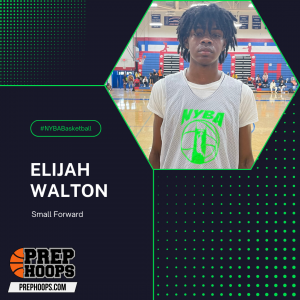 Elijah Walton – 6'4 / Small Forward / AAU: NYBA 2025 / University Heights Academy (Hopkinsville, KY )
Instagram: _smoov23
Twitter: N/A
Elijah brought a lot of energy to the court and was active in the paint and on the glass. What he lacks currently in certain skills, he makes up for it in his athleticism and effort. One noticeable thing about Elijah's game was his ability to create legitimate spacing in pick and roll scenarios, as he is downright lethal as a roll man. He showed good hands in traffic as well as the ability to finish in traffic.
He is quick off his feet, which helps him on both ends of the floor.
Opportunities for Growth: Elijah has to continue to work on his offensive skill set. He has to continue to develop his handles and his perimeter jump shot.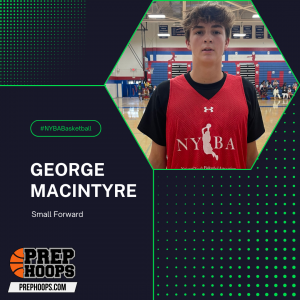 George MacIntyre – 6'5 / Small Forward / AAU: Team Mookie Betts '24 / Brentwood Academy  (Brentwood, TN)
Instagram: gmac4_
Twitter: georgemacintyr6
Coach Michael Claybrooks of team Mookie reached out to me and told me about a player that he had that could absolutely go. After tournaments, I would get a call from Coach Claybrooks telling me how dominant this rising 9th grader was while playing up. Well, when I got to camp, everyone was telling me about this 6'5 freshman that I needed to look at. Well, by now, you know it was George.
He initially showed me that he was a monster in the 1on1 competition.
His height caused problems against the smaller defenders, and he was just too good of a scorer in 1 on1. When we got to the 5v5 games, he continued to unveil the tools in his toolbox, but his motor wasn't running like Coach Claybrooks had shared with me, then it dawned on me that he must have had a football game the night before, as they say, he is a high-level QB prospect in the nation. Even though playing a little fatigued, he was still impressive and showed his ability to get to the rim and finish. Opportunities for Growth: I will have to watch George again when he isn't coming off the gridiron as it may have played a part in the shakiness of his on-ball defense and getting up and down the court in transition, so stay tuned for my thoughts on George during the basketball season. Until then… football coaches…they say he is a player that can get it done.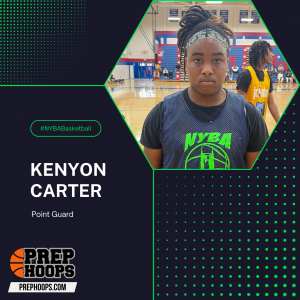 Kenyon Carter – 5'8 / Point Guard / AAU: N/A 2025 / Market Tree High School (Marked Tree, AR)
Instagram: gbaction
Twitter: @kenyoncarter8
Kenyon was one of the most impactful guards at camp. Summing up his game, I will say he is a 'dime-dropper' whose vision and creative passing talent impressed everyone watching. He is only 5'8, but he leveraged every situation to create for his teammate's benefit. He is an extremely unselfish player that passed up some good shots for himself to get his teammates involved. When he gets in the paint, he is a defense's nightmare because he creates havoc and sends the defense scrambling.
His wit, guile, and skill will be a big reason that Kenyon will be a name that you will hear in the future.
As good as his ability to have a stat line full of assist, he often rocked defenders to sleep and left them dazed as he was finishing at the rim. Opportunities for Growth: I would like to see Kenyon be more consistent with his shot from behind the arc. Teams will try and sag off him to keep him out of the paint, and he will have to be able to produce from the perimeter to keep teams honest.
Stay tune…I will be dropping more standouts soon!