[player_tooltip player_id="991172" first="Neel" last="Beniwal"] of Phelps School. Photo: Phelps School Athletics Three weeks back we published our Class of 2022 prospect rankings. By now you are familiar with the names who have remained at the top list for a year…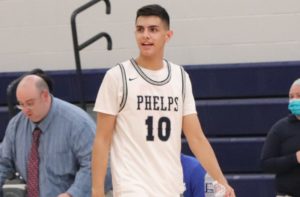 Three weeks back we published our Class of 2022 prospect rankings. By now you are familiar with the names who have remained at the top list for a year or more. Names like five-star recruits Dereck Lively II
Dereck Lively II 7'1" | C Westtown School | 2022 State #3 Nation PA , Christopher Moncrief
Christopher Moncrief 6'6" | SF Kiski Prep | 2022 State #178 Nation PA and Niymire Brown
Niymire Brown 6'4" | SF Upper Darby | 2023 State PA .
Today we decided to scour those rankings and unearth five players that are flying under the radar.
Below are five southeastern Pennsylvania 2022 prospects you need to keep an eye on for the remainder of the fall and during the 2021-22 high school season, because they will have a significant impact at the collegiate level.
No. 139… David Olinger David Olinger 6'5" | PF Phil-Mont Christian Academy | 2022 State PA – 6'5'' / Phil-Mont Christian Academy / Small Forward: A two-year varsity starter, Olinger posted his breakout season in 2020-21. An excellent mid-range shooter and post player, Olinger was good for 14.8 points and 11 rebounds per night. Olinger showed signs of a developing 3-point shot and if he can hit from behind the arc consistently, this kid will then have all the skills needed to be a remarkable stretch-4 style player. His ability to trigger the fast break with an impressive outlet pass is Kevin Love-ish. At the other end, Olinger is an excellent team defender and rebounder. He led Phil-Mont Christian in rebounds per game (11), assists per game (3.5), blocked shots per game (2) and steals per game (2).
No. 160… Neel Beniwal
Neel Beniwal 6'5" | SG Phelps School | 2022 State PA – 6'5" / Phelps School / Rhode Island Elite / Shooting Guard: Beniwal is simply automatic from deep. In September Beniwal started the Big 64 Showcase by draining 5 threes in the first half vs. Bonner-Prendie. His high percentage shooting continued all day (made at least 12 threes on Sunday). He can hit spot up threes, transition threes or off the dribble threes. In addition to his high percentage perimeter shooting, Beniwal owns a fantastic basketball IQ, a non-stop motor and is a tenacious competitor. Phelps Head Coach Jason Harmatuk recently told me, "I think he's really under recruited right now. Everyone needs shooting and he shoots it as good as anyone."
No. 169… Liam Cummiskey Liam Cummiskey 6'4" | CG Central Bucks East | 2022 State PA – 6'4" / Central Bucks East / Philly Heat / Wing: Cummiskey does an excellent job filling the highly coveted "there and D" wing player role. This summer at the Big Shots / Philly Pride event, Cummiskey shot the ball extremely well (He hit 13 threes across 3 games.) and led the Philly Heat in scoring (15 ppg.). Additionally, at an event where defense took a backseat, Cummiskey was extremely stout at that end of the floor and was a force on the defensive glass. With the graduation of CB East standouts Jack Hamilton and Joe Jackman Joe Jackman 5'11" | CG Central Bucks East | 2021 State PA , in 2021-22 we expect Cummiskey to have a significantly increased scoring role. Philly Heat Head Coach Ray Horn said Cummiskey is currently hearing from a number of D3 programs and mentioned, "The main focus for Liam heading into this year is attacking the rim more." As his point production increases this winter, we expect that Cummiskey will receive a multitude of DIII offers and DII ones as well.
No. 182… Jake Hsu
Jake Hsu 6'0" | PG Germantown Academy | 2022 State PA – 6'0" / Germantown Academy / NY Rens / Point Guard: A two sport star for Germantown Academy (Plays WR on football team too.), scouts have labeled Hsu as a "freak athlete". The 2021-22 season will be this combo-guard's third season in the starting lineup. When he is running the point, Hsu can get to the paint whenever he wants for buckets. However, Hsu always remains under control and owns great court vision (3 apg.). So, when he runs into trouble on his way to the rim, Hsu can easily kick out to an open teammate on the perimeter. In 2020-21 Hsu showed he can also score the ball when the Patriots need it. In the Covid shortened season Hsu averaged 12.8 points per contest, shot 44% from the field and 38% from three. A do-everything player for GA, Hsu also grabbed 4.8 rpg. "Jake is an extremely talented athlete and high academic kid looking at Ivy League schools," GA Head Coach Matt Dolan informed me. "Jake and the family are still playing out the process and looking for the best fit possible," Dolan continued.
No. 208… Zavier Mayo Zavier Mayo 6'4" | CG Phoenixville | 2022 State PA – 6'4" / Phoenixville / PSB Philly / Combo Guard: Mayo is a long, versatile athlete who is much quicker than he appears in warmups. When you combine his quickness with his size and length, Mayo presents real matchup problems. Opposing coaches who attempt to guard Mayo with a big will immediately learn he is too quick to be defended by an interior player. Those who choose to defend Mayo with a guard will soon realize this versatile prospect can shoot/score over most backcourt players. Mayo's 3-point shooting is developing rapidly. When that element of his game becomes a legitimate threat, look out. As a returning starter on a Phoenixville team that graduated eight players, this winter Mayo will ascend to their No. 1 option. PSB Philly coach Jeff Vangorder noted that, "Z has drawn interest from mostly D3 schools so far — ODAC, Empire 8, Atlantic East and MAC. I certainly think his best basketball is ahead of him!"