The Indiana Top 250 Expo was this past weekend and this was a great opportunity for our prospects to preform at our premier event in front of college coaches at all levels. Here, we are going to take look at…
The Indiana Top 250 Expo was this past weekend and this was a great opportunity for our prospects to preform at our premier event in front of college coaches at all levels. Here, we are going to take look at and evaluate the players that made up teams 12 and 17. 
Team 12: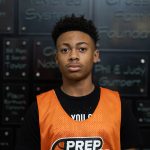 Drew Busick
Drew Busick 6'1" | SG Traders Point Christian | 2024 State IN – 6'0 PG 2024 – Traders Point Christian School: Busick is a smaller lead guard that sees the floor well. Little on the thinner side so needs to work on adding some size to his frame. Has a strong first step on the drive and can handle the ball and find ways to find open teammates. No concerns from Busick here other than needing to add strength and muscle.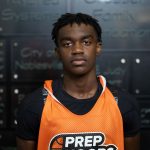 J.J. Morris
J.J. Morris 6'6" | SF Argos | 2023 State IN – 6'5 SF 2023 – Argos: Morris is a taller wing that has a ton of skill. This was the best I have seen Morris play in the few time's I have watched him. Displayed some great footwork around the basket and scored so many times down there. Not only is he a natural scorer but he can make very tough passes as he had a few of them when I watched. Morris is a very smart, talented prospect that continues to improve.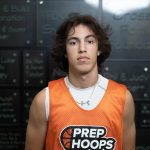 Ethan McComb
Ethan McComb 6'1" | SG Center Grove | 2023 State IN – 6'1 SG 2023 – Center Grove: McComb is a shorter shooting guard that shot the ball well here off the catch. Showed off some great ball handles and looks to have the ability to play on and off the ball, wherever he is needed. Very skilled 3pt shooter that knows how to make the tough shots.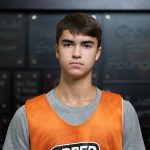 Jaquan Crawford
Jaquan Crawford 6'4" | SF Phalen | 2023 IN – 6'2 SF 2023 – James And Rosemary Phalen Leadership Academy: Crawford is a smaller forward that is built like a bull. Rebounded very well and would use his frame to outman someone on the boards. Even though he is a physical player, he does have a soft touch around the basket. Solid showing from Crawford here.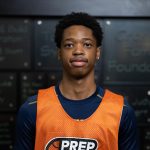 Braxten Robbins
Braxten Robbins 5'10" Peru | 2023 IN – 5'10 PG 2023 – Peru: Robbins is a smaller guard that plays very hard. Tough player for his size and can finish around the basket. True lead guard that can provide scoring through tough traffic.    
Kyson Jones
Kyson Jones 6'3" Whiteland | 2022 IN – 6'3 SG 2022 – Whiteland: Jones is a aggressive shooting guard that had a breakout performance here. Scored so much on the drive and at sometimes it felt like the defense wasn't even trying to defend him. Cuts well off the ball and those cuts also led to easy buckets for him. Jones was not as well known as some of the other prospects that were at the 250 Expo but he for sure had one of the best showings.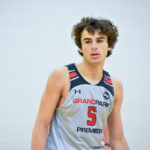 Kaleo Kakalia
Kaleo Kakalia 6'6" | PF Mishawaka Marian | 2022 State IN – 6'6 SF 2022 – Mishawaka Marian: Kakalia is a natural athletic wing that went off here. Was scoring all over the place and on the defensive end he was arguably the best defender on the floor because he just had block after block after block. Battled on both ends for the ball as well. Kalalia was unstoppable here.      
Chandler Jackson
Chandler Jackson 6'5" | SF Warren Central | 2022 State IN – 6'7 SF 2022 – Warren Central: Jackson is a very talented wing that was easily one of the best players here. Jumper was spot on and there was not a single person that could stop him once he had momentum towards the basket. Noticed how great of a ball handler he is and he had a beautiful crossover move that led to an easy layup. Best play he had was a steal that led to a huge fastbreak dunk. Jackson was my MVP on the day. 
Raedhyn Foust
Raedhyn Foust 6'8" | PF Northeastern | 2022 State IN – 6'8 PF 2022 – Northeastern: Foust is a tall stretch 4 with a ton of skill. Was tough on both ends and had one of the smoothest looking jumpers out of anybody on the floor. You could tell that he had gotten stronger because he was a force inside here as well. Continues to attract more colleges as he keeps getting better and better.            
Team 15: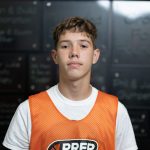 Joey Schmitz
Joey Schmitz 6'2" | PG Center Grove | 2024 State IN – 6'1 CG 2024 – Center Grove: Schmitz is a natural combo guard. Shot the ball so well off the catch and was money nearly every time he had an open look. He knows how to the play the game, is calm with the ball in his hands, and knows how to make a play. Could easily see why is is one of the top 2024s we have here in Indiana.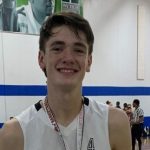 Caden Richardson
Caden Richardson 6'3" | SG Scottsbug | 2024 IN – 6'3 SG/SF 2024 – Scottsburg: Richardson is a guard/forward with a strong frame. Not particular better at one specific thing as he can produce on both ends. Displayed good hands and eyesight on defense, rebounded the ball, and shot the 3 ball well. Overall, Richardson looked like a pretty consistent player here.   
Sheldon Gatlin
Sheldon Gatlin 6'7" | SF Cathedral | 2024 State IN – 6'6 SF 2024 – Carmel: Gatlin is a lanky wing that has solid athleticism. Little on the thin side so needs to add some weight and muscle to that frame. Can get in there and rebound and provide some second chance points. He is one of the more intriguing prospects in the 2024 class and could be Carmel's best kept secret this season.     
Alec Platipodis
Alec Platipodis 6'7" | PF Valparaiso | 2024 State IN – 6'7 PF 2024 – Valparaiso: Platipodic is a long and lanky power forward. Played mostly inside here so not for sure if he can stretch the floor or not. Did battle pretty well on the glass. Needs strength but runs the floor hard and uses his slenderness to get through traffic. Once he adds size then his game will be brought up to that next level.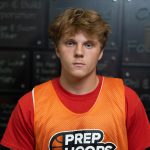 Isaac Morgan
Isaac Morgan 6'0" | CG Triton Central | 2023 IN – 6'0 PG 2023 – Triton Central: Morgan is a shorter guard with a capable jumper. Shot the ball well from the 3pt line. Probably looking more like a lead guard long term with the ability to hit the outside jumper from time to time.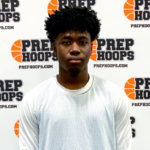 A.J. Dunn
A.J. Dunn 6'1" | SG Yorktown | 2023 State IN – 6'3 PG 2023 – Yorktown: Dunn is a taller lead guard that is strong and talented. Solid shooting day for him as he was able to make different jumpers 15ft and out. Does handle pressure well when he has the ball and did not have any notable turnovers. Dunn is a guy that I could see be a reliable combo guard that could make plays on and off the ball.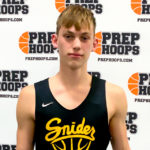 A.J. Roseman
A.J. Roseman 6'0" | PG Bishop Chatard | 2022 State IN – 6'0 PG 2022 – Bishop Chatard: Roseman is a lead guard that has a ton of skill. Got to the rim and finished well for the most part when I watched him. His passes were on point here and he was able to find teammates through traffic. Roseman has always been one of my favorite guys to watch because of the toughness he brings to that floor general spot.   
Layden Adair
Layden Adair 6'0" | PG Indianapolis Scecina | 2022 IN – 6'0 PG 2022 – Indianapolis Scecina Memorial: Adiar is a lead guard based on his size but this guy can light it up off the ball. Had multiple 3s here both from the pullup and catch. Could get a shot up with just the smallest amount of room and did it with confidence. Adair is a consistent sharp shooter.  
Avery Saunders
Avery Saunders 6'5" | SF Southmont | 2022 State IN  – 6'5 SF 2022 – Southmont: Saunders is a taller wing. Baseline work was pretty solid here and that seems where he is at most comfortable as he had a nice looking floater from that area. Fought hard for boards as well. Needs to see a little bit more of his offensive game.   
Alec Evans
Alec Evans 6'4" | SG Rushville | 2022 IN – 6'5 SG 2022 – Rushville: Evans is a aggressive shooting guard that can score at all three levels. Had a tough looking And1 and had a smooth looking baseline jumper. Shoots the ball well off the pull up and had a pretty nice step-back 3 as well. Evans brought it here and should be in for a big senior season.