We will be spending the next week or so breaking down our updated VA class of 2022 rankings. We continue by looking at the top point and combo guards in the rankings, ranking number 15-6! Be sure to stay tuned…
We will be spending the next week or so breaking down our updated VA class of 2022 rankings. We continue by looking at the top point and combo guards in the rankings, ranking number 15-6! Be sure to stay tuned to Prep Hoops VA for even more rankings content moving forward.
You can see the entire class of 2022 rankings here!
#15 John Loughlin
John Loughlin 6'1" | CG Episcopal | 2022 State VA | 6'0" | Episcopal (#66 Overall)
Loughlin is going to get his chance this year to show what he can do at Episcopal, as the 6'0" combo guard is a skilled playmaker and shot maker that can do a little bit of everything for his team. He's a lights out shooter from deep and will burn you if you leave him alone, but he's also really developed his ability to put it on the deck and play at different speeds to get int he lane and make plays for others.
#14 George Cutler IV
George Cutler IV 6'1" | PG Cape Henry Collegiate | 2022 State VA | 6'1" | Cape Henry (#56 Overall)
Cutler is one of the more underrated guards in the 757, and he was a big reason that Cape Henry was able to go on to win the VISAA D1 State Championship this year. Cutler is super shifty off the bounce with a good handle and good change of speeds and direction, he can get in the lane at will and make plays for others and he's very explosive in the lane and has a great middle game too.
#13 Marquis Dunklin Marquis Dunklin 6'0" | CG Bishop Ireton | 2022 State VA | 6'1" | Bishop Ireton (#53 Overall)
Dunklin is another underrated guard in his area, and he has a chance to be an All WCAC player this year for an upstart Ireton team. At 6'1" he's a lightning fast guard that can get downhill, he has a good handle and can blow by guys and he has the ability to score it from multiple levels too.
#12 Ethan Millirons
Ethan Millirons 6'0" | PG Auburn | 2022 State VA | 6'0" | Auburn (#49 Overall)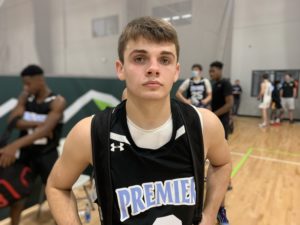 The 2020 VHSL Class 1 POY as a sophomore, Millirons isn't from the biggest area but he's just a flat out hooper who knows the game and has a great all-around skill set that makes him tough to guard and allows him to impact the game in so many different ways. He has good strength off the bounce and can handle pressure, he sees the floor and makes great decisions and he has good footwork and can create and make shots from all three levels.
#11 Cam Gregory
Cam Gregory 6'5" | CG Steward School | 2022 State VA | 6'4" | Steward School (#48 Overall)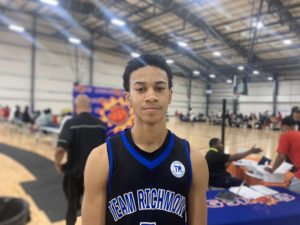 Gregory is on the verge of blowing up with scholarship level schools as they get to see him, and he's had a great spring for Team Richmond so far. He has good size and length as a combo guard and uses it defensively for deflections and offensively to make passes and shots over defenders, he has improved in his ability to run the team and he competes and wants the ball in big time situations as well.
#10 Walker Andrews
Walker Andrews 6'1" | CG Virginia Episcopal | 2022 State VA | 6'1" | VES (#47 Overall)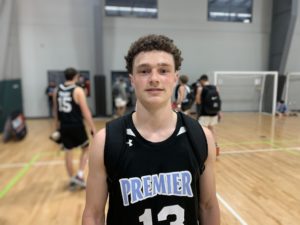 Andrews has turned himself into one of the most lethal scoring guards in the Lynchburg area after his two years at VES and while he may not look like it he will fill it up on your team if you don't account for him. He's a knock down shooter with a quick release and deep range, he can get to spots and hit the pull-up and he gets hot quickly and can go on scoring runs by himself.
#9 Saxby Sunderland
Saxby Sunderland 6'2" | CG Flint Hill | 2022 State VA | 6'2" | Flint Hill (#20 Overall)
Sunderland is one of the most talented shot makers in the DMV, and the fact is while he can catch and shoot he is also able to create his own shot and fill it up in a multitude of ways. He has great confidence in his ability to fill it up from deep, he can run the pick-and-roll and makes great reads and he has takeover ability once he starts to get it going and make a few shots.
#8 Xavier Brown
Xavier Brown 6'2" | PG Oak Hill Academy | 2023 VA | 6'1" | Oak Hill Academy (#19 Overall)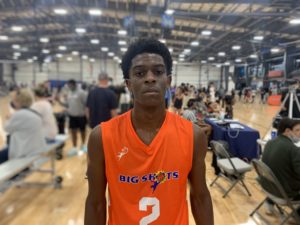 Brown spent the last year at Oak Hill and it's unclear whether he'll head back there this year, but he embraced his role off the bench as an energy guy and so far this spring he's been showing that he can do much more than just that as well as he's been starring for Big Shots Virginia. He's an all-out kind of player with a high motor and good toughness, he can make plays on both ends using his athleticism and he continues to improve in a number of ways across the board.
#7 DeJuan Campbell
DeJuan Campbell 6'1" | PG Kecoughtan | 2022 State VA | 6'1" | Kecoughtan (#18 Overall)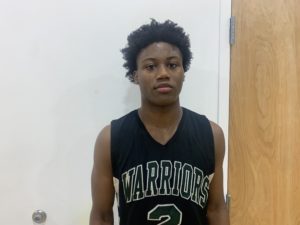 Campbell really came on this past fall in the CBG Winter Series and he was a big reason for the success the 522 Warriors had this year, and he continues to show that he's an excellent floor general that can make others better and run the show for his team. He's a strong guard who is crafty off the bounce and really excels in the midrange and around the basket where he can make tough shots, he's an underrated athlete and defender who can make plays on both sides of the basketball and he has an excellent IQ and makes great reads with the ball in his hands.
#6 Kenyon Giles
Kenyon Giles 5'11" | PG Oscar Smith | 2022 NV | 5'11" | Oscar Smith (#16 Overall)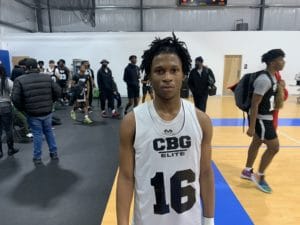 Giles continues to impress scouts and coaches despite his diminutive size, because he's a microwave scorer that is dynamic and has in the gym range both off the catch and off the bounce. He's drawn comparisons to former Campbell standout Chris Clemons with his athletic ability and his ability to get hot and score it in bunches, and he can really fill it up and make tough shots well past the NBA line when he gets it going. He also has good fundamentals on both ends the floor and he has a great feel and IQ as well.