It's been an interesting year of evaluating basketball as it started without us being able to get in the gym and now that everything is getting back to normal we've seen some very high level basketball over the spring. We have updated our 2022 rankings with some things staying the same and a lot changing as well. Here's a look at the free overview of our new rankings. Be sure to stay tuned for more content including new faces, biggest risers and positional breakdowns here on Prep Hoops VA.
You can see the entire class of 2022 rankings here.
Changes in the Top 10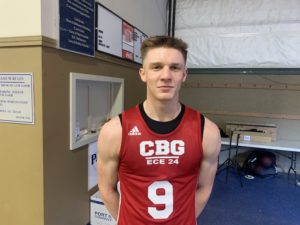 A lot has changed at the top of the rankings, with the number one player from our former rankings leaving Oak Hill to go west to play for Prolific Prep. Taking his place is STAB wing Justin Taylor
Justin Taylor 6'5" | SG IMG Academy | 2022 State #156 Nation FL , who has been in the top 10 since the beginning of the rankings but has turned himself into one of the premier prospects in the country. Behind him slides fellow Charlottesville area big man Maliq Brown
Maliq Brown 6'8" | PF Blue Ridge | 2022 State #123 Nation VA , up from #5 to #2 due to his defensive versatility and efficiency he's demonstrated over the past few years.
At #3, Knasir "Dug" McDaniel moves up from #8 as he's been out of this world this spring with Team Takeover and was probably a little low in our rankings to begin with (I'll take the blame for that.
Other moves include East Rockingham's Tyler Nickel
Tyler Nickel 6'8" | SF East Rockingham | 2022 State #85 Nation VA moving up two spots from #7 to #5, Varina's Alphonzo Billups
Alphonzo Billups 6'7" | SF Varina | 2022 State #154 Nation VA moving up 3 spots from #9 to #6, Oak Hill's making his debut at #7 after announcing his transfer from Gonzaga (DC), and two guys who have cracked the top 10 in VES guard up from #15 to #9 and LC Bird's Jaden Daughtry
Jaden Daughtry 6'6" | SF Benedictine College Prep | 2022 VA up to #10 from #12.
Plenty of Hidden Gems Still
With division one coaches finally being able to get out and about after they weren't allowed to go out and recruit in person for over a year now, I expect to see plenty of guys from the mid teens to the early 40s start to see their recruitment pick up. Guys like St. Stephen's St. Agnes duo Devin Ceaser
Devin Ceaser 6'1" | CG St. Stephen's & St. Agnes | 2022 State VA (#13) and Miles Webb Miles Webb 6'7" | PF St. Stephen's St. Agnes | 2022 State VA (#17), Kecoughtan's DeJuan Campbell
DeJuan Campbell 6'1" | PG Kecoughtan | 2022 State VA (#18) and Bishop O'Connell's Cavan Reilly
Cavan Reilly 6'4" | SG Bishop O'Connell | 2022 State VA (#27) who already hold some offers will likely see their offer list grow. Meanwhile, there are still plenty of guys without any offers such as Spotswood's Carmel Pacheco (#24), King's Fork's George Beal
George Beal 6'4" | SF Kings Fork | 2022 State VA (#28), LC Bird's Brycen Blaine
Brycen Blaine 6'5" | SG LC Bird | 2022 GA (#39) and Church Hill Academy's Wendell Tomlin
Wendell Tomlin 6'6" | PF Church Hill Academy | 2022 State VA (#43) who would be great for coaches to get eyes on in person.
Still a Work in Progress
The job of doing in depth rankings in a state like VA that is so broad with talent from all over is always tough to do, but it's been especially hard to do this year with the limited resources and opportunities to see players live in events. The rankings are always fluctuating and are fluid in nature whether it's kids transferring in or out, certain kids getting better and developing and the amount of exposure kids can get all play a factor into the rankings.
Positional Breakdown
PG: 27
CG: 17
SG: 24
SF: 25
PF: 28
C: 10
Top 10