We will be spending the next week or so breaking down our updated VA class of 2022 rankings. We continue with part one of some of the biggest risers in the rankings! Be sure to stay tuned to Prep Hoops…
We will be spending the next week or so breaking down our updated VA class of 2022 rankings. We continue with part one of some of the biggest risers in the rankings! Be sure to stay tuned to Prep Hoops VA for even more rankings content moving forward.
You can see the entire class of 2022 rankings here!
#3 Knasir McDaniel
Knasir McDaniel 5'9" | PG Paul VI Cathlolic (VA) | 2022 State #126 Nation VA | 5'9" PG | Paul VI (Previous Rank: #8)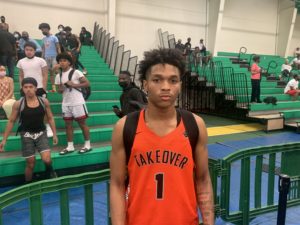 While McDaniel only moved up five spots in our rankings, moving up that much in the top 10 is very rare, especially when he's been in the top 10 the entire time. While I've always been a fan of McDaniel and loved his game, I will admit I dropped the ball on having him so low, mostly because he played with three blue blood guys in his backcourt in Ant Harris (UNC), Jeremy Roach
Jeremy Roach 6'2" | PG Paul VI | 2020 State #19 Nation VA (Duke) and Trevor Keels
Trevor Keels 6'4" | SG Paul VI | 2021 State #18 Nation VA (Duke) since he's come into high school. He's been playing out of this world this spring with Team Takeover, as he is a tone setter on both ends of the floor, one of the quickest and fastest guards in the country and he's improved where he needed to as a scorer at multiple levels.
#9 Justyn Fernandez | 6'5" SG | VES (Previous Rank: #15)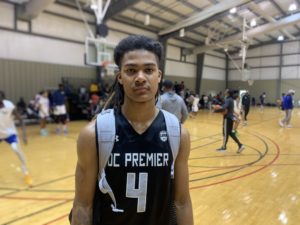 Fernandez moves up 6 spots and into the top 10, and he's starting to see high major and mid major coaches come his way after the spring he's had with DC Premier. The 6'5" Fernandez is a reclass kid from the 2021 class, and he's always had a blend of size and talent at the guard position as he's athletic and shifty off the bounce with the ability to stick it from deep as well. However, it seems that he's improved his mindset and has started to take the role of a go-to guys with a killer mindset, as well as polishing his skill set on the offensive end.
#13 Devin Ceaser
Devin Ceaser 6'1" | CG St. Stephen's & St. Agnes | 2022 State VA | 6'1" PG | St. Stephen's St. Agnes (Previous Rank: #31)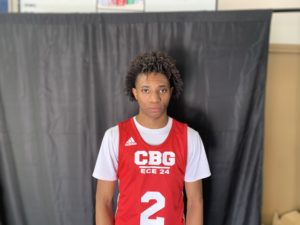 When I ranked Ceaser the first after transferring to SSSAS and reclassifying to the 2022 class, I had not seen him in person and was trying to evaluate him on film, and that just doesn't do him justice with his freakish athletic ability. Ceaser can absolutely fly and is a blur in transition, and he uses that speed to blow by guys off the bounce and get in the lane as well as on the defensive end where he can sit down and guard the ball or shoot passing lanes off the ball to get steals and easy opportunities in transition. He's a competitor and brings great energy every time he's on the floor, and while he's streaky he can stick it from deep when he gets it going and has takeover ability as a scorer, facilitator and defender.
#15 Christian May
Christian May 6'6" | SF Bishop O'Connell | 2022 State VA | 6'4" SG | Bishop O'Connell (Previous Rank: #32)
May has been a stock riser over the past few weeks picking up some division one offers, and it will only continue to grow with the live periods approaching. The 6'4" shooting guard has played exceptionally well since transferring to Bishop O'Connell last season, and has continued that stellar play with Team Takeover this spring as the ultimate glue guy who brings energy, athleticism and shot making ability to his team. He's a guy who will fight for loose balls and rebounds well at his position, he's a good catch-and-shoot guy who can stretch the floor and he can guard the other team's best perimeter scorer as well.
#19 Xavier Brown
Xavier Brown 6'2" | PG Oak Hill Academy | 2023 VA | 6'2" PG | Oak Hill Academy (Previous Rank: #29)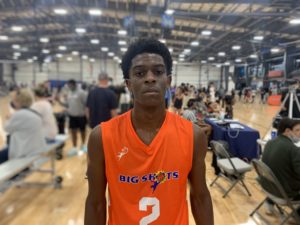 Brown went to Oak Hill last year and it's unclear whether he'll be back this year, but he seems to have improved and played well in the minutes he got last year off the bench for them. A natural leader that plays with great energy and commands the floor, Brown has a mix of athleticism and grit that allows him to make plays on both ends of the floor. He has a quick first step and is unselfish as a playmaker, he's a good rebounder for his position and he's improved a good amount on his ability to score it from deep as well.
#24 Judah Egbo
Judah Egbo 6'7" | C Life Christian Academy | 2023 State VA | 6'7" PF | Oak Hill Academy (Previous Rank: #33)
Egbo also went to Oak Hill with Brown, and while he didn't play that much in their national games he came back and so far this spring he has looked much improved from the previous years. The 6'7" big man has always played with a great motor, but he's now looking like a more fluid athlete and has improved his hands and timing as well. He's a two way impact player that should see some offers fly his way this summer when coaches get eyes on him.
#31 Ben Hall Ben Hall 6'7" | C Loudoun Valley | 2022 State VA | 6'8" C | Loudoun Valley (Previous Rank: #59)
Hall is one of the better unknown prospects in this class, as the 6'8" big man is a monster in the paint and can do a little bit of everything to help his team out. He's a gritty, high motor guy who runs the floor hard, is a good passer out of the post and can score it in the paint and stretch the floor in the midrange. He's an excellent rebounder and defender in the post, and he's one that high academic schools should be on the lookout for.