Jayden Reid Jayden Reid 5'10" | PG LuHi | 2023 State #119 Nation NY 6'0″, Long Island Lutheran, 2023. Jayden was arguably the best player at the event. He continues to mature physically and looks to have grown several inches…
Jayden Reid
Jayden Reid 5'10" | PG LuHi | 2023 State #119 Nation NY 6'0″, Long Island Lutheran, 2023. Jayden was arguably the best player at the event. He continues to mature physically and looks to have grown several inches since last spring. Reid's overall awareness, offensive versatility, and basketball IQ allowed him to excel at the point guard position. He shot the ball well from all three levels, even knocking down a half-court game-winner, one of the calmest walk-off shots I've ever seen. I was more impressed with his ability to operate in the pick and roll patiently letting plays develop making good decisions with the basketball. Jayden's athleticism was eye-catching at the event. He consistently finished above the rim and connected on a number of athletic layups.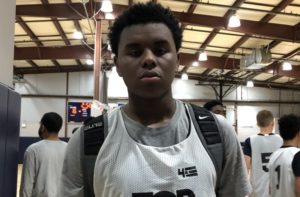 Dwayne Pierce 6'5″, Christ the King, 2024. Pierce's overall skill set and physical tools will allow him to immediately make an impact this season. The 6'5" forward had his full arsenal on display throughout the event. He shot it consistently from the perimeter, served as a playmaker, and defended multiple positions. Pierce moves well off the ball, relocating in the half-court making himself a reliable offensive option. He used his size and ability to finish in the paint area either from an offensive rebound or off the dribble.
Josh Pascarelli
Josh Pascarelli 6'2" | PG St Francis Prep | 2023 State NY 6'2″, Academy Charter, 2023. Jarrett continued to show why he's one of the best players in Long Island. He has the uncanny ability to draw fouls and get to the line. Jarrett was disruptive on the defensive end, effectively defending the perimeter and post.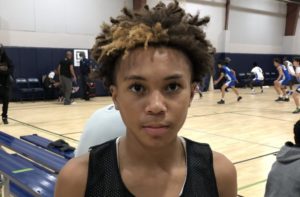 Preston Edmead 5'6″, Deer Park HS, 2024. Preston is an ultra-quick  end to end lead guard. He possesses outstanding court vision and passing ability at a young age. In an open court style of games, he was able to protect the basketball and get his teammates in great positions to execute.
Marcus Harris 6'5″, Wyandanch HS, 2023. Marcus is a big body forward with a modern-day offensive package. He rebounded well in traffic and pushed the ball triggering the break. He presented a tough matchup because he stretches the floor to the perimeter and served as a threat off the dribble. Marcus is light on his feet and amazingly quick in small spaces.
Additional Standouts
, 6'0" G, Deer Park, '23
Brian Blanchet, 6'1" G, Phelps School, '23
Danny Carbuccia, 6'0" G, Mount Hall HS, '25
Franklin Wilson, 6'5" F, Half Hollow Hills West, '23
KJ Anderson, 6'5" F, Ward Melville, '24
Jakari Tertulien, 6'3" G, Bridgeport Prep, '23
Kavon Simmons, 5'7" G, Long Wood, '25
Muneer Ibrahim, 5'9" G, East Meadow HS, '23
Mysonne Pollard, 6'3" G/F, Bridgeport Prep, '23
PJ James, 5'9" G, Bridgeport Prep, '23
Oke Okrokoto, 6'8" C, Christ the King, '24
Tavion Jennings, 5'9" G, Wyandanch HS, '23